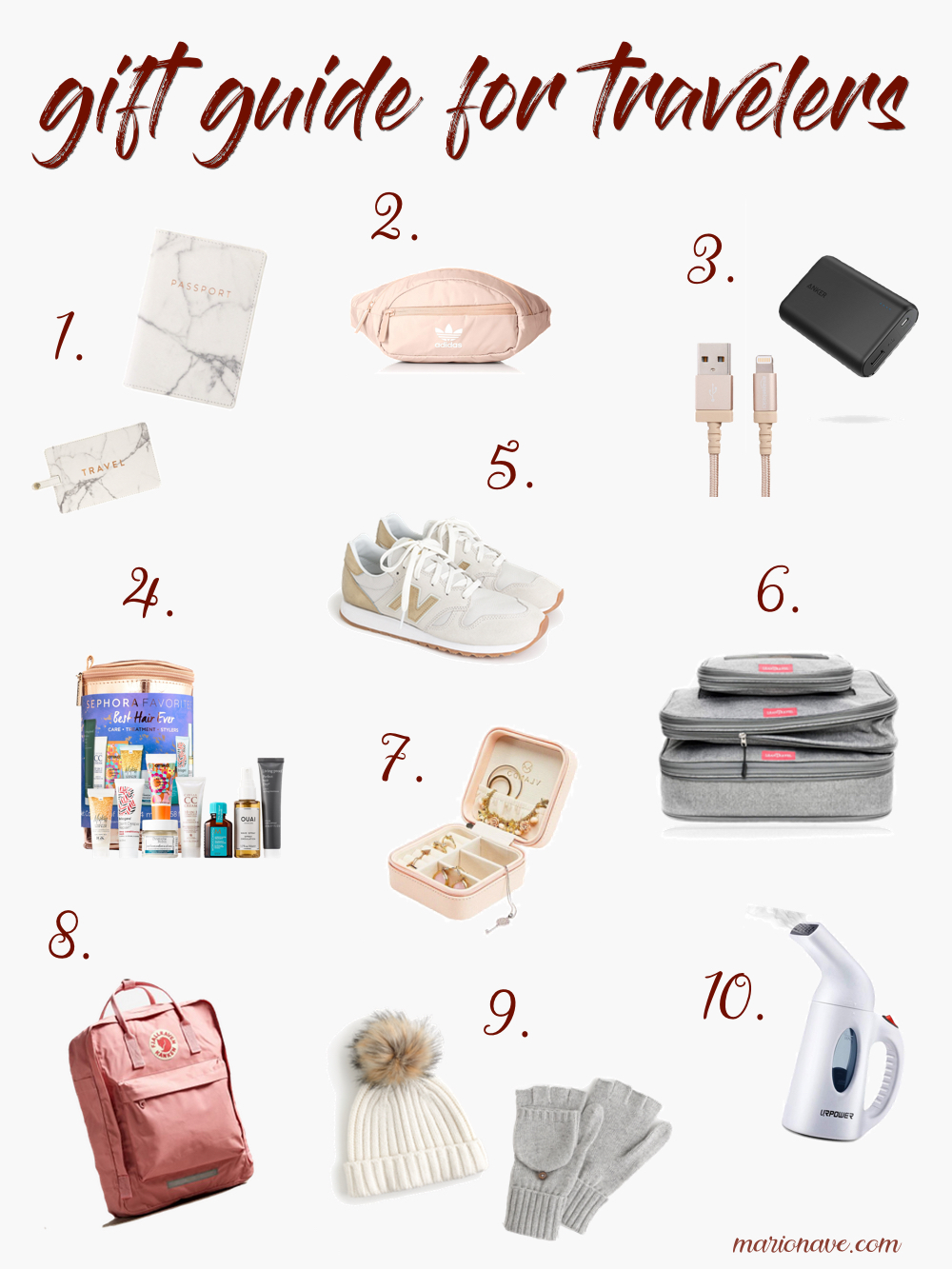 I created a similar gift guide last year, and was excited to post a bit earlier this season so there's still time to shop for family and friends! This gift guide is geared toward the people in your life who love travel. Much of my year involved travel, so I had quite a few gift ideas! The items featured in this travel-themed holiday gift guide include items / accessories that I own and use, or items on my personal wishlist! Best of all, the gifts I've linked are under $100 (and most are less than $50!). And there's still time to catch the Black Friday and Cyber Monday discounts and sales.
Just to let you know, I am a participant in Amazon's affiliate advertising program, which means I'll earn a commission by linking to products on Amazon.com. However, all suggestions and products I've linked in this post are products I believe in! All opinions are my own.
#1 PASSPORT COVER & LUGGAGE TAG
Eccolo World Traveler Travel Passport Cover Case w/ Storage Pocket in Marble ($8.99)
Eccolo World Traveler Epic Jumbo Luggage Tag in Marble ($9.98)
I think passport covers and luggage tags are really cute travel accessories. It's always a smart idea to personalize your luggage so it's easy to identify in the crowd, and why not have everything match?
#2 FANNY PACK
Adidas Originals Nationals Waist Pack in Blush Pink / White ($25)
Fanny packs are back in style, and personally, I'm a fan. They're quite functional, especially for travel. My sister recently bought this exact style for her trip to Iceland. This is definitely a great gift idea for a friend, because it may not be an accessory they consider purchasing for themselves!
#3 PORTABLE POWER BANK & PHONE CHARGER
Anker PowerCore 10000 Power Bank ($31.99)
AmazonBasics Nylon Braided Lightning to USB A Cable – MFi Certified iPhone Charger in Gold ($9.99)
My portable power bank changed my life when I was working in London. When we took weekend trips, we were often on buses or trains for 6-8 hours, and couldn't charge our phones. My iPhone battery life isn't great, so having a power bank with 3+ charges was a real life-saver. Small and light enough to fit in a crossbody bag.
#4 TRAVEL SIZE HAIR OR MAKEUP PRODUCTS
Sephora Favorites Best Hair Ever ($25)
This cute kit boasts "a unique assortment" of travel-size products "to care, treat, and style for your best hair ever," including a deep conditioning mask, hair balm, 5-in-1 styling treatment, Moroccanoil, and wave spray. It can be difficult to care for your hair when you're on-the-go, so travel-size hair and makeup products are a necessity for any female traveler. (Travel-size products often meet the carry-on requirements! And even when checking bags for flights, these products don't take up much space in a suitcase.)
#5 STYLISH SNEAKERS
Women's New Balance for J.Crew 520 Sneakers in Gold Salt ($85)
You're on your feet a lot when you travel, so it's important to have comfortable footwear. But choosing comfort doesn't mean you have to sacrifice style! I love New Balance because I know the sneakers are great quality, and very supportive, but also super cute. I recently purchased these sneakers and I think they're awesome.
#6 PACKING CUBES
LeanTravel Compression Packing Cubes w/ Double Zipper (set of 3) in Grey ($28.99)
I purchased this set of packing cubes before I left for London. In packing bulky sweaters and layering pieces for the winter season, these compression cubes allowed me to save space in my suitcase!
#7 TRAVEL JEWELRY ORGANIZER
Vlando Small Faux Leather Travel Jewelry Box Organizer in Pink ($10.99)
This is another example of an accessory someone might not think to purchase for themselves. But it makes for a great inexpensive gift, one you know will be put to use. I don't pack too much of my jewelry when I travel, but I take a few of my classic / everyday earrings and necklaces. And I usually resort to keeping them in my glasses case, or wallet, and it's inconvenient.
BAGSMART Travel Jewelry Storage Case ($24.99)
#8 BACKPACK
Fjallraven Kanken Backpack ($80)
I love the square shape of the Fjallraven backpacks, and I hear they're great for travel. These are well-made, durable backpacks, and they're stylish. I might be adding this backpack to my own Christmas wishlist.
#9 WINTER ACCESSORIES (KNIT HAT & GLOVES)
J Crew Ribbed Beanie w/ Faux Fur Pom-Pom ($39.50)
J Crew Glitten (Glove + Mitten) in Cashmere Blend in Heather Grey ($29.50)
If you have friends or family traveling during the winter season, cozy accessories make for great gifts! Knit hats and gloves are perfect for keeping warm, but also for accessorizing an outfit. And there are so many colors, patterns, and styles to choose from.
#10 TRAVEL SIZE STEAMER
URPOWER Garment Steamer ($19.99)
When I travel, I typically don't have the time to iron my wrinkled clothes. So I pack a travel-size garment steamer, and I'm always wrinkle-free. Seriously, this gadget is gold. Friends or family may be surprised by this gift, but they'll thank you for it later (trust me!).