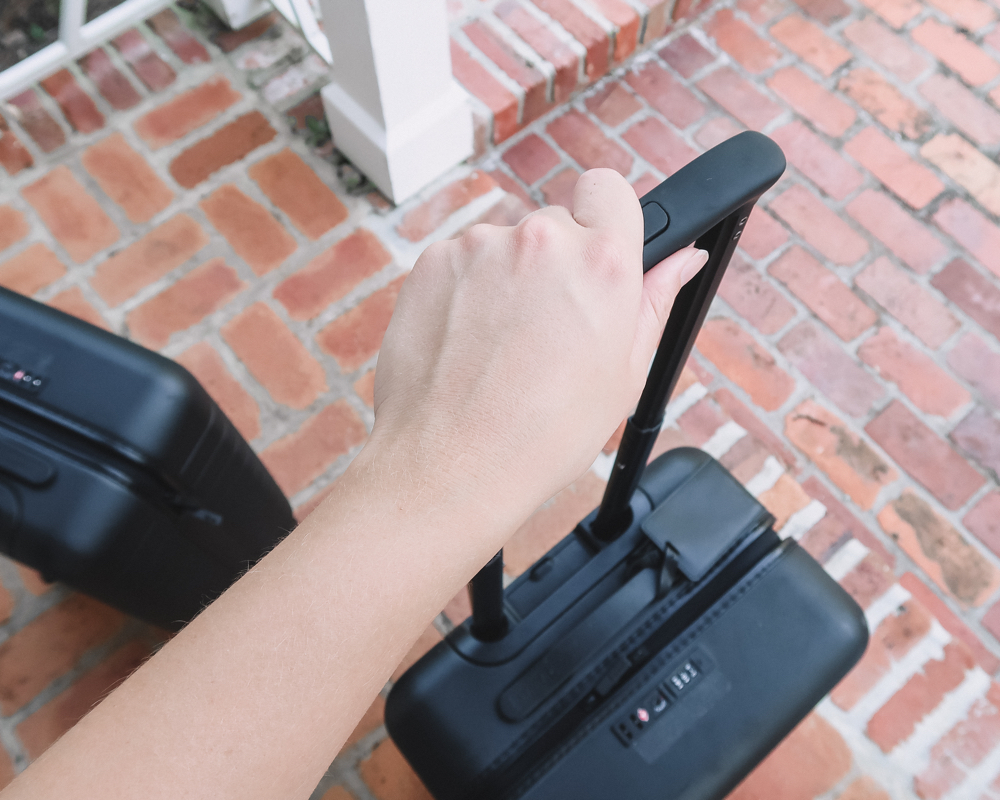 I purchased a piece of carry-on luggage from the Away brand just before I left for London. A few months into my trip, I wrote a review summarizing my thoughts about the luggage and the brand. At that point, I'd taken the suitcase on my international flight to London, as well as two weekend trips. It was enough to form an initial opinion, but now I have more to say after 6+ months of European adventures with my Away bag at my side.
If you're interested in why I purchased the carry-on, be sure to read my original review. I wrote in depth about the multiple options (in size and color) offered by the brand, the features of an Away bag, and the price.
My Away carry-on is also featured in my post "What to Pack in Your Carry-On." I wrote…
I love the matte finish and the square shape. It's extremely durable. And I'm a fan of the two-sided interior – I was able to fit quite a bit in this bag.
THE LUGGAGE – MY OPINION 6+ MONTHS AFTER PURCHASE
During my 6 months in London, I packed my Away carry-on for 4 weekend trips (Wales, Edinburgh, Cornwall, and Yorkshire). I also packed the carry-on for 3 weeks of European travel after I finished work in August. My parents came to visit and we traveled to Germany, Austria, and Luxembourg, and then I met a friend in Ireland. The Away carry-on fit everything I needed it to (often more), and the 360-degree wheels made it easy to maneuver / drag around everywhere we went. And it held up really well, even after months of abuse!
Fun fact: In preparation for our European adventures, my parents ALSO bought Away luggage for themselves. My dad purchased the traditional carry-on and my mom bought the bigger carry-on like mine. So our luggage was a matching family, as well.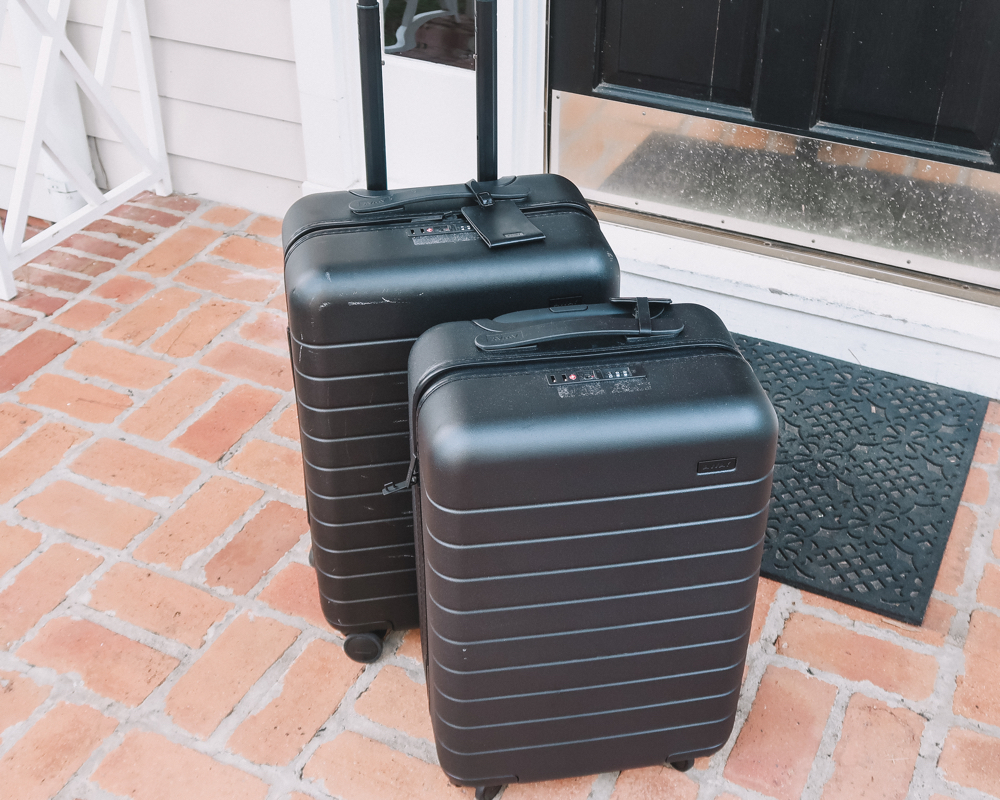 SIZE
I purchased the "bigger carry-on" because I am a notorious overpacker and needed a piece of luggage with extra space for weekend travel. In my first review, I wrote…
According to the Away website, the bigger carry-on is "made to fit the sizes of major US airlines, ideal for those flying on big planes or with extra outfits." It has a capacity of 47.9L, while the traditional carry-on has a capacity of 39.8L.
The extra 8.1L made all the difference for me. I was so impressed by how much I was able to pack in this suitcase. When I packed for 3 weeks of European travel, I took only my carry-on and a backpack. I left my 2 large suitcases in London. I managed to pack the following in my Away bag: 8 tops, 3 bottoms (mom jeans / denim shorts / denim skirt), 1 dress, 1 jacket (oversized denim jacket), 2 shoes (I wore my sneakers so I didn't have to pack them), 2 pairs pjs, undergarments / socks, a crossbody purse, toiletries / makeup, hair dryer, hair straightener, and a travel-size steamer. Not bad, #amirite?!
My only concern was that the suitcase would be too big to qualify as a carry-on for European airlines. Budget airlines like Ryanair and EasyJet are strict with their size guidelines. While the "bigger carry-on" is advertised as being appropriately sized for major US airlines, the brand makes no claims about smaller airlines with varying size requirements.
On the first leg of our European journey, my mom and I checked our luggage because we didn't want to remove our liquids. But when I flew to Ireland, I flew Ryanair and took my suitcase with me onto the plane. It fit perfectly in the overhead compartment and no one said a word.
DURABILITY
I traveled via buses / planes / trains / automobiles with my Away carry-on, and never had a problem. Sometimes it took two of us to hoist the bag into the overhead, but only if I'd packed heavily. My poor carry-on endured quite a bit of abuse… I dragged the suitcase over curbs, pavement, and rocky paths. It was often shoved into compartments or buried under other suitcases on the bus.
The polycarbonate shell was very durable. Though it's a bit scratched up, the damage is minimal and not particularly noticeable. This is one of the reasons I preferred the color black and the matte finish. All Away suitcases have a matte finish, but I'm sure the lighter colors are more likely to show dirt.
With previous suitcases I've owned, this type of wear / tear typically results in broken wheels, broken zippers, or broken handles. But my Away carry-on is sturdy as ever.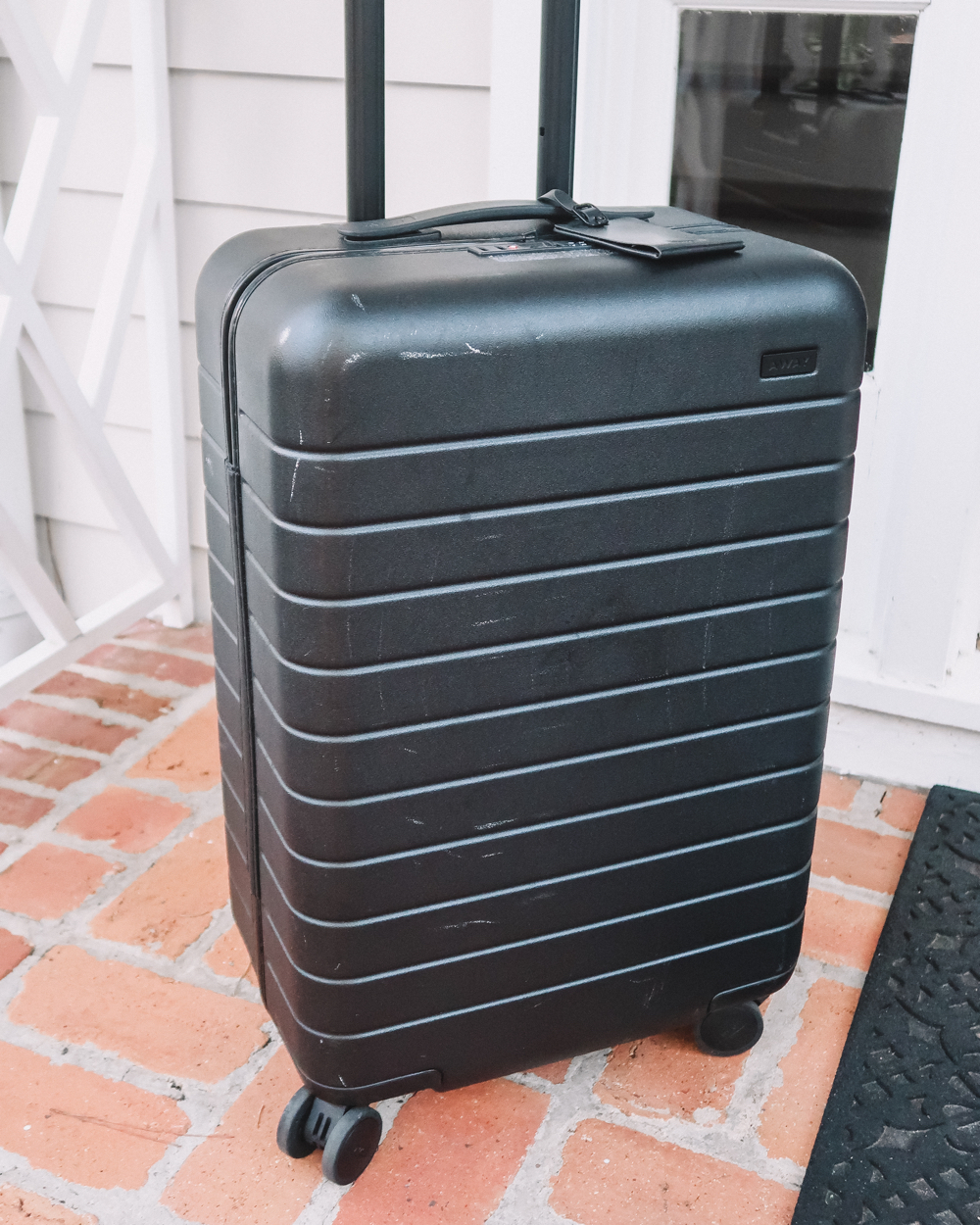 FEATURES
Away luggage boasts a TSA-approved combination lock, an ejectable battery, 360 degree wheels, an interior compression system, and a hidden laundry bag.
During the first few months with my carry-on, I didn't make use of the combination lock, the battery, or the laundry bag. I didn't feel as though I had need for the lock (and let's be real, I was afraid if I locked it that I'd be unable to open it again). I sort of forgot about the battery. And sometimes I'd remember to pack the laundry bag, but didn't worry about separating my dirty clothes later.
However, these things changed as time went on. When I took a weekend trip to Wales, where I participated in all outdoors activities, my clothes were damp from rain / seawater / sweat. It was super helpful to have the laundry bag as I packed to return to London, because I didn't want my clothes to drip or smell. I've used the laundry bag numerous times since then, and it is awesome to separate your clean clothes from your dirty clothes (if only to help you remember what you've already worn!). Fun fact, I've thrown the laundry bag in the washing machine alongside my dirty clothes, and it comes out good as new. (And smells fresh!)
When I traveled with my parents, my dad suggested I use the combination lock as an extra measure of security while we sat in airports or in train stations. And it was especially useful when I met my friend in Ireland, because we stayed in hostels and it gave me peace of mind to lock up my suitcase at night. Our second hostel didn't provide lockers under the beds, so I stored my backpack and important documents in a locker downstairs but kept my locked suitcase with me overnight. Of course, anyone could have grabbed the whole suitcase and run, but I wasn't worried about that as much as I was someone sneakily sorting through my things.
The combination lock is super simple to use. You select a 3-digit combo and are able to "lock" the zippers in place. Keying in the 3-digit combo will free the zippers when you wish to open the suitcase again.
PURCHASING AWAY LUGGAGE – NEW PRODUCTS & STYLES
Since my initial review back in April, the Away brand has added 2 new pieces of luggage to its product line. The "carry-on with pocket" and the "bigger carry-on with pocket" feature a built-in nylon front pocket. According to the website, the pocket is "made from abrasion- and water-resistant nylon" and features a lockable zipper.
Personally, I'm not a fan… not because I don't appreciate the pocket, but because I believe it takes away from the classic look of Away luggage. Also, I'd be concerned about the items I stored in the pocket, especially if someone else were to handle my luggage and weren't as gentle. Or if something heavy – say, another suitcase – was stacked on top of my bag. I'm sure the brand kept that in mind while designing the front-facing pocket, and so it may not be a valid concern. But it's just not my thing.
Away also sells travel accessories, including a duffle, a garment bag, backpacks, and "interior organizers" including a toiletries pouch and packing cubes.
If I were to make another purchase, I'd want the matching large luggage. I've mentioned this in my previous posts but will touch on it again… you can save $$ by purchasing luggage as a "set." If I'd purchased my carry-on and the "large" as a set of two, I could have saved $45. (The set of two is $495, while the cost of purchasing both bags separately is $540.) And I know that I'll purchase the matching suitcase someday!
I hope my review has given you more practical information, whether you're doing preliminary research or making a decision about whether to purchase. Tell me, have you heard of the Away brand? Do you own a piece of Away luggage, or hope to?