One of my favorite fall recipes is chocolate chip banana bread. I absolutely love the fall season for all the holidays and the excuse to make good food. My mom and I do a lot of baking for family and friends, and a seasonal bread makes for a great gift. Pumpkin bread and chocolate chip banana bread are our go-to's, so I thought I'd share the recipe for those of you with a seasonal sweet tooth.
We've used Raechel Ray's recipe for years. It never lets us down. I keep the recipe stored in Paprika, an awesome recipe manager app that I can access on both my computer and my iPhone. You can enter recipes manually, or paste a link to an online site and Paprika will do the rest.
When we make banana bread, we typically double the recipe (select "scale 2x" in the app and it will automatically calculate the new measurements). Our doubled recipe makes a large loaf and a small loaf, and sometimes we'll freeze the smaller loaf or wrap it up as a gift.

Ingredients
½ cup vegetable oil
3 cups flour
2 cups sugar
2 teaspoons baking soda
1 teaspoon salt
4 eggs, lightly beaten
6 bananas, mashed
2 cups chocolate chips
Directions
Pre-heat the oven to 350 degrees F.
Grease and flour a 8 ½-inch x 4 ½-inch loaf pan (or use baking spray, such as Baker's Joy brand).
In a large bowl, whisk together the flour, sugar, baking soda and salt. Mix in the oil, bananas and eggs. Stir in the chocolate chips (do not overmix!) and pour into the prepared pan. Bake until a toothpick inserted in the center comes out clean, about 60-80 minutes. Cool the loaf in the pan for 10 minutes, then turn out and cool completely, right side up.
It's a pretty simple recipe, not too difficult to make. Remember to purchase your bananas a few days in advance so they can ripen – brown bananas are easier to "mush"! (We've done it both ways – the bread tastes just as great even when our bananas are less ripe.) We've found that the loaf does, in fact, take closer to 80 minutes to bake. We set our timer for 60 minutes anyway just to remember to check on it. Baking time will also depend on the size of your loaf – the smaller the loaf, the quicker you can take it out of the oven.
And allow your loaf to cool, per the directions. If it's too hot, it's difficult to slice and could fall apart. It's worth waiting, I promise!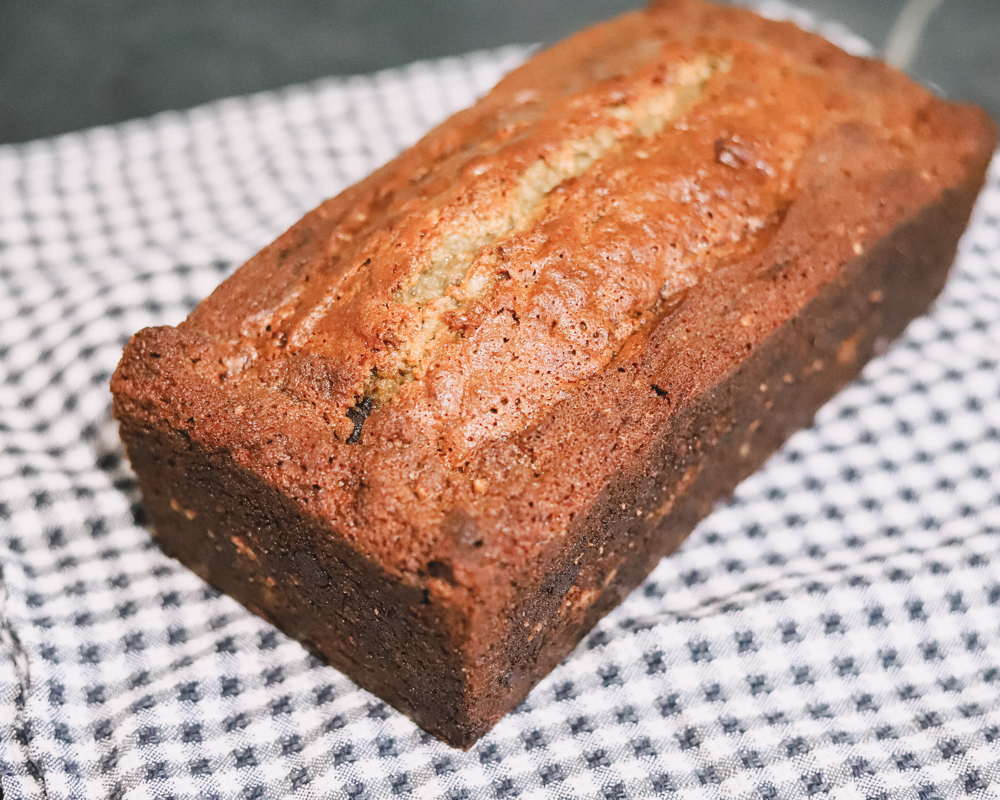 What's your favorite fall recipe? Let me know in the comments below, I'd love to try it myself!