This past weekend, a friend and I took a quick road trip to Disney World. Originally, we planned to stay with my aunt, who lives in Orlando. But then she came down with the flu, and our plans changed! Only 2 days prior to our trip, we needed a new place to stay.
Both Ashley and I searched online for budget hotels close to the Disney parks. I was simply Googling, but Ashley searched Hotwire.com and we found some really great options on their site. I've never used Hotwire.com, but I was really pleased with our reservation and our experience so I decided to blog about it!
WHY HOTWIRE?
According to Wikipedia, Hotwire "operates by selling off unsold travel inventory at discounted prices."
Therefore, Hotwire is awesome for booking last-minute accommodations. A hotel may be attempting to fill space, and Hotwire will offer a significant discount. But here's the catch… with many of the listings, Hotwire won't reveal the name of your hotel until you've booked. Naturally, this made us a little wary at first. We didn't want to take any chances, especially since Ashley and I would be traveling alone.
So, to recap: we were looking for a last-minute weekend hotel reservation, something economical but also safe.
3 THINGS TO CONSIDER
In order to make the best possible choice, we decided to take a few minutes more to do our research. We could have booked the first hotel Ashley found on Hotwire – only $38 a night – and I'm sure it would have been OK. But in the end, I'm glad we took a little more time.
1. Consider reviews!
A positive review carries a lot of weight. I'm always curious to know how previous customers have rated their stay / experience / product / etc. On Hotwire, ratings are indicated at-a-glance beneath the title/location of a listing. For example, "60% recommended" beside the thumbs-up icon. For highly rated listings, look for a green thumbs-up. The $38 hotel listing we found originally, though cheap, was only 40% recommended. The hotel we booked in the end was 75% recommended (a percentage of the 34 reviews on the Hotwire site – but Hotwire linked to 2000+ reviews on TripAdvisor as well).
2. Location, location, location.
For us, it was important to find a hotel with a convenient location – that is, close to the Disney parks! When you use Hotwire, you can narrow your search by selecting certain areas on the map. Scroll over each section of town for a brief description of the area. I chose sections of town closest to Disney… (1) Disney – Lake Buena Vista (2) Disney Springs (3) Walt Disney World – Bonnet Creek (4) Disney Maingate West (5) Disney Maingate – Celebration – Old Town. While proximity was certainly a priority, we were also concerned with safety. We found a listing with a high percentage of reviews in Old Town, but weren't interested in staying within this area of town. In the end, we booked a hotel located in Disney Maingate West (only a 10-15 minute drive to the Disney parks!).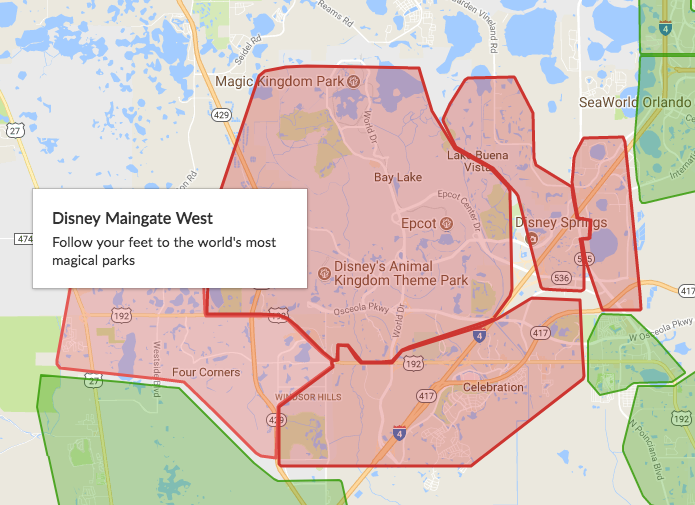 3. Price $$
Neither Ashley nor I were looking to spend much money on a hotel. We were looking for affordable, budget-friendly options. After narrowing our search to particular sections of town, I sorted the listings by price (low to high). Click the "sort by" button in the top panel for a variety of sorting options (popularity, price, star ratings). This is how we found our hotel – "Hot Rate" 3.5 Star New to Hotwire Hotel in Disney Maingate West area, $50 per night. As I previously mentioned, we didn't book the cheapest hotel listing we found. In fact, we were willing to spend a little more money to ensure quality, safety, and convenience.

In short, Hotwire gives you the data you need to make an informed decision. When you click a particular listing, Hotwire will often share the name of the hotel a recent customer received. "Book soon! The last person got the Westgate Vacation Villas." There's a pretty good chance you'll get the same. This is what happened for us, at least. Before we booked, I Googled Westgate Vacation Villas to get an idea for what our hotel might be like. This went a long way toward convincing me to book this listing.
Hotwire will also include a list of hotel brands you're likely to book. For example, "Hotels in our 3.5-star collection include: Embassy Suites, Double Tree, Crowne Plaza, Hilton" OR it may give you a guarantee, "This Hot Rate® Hotel is guaranteed to be a regional or national hotel chain. Here are few examples of chains you might get: Sheraton / Holiday Inn / Radisson / Four Points."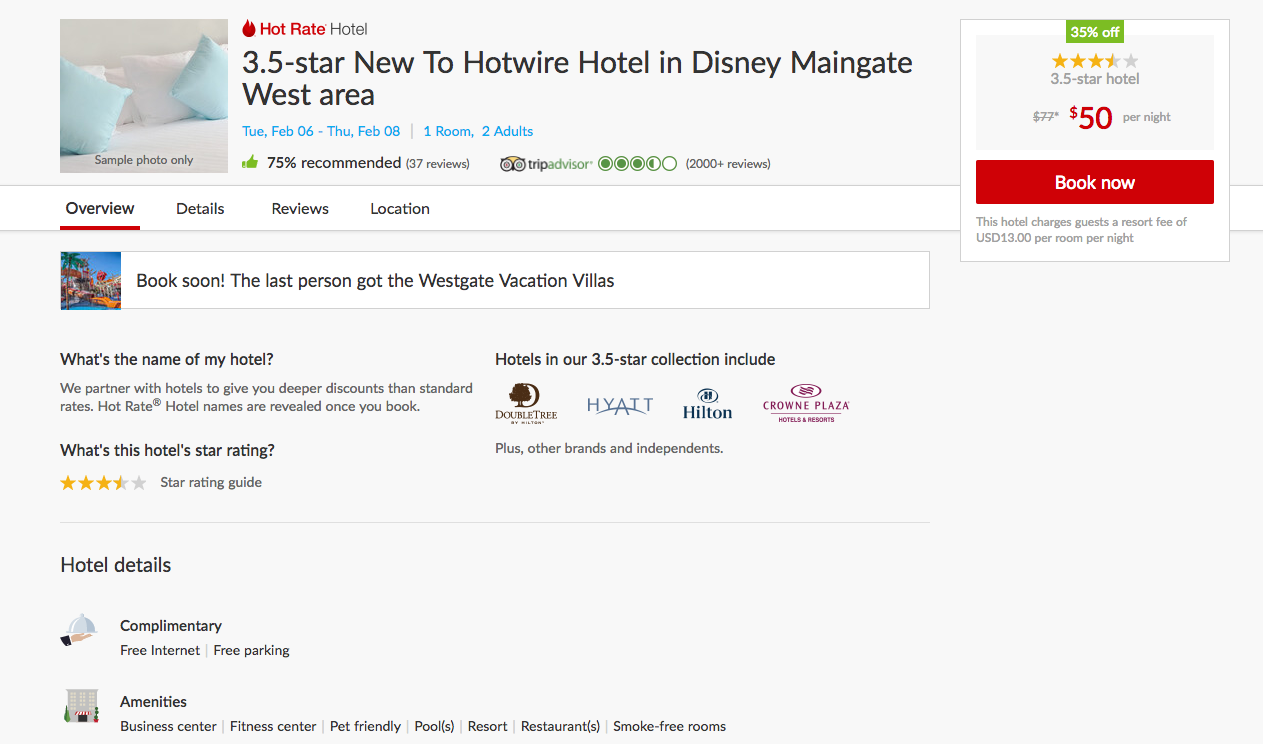 OUR EXPERIENCE
We went ahead and booked the "Hot Rate" 3.5 Star New to Hotwire Hotel in Disney Maingate West area, $50 per night. Hotwire revealed our hotel to be Westgate Vacation Villas.
With taxes & the resort fee, our total was $149.66, which is $74.83 per night. Ashley and I split the cost and both paid $75. Split between the two of us, the cost per night per person was only $37.50, which I think is a steal! AND we loved the hotel and had a really great experience.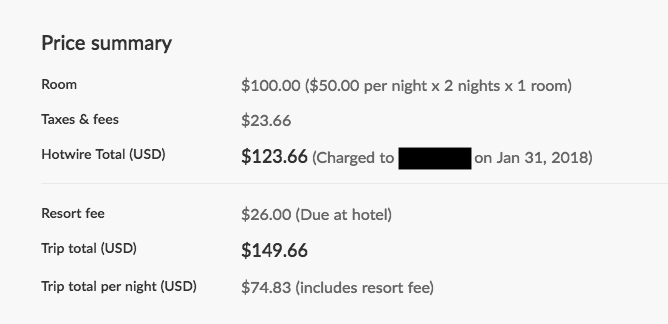 The Westgate Vacation Villas was easy to get to, right off the highway, and the property was really lovely. The roads were lined with palm trees, lit up with twinkle lights. The lobby of the check-in building was very impressive, and the staff were extremely helpful. The check-in process was simple – we were given our room keys and an actual map to find our building. (The hotel was like a Disney park itself!) On our way in, we'd passed a community center with a few shopping/dining options, including pizza and a cafe boasting Starbucks coffee and Krispy Kreme donuts.
Our "villa" was like a suite – small kitchenette (complete with blender, coffeemaker, fridge, sink, cabinetry, glasses/utensils, etc.), round table, living area (couch, coffee table, TV), bathroom (two sinks, plenty of counter-space, private toilet w/ shower), and bedroom (queen bed and desk). Let me just say… this was not what we were expecting. We'd paid only $75 a night for this room? I was waiting for someone to come to the door and yell, "GOTCHA!"
Needless to say, we were really impressed with the space, the cleanliness, and the overall quality. As two young women traveling alone, we felt extremely safe and very confident in our choice.
It was easy to reach Disney property – less than a 15 minute drive.
If you're in need of last-minute accommodations, I'd highly recommend using Hotwire. Give it a shot and see what kind of discounts you can score. I'll definitely be using this site again to book travel accommodations. My final advice is this: whatever site/agency you might be using, be sure to spare a few minutes to do your research. The cheapest option may not always be your best option. It all depends on your needs and priorities.
Hope this helps! Let me know in the comments below if you've used Hotwire to book travel accommodations – I'd love to hear about your experience. 🙂