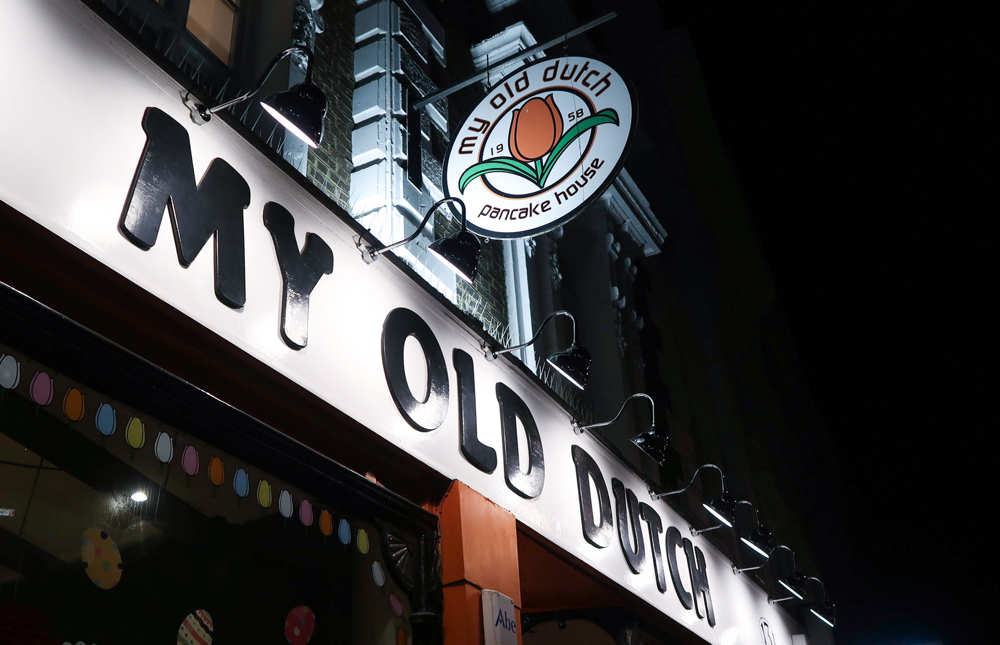 I've long been a fan of breakfast-for-dinner. My family particularly enjoys making waffles, or scrambled eggs with bacon. It's a go-to when nobody is in the mood for a heavy meal.
On Monday, my roommates and I had dinner at My Old Dutch, a pancake house that's been around since 1958. Today, there are three locations (Kensington, Holborn, and Chelsea), but we're closest to the Holborn shop. We've been dying to go on a Monday evening to partake in the "Monday Madness" deal, which boasts £5 pancakes. Um, absolutely.
My Old Dutch serves both savoury and sweet Dutch-style pancakes, as well as traditional Dutch starters and desserts. Take a look at the menu on their website for a list of all their options – it's extensive! There's certainly something for everyone.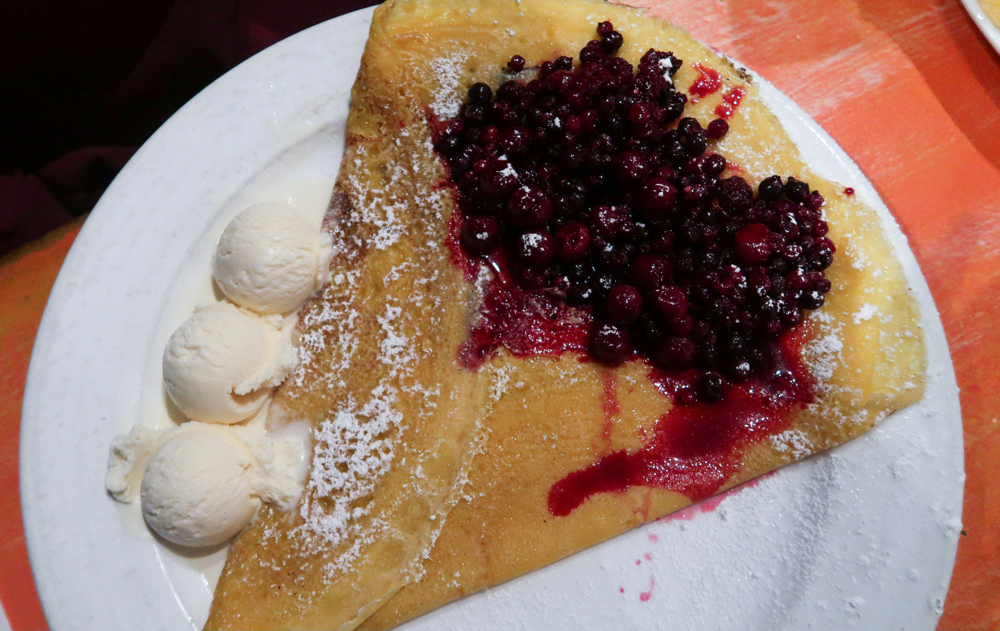 UK "Pancakes" vs. American "Pancakes"
But let me tell you, this was a different experience for me. When I think "pancake," I picture a classic stack of fluffy flapjacks. However, the "pancakes" served here in the UK are not the same.
British "pancakes" are like crepes. They're soft and thin and a little crispy around the edges. And they're served with much more than maple syrup – chocolate sauce or Nutella, fruit, berries, cream or ice-cream, even savoury toppings like meat (chicken, ham, bacon), veggies (tomato, sweet pepper, spinach), or cheese. Needless to say, there's quite a bit of variety.
According to this humorous Buzzfeed article, it's the American version that doesn't deserve to be called "pancakes." After all, American pancakes are often cooked on a griddle, rather than in a pan. (Pan-cake. You get it.) Buzzfeed suggests "griddle muffin," if we're to call it like it is. (Not sure it would catch on, but let me know in the comments below if you disagree.)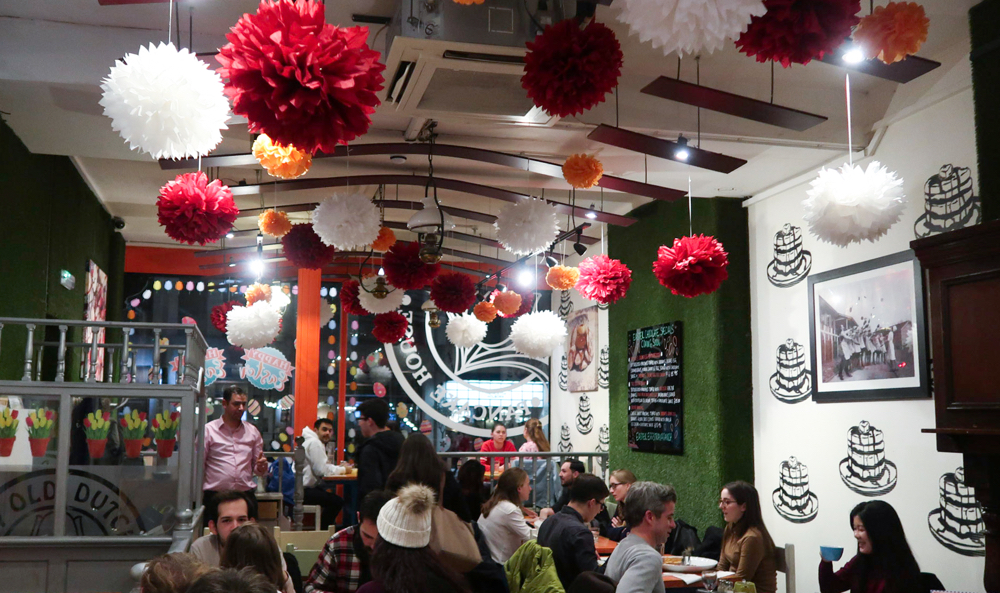 My Experience
My Old Dutch is warm, cozy, and colorful. It was busy, but we were quickly seated at a table in the back, and a waiter came to take our order shortly afterward.
I'd reviewed the menu online, but I still couldn't decide what to order. Firstly, you've got to choose between sweet and savoury. On the one hand, it was dinnertime, so any of the savoury pancakes would have been appropriate – the Italian (mozzarella, tomato, cheese, olives & mixed Italian herbs), for example, sounded similar to a pizza, which would have been fun. On the other hand, I'm a girl with a massive sweet tooth, and it's difficult for me to think of pancakes as anything *but* sweet.
I'd narrowed it down (it was between the Sugar & Lemon and the Apple Cinnamon), so I asked our waiter for a recommendation. He seemed confident about the Apple Cinnamon – with ice-cream, of course – so I went for it. My roommates ordered the Compote of Berries and the Mediterranean (marinated artichoke hearts, sundried tomatoes, cheese & olives).
Our plates were huge – each pancake was the size of a small pizza. My Apple Cinnamon pancake/crepe was absolutely delicious – warm, thin, very light. The apple slices were baked into the pancake, and it was dusted with cinnamon and powdered sugar. Served with three small scoops of vanilla ice-cream which began to melt. Perfection.
I wish I could say I wasn't able to finish it (it was HUGE), but I'd be lying. I devoured the whole thing. It was like having breakfast AND dessert (two of my favorite things) for dinner.
Monday Madness
Monday Madness £5 pancakes is not a bad deal, considering the pancake I ordered is regularly £8.50. There are, of course, several caveats/exceptions, and you'll have to read the fine print on the menu to be sure you're complying with the deal. For example, you can't order butterscotch pancakes (these are American pancakes – but why are you ordering American pancakes anyway?!) as part of Monday Madness, and the deal doesn't apply on Bank Holidays.
Overall, it was a really enjoyable experience, and we'll certainly go back for more. I have quite a few other pancakes I'd like to try, including the Sugar & Lemon (which is classically British), Chocolate Sprinkles (chocolate ice-cream, chocolate sauce, topped with chocolate sprinkles), and Peaches (with cream or ice-cream). And I'd be willing to try a savoury pancake, as well. We shall see.
Are you a fan of the American "pancake" or the British crepe? Have you been to My Old Dutch? I'd love to hear your thoughts!