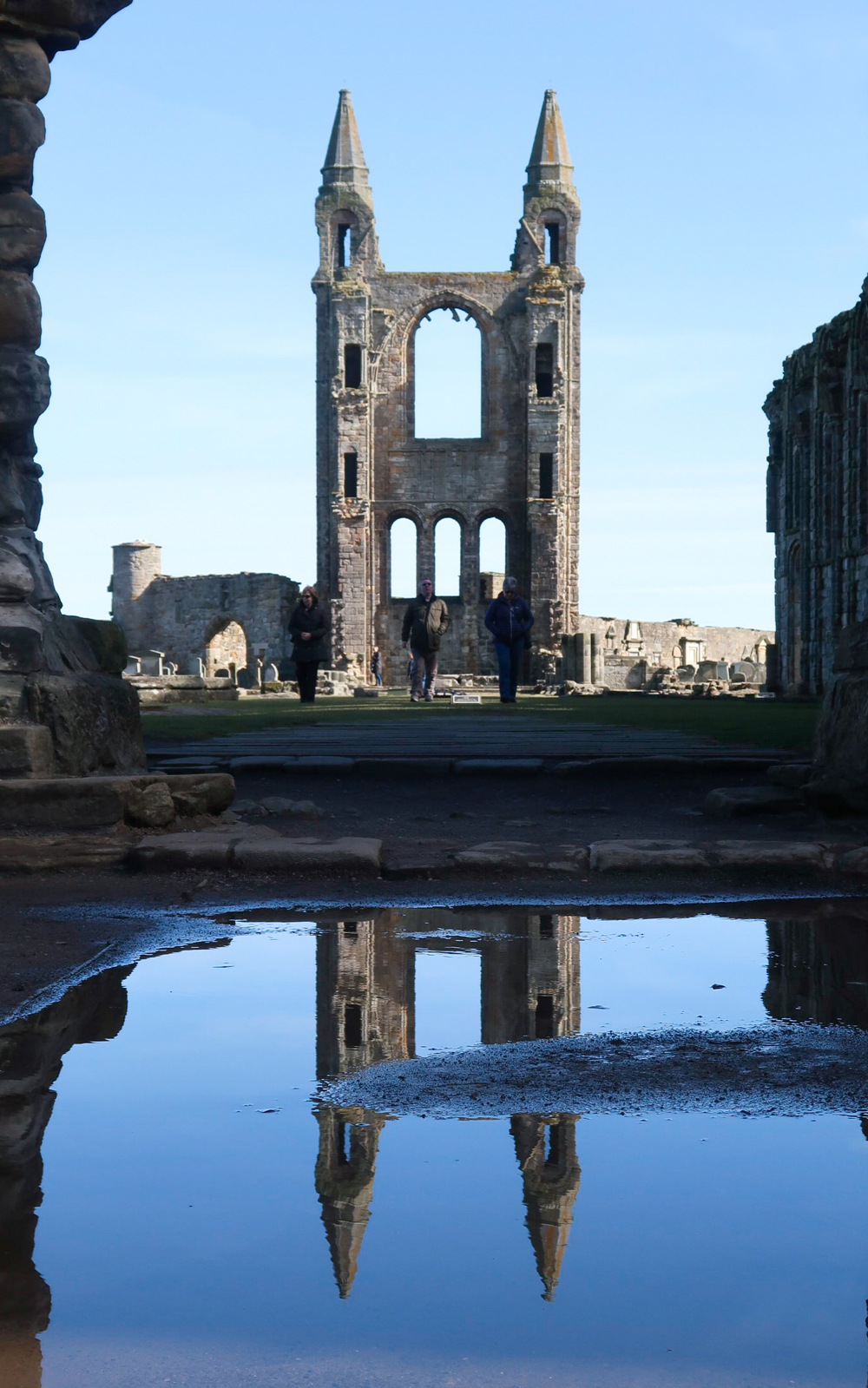 While we were in Edinburgh, Scotland for the weekend (check out my previous post featuring 5 "can't miss" things to see and do in the city), we took a day trip to St. Andrews. We arrived in Edinburgh on Friday, spent the afternoon exploring / hiking Arthur's Seat, and woke up Saturday to visit St. Andrews.
St. Andrews is about an hour and a half away from Edinburgh. We took coach buses (we're a large group!), but you can reach St. Andrews by car, by bus, or by train. There's a helpful page on the St. Andrews website listing these various methods of transportation.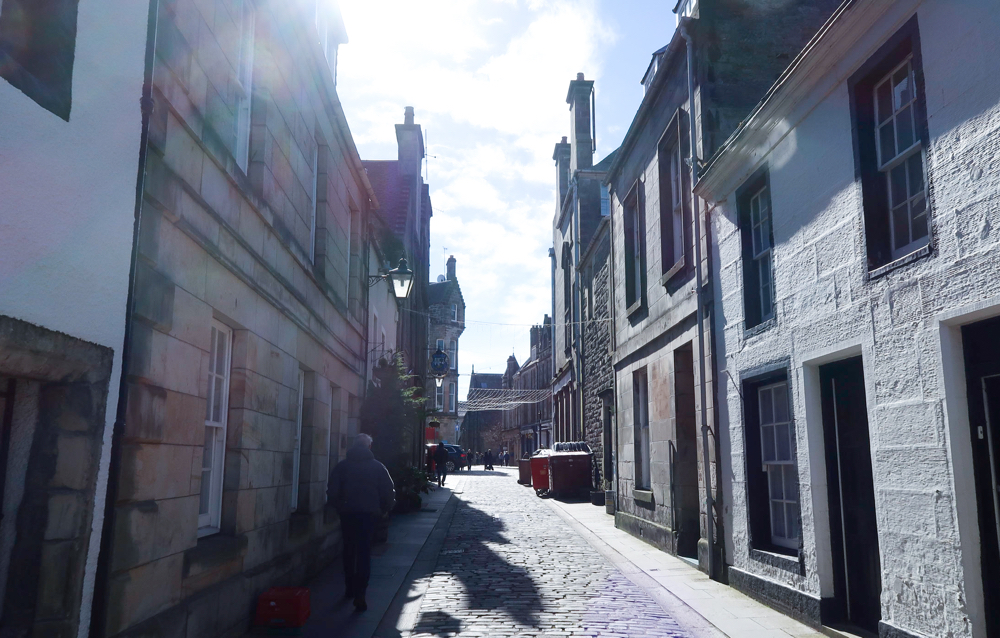 Why St. Andrews?
Well, why not? St. Andrews has a lot going for it, namely that it is called "the world's home of golf" and that it is home to the University of St. Andrews, Scotland's first university. Prince William attended University of St. Andrews, and it's where he met Princess Kate. (So if that's not reason enough to visit St. Andrews, I don't know what is.)
One of my supervisors attended grad school at St. Andrews, and she absolutely loved her time there. It's very picturesque – the beach and the golf course are really lovely.
We were lucky to have beautiful weather the day we visited. It was a sunny, cloudless day, and it was so warm I didn't need to wear my coat.
Things to See & Do In St. Andrews
There's plenty to see and do in St. Andrews. You could walk around the University of St. Andrews and photograph the old buildings.
You could play a round of golf, because the famous golf course is open to the public. (If this is something that interests you, I'd recommend making a reservation prior to your visit!)
Walk along the beach. There's a large stretch of sand, and the water is beautiful. It's very peaceful.
Tour the ruins of the cathedral. This is another excellent photo op.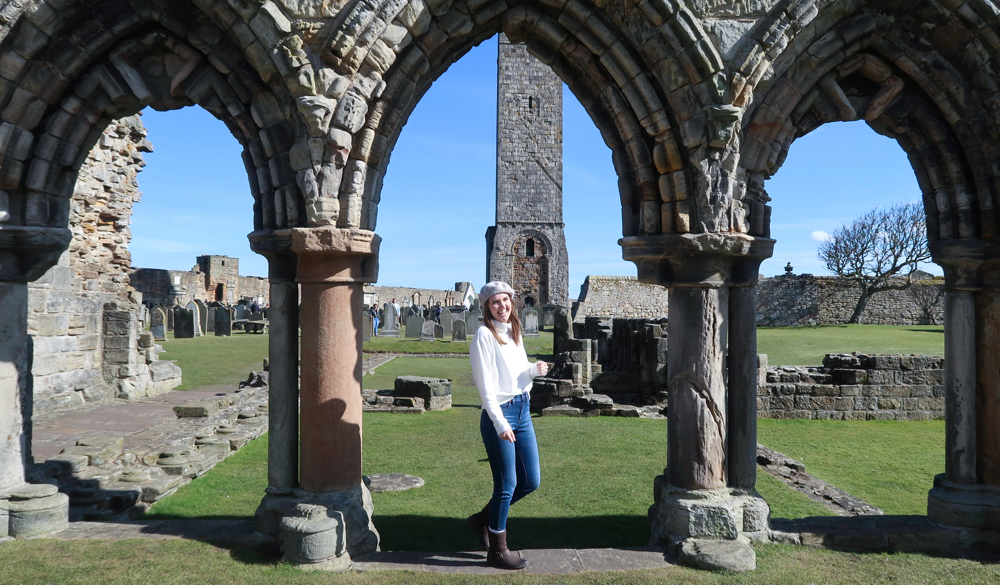 Picnic in St. Andrews
We wanted to be outside because the weather was so nice. When we were hungry for lunch, we searched for grab-and-go food so we could eat outside. There are plenty of dining options in St. Andrews, including cafes and restaurants and chains like Pret-A-Manger (which is classic grab-and-go). But we stumbled across a little Italian deli, called Rocca Italian Deli, and when we popped inside we found that they make sandwiches in the back.
I ordered turkey and cheese on toasted ciabatta bread. They handed us our sandwiches wrapped in paper, and we walked around the corner and found a shady spot in the park to sit down and eat. My sandwich was delicious. It was warm and fresh and exactly what I'd been in the mood for, without even realizing it.
If you experience beautiful weather, I'd highly recommend picnicking. You could eat on the beach, or grab a bench overlooking the golf course, or sit among the ruins.
Our lunch was followed by dessert at Jannetta's Gelateria. It was almost overwhelming, there were so many flavors to choose from. I ordered two scoops – dark chocolate and cookie dough in a sugar cone.
We had a delightful day in St. Andrews. We boarded the coaches to return to Edinburgh around 3:45 in the afternoon. This gave us enough time to walk around and explore and to enjoy the weather.
Have you visited St. Andrews? What other day trips from Edinburgh would you recommend?