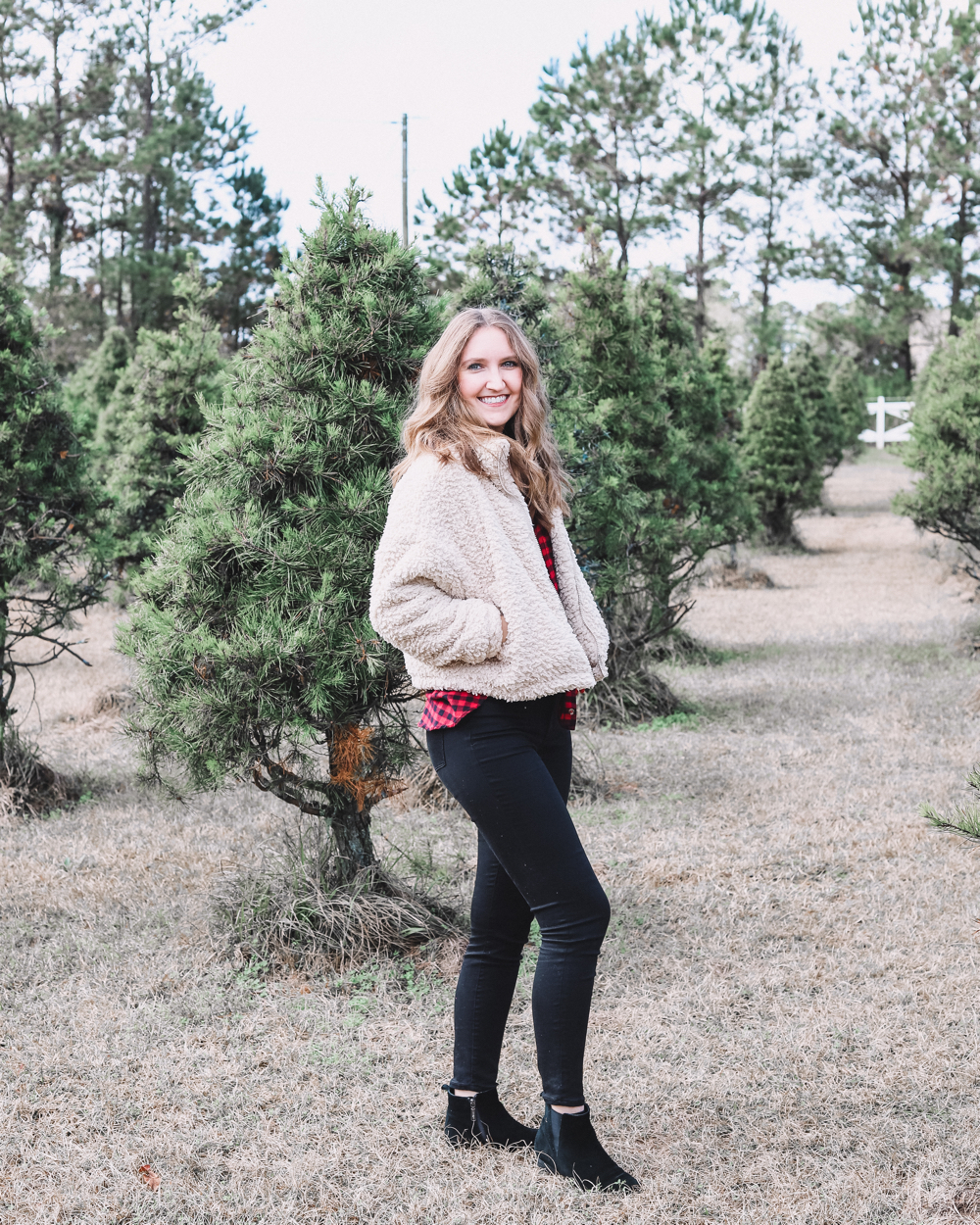 Merry Christmas Eve to all! I hope everyone has an opportunity to rest and spend time with family and friends this week.
Today, I want to write about two of my favorite trends this holiday season – buffalo check and sherpa. (And how cute they look paired together!) I've seen so many cozy sherpa jackets on social media lately, and am absolutely loving this trend. Everything from sherpa pullovers, sherpa coats, cropped zip-up jackets – I've always been a fan of sherpa (who isn't?! it's so soft) so I knew I needed to invest.
There were a couple of options to choose from, but I particularly loved this cropped pocketed sherpa jacket from Vici (I've linked everything below). I think it's an incredibly versatile piece – I could wear it over anything, really, but I've had a lot of fun pairing it with flannel and plaid.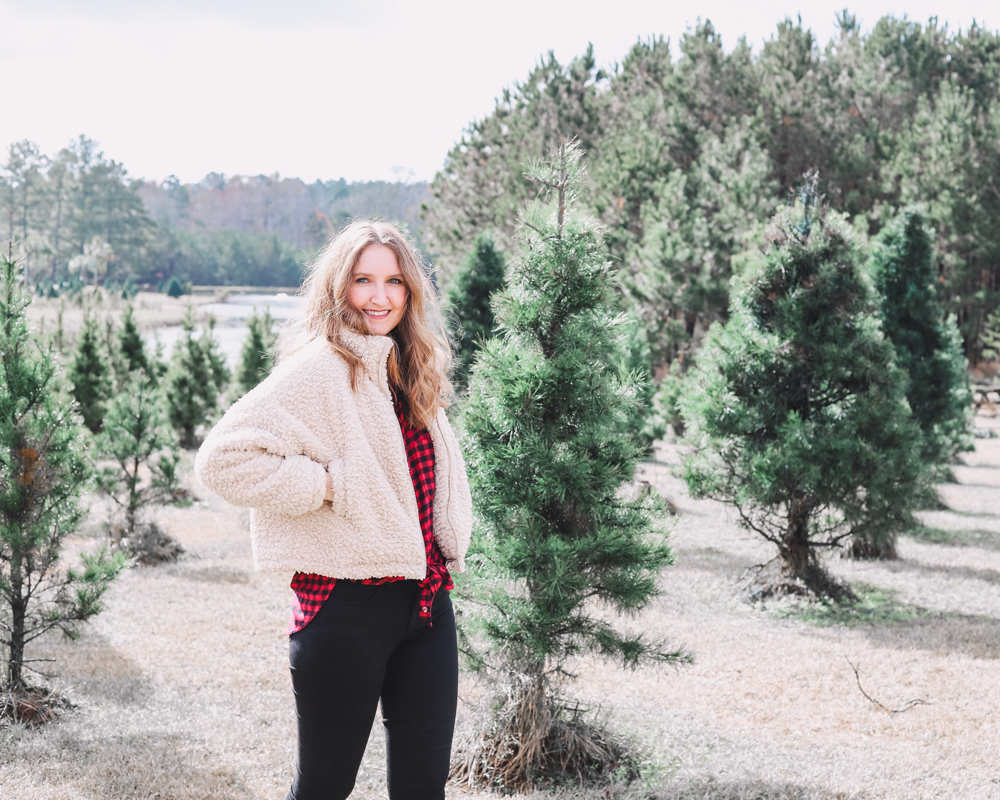 VICI BRAND REVIEW
So let's talk the brand – I'm going to share my personal experience with Vici, which has a few ups and downs, so you'll need to bear with me. And keep in mind that though my first experience with Vici merchandise was negative, the story ultimately has a "happy" ending. After all, I've featured two Vici tops in a recent blog post, and I'm clearly excited about my sherpa jacket featured in today's post. That said, here goes…
I've only recently discovered Vici, because my sister recommended it to me. She's made a few Vici purchases, usually dresses or rompers for parties or more formal occasions. The site updates their inventory very frequently – and they stock trendy / fad pieces alongside basic / classic styles. When Syd showed me the site, I thought this is what I've been looking for. I'd been having such a difficult time attempting to find fun outfits for special occasions, like parties or nights out with friends. Trendy, stylish pieces that are affordable, yet not so cheap as to be poor quality.
So I placed my first order – two dresses I thought would be perfect for two upcoming events, but basic enough that I'd wear them again. And a few days later, before I'd received my first order, I placed another order because I fell in love with a pair of sequin joggers advertised on their Instagram.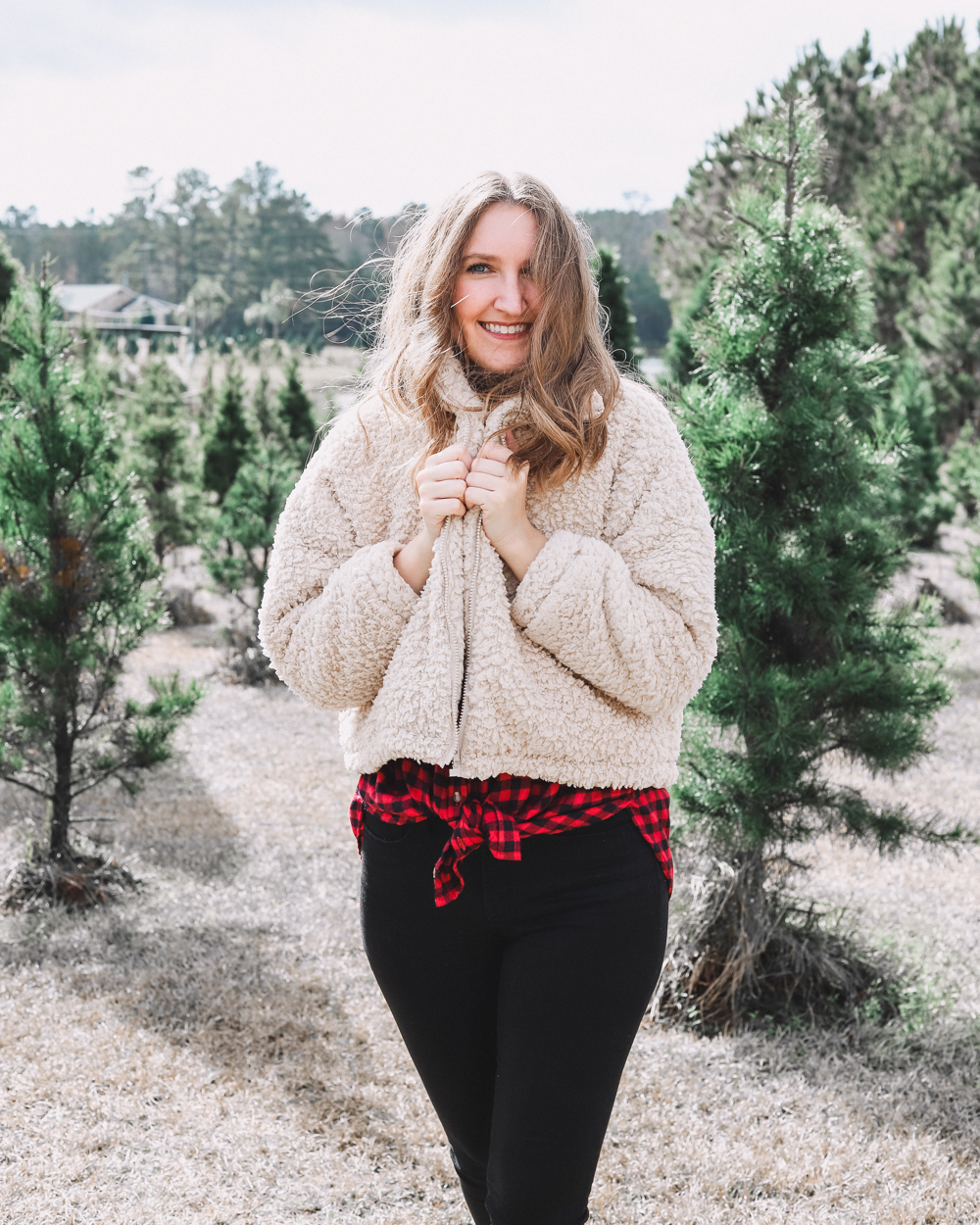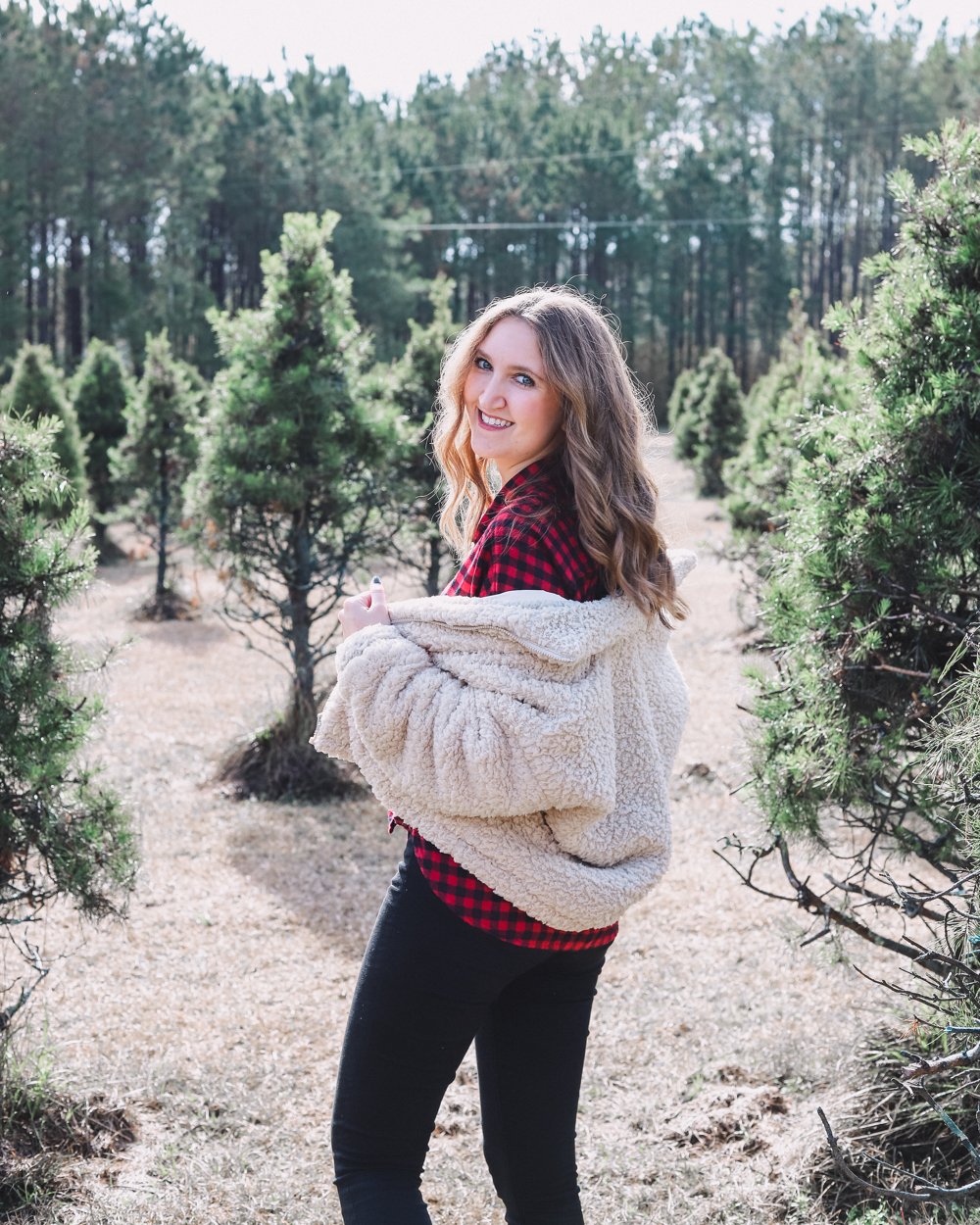 Long story short… I wasn't pleased with either of these orders. I wasn't impressed with the quality of the dresses. I'd read all the details online – the measurements, the materials, everything. But to be quite honest, the dresses did not look as nice as they'd looked in the online photos. The material of the kimono dress I'd ordered felt thin and flimsy. And, yeah, sometimes that's to be expected. But both dresses? And it's not like Vici is a budget brand like H&M or Forever 21… Vici dresses are upwards of $50, which is not "cheap," and certainly not worth the price if the quality isn't there.
Worst of all, Vici only gives store credit for returns. So I was stuck with $150+ credit at an online shop I wasn't excited to order from again. Also, it was simply too late to place a third order in time for my two events – my returns, and therefore my store credit, would not be processed in time.
Of course, I was fully aware of the return policy (store credit only) and placed my orders anyway. So that's on me. Without having ordered from Vici before, I should have waited for my first order to arrive to be sure I was happy with the quality of their merchandise.
I don't want to sound uber negative – I'm simply trying to be honest and upfront about my experience with the company. Because I'd sunk so much $$ into my purchases, and now had store credit to redeem, I didn't have much of a choice. I placed my third order with Vici. This time, I was a bit more shrewd. I chose four tops, thinking there'd be less of a chance of misjudging the size / fit. I paid close attention to the size guidelines and the measurements of the models in the photos. I chose the sherpa jacket because I thought it'd be difficult to go wrong with outerwear. I placed my order during the Black Friday sale, so I got a lot of bang for my buck. Vici does offer frequent discounts and promotions, so that's a bonus.
Unfortunately, I've still sent back half my order. But I really love the pieces I kept. I've already written about the two holiday tops (hunter green peplum, wine-red lace blouse). And my sherpa jacket is exactly as advertised.
WHAT I'M WEARING
I think this red and black buffalo check flannel is super cute – it's short-sleeved, which is perfect for a Floridian winter, and it's long enough to wear over leggings. I snapped this up when I saw it in American Eagle. My particular top is sold out in the red/black, but it's available in blue/green. I've also linked to a few similar options. Act fast if you're interested – everything is 40% off!
AE Ahhmazingly Soft Plaid Top in Green / AE Plaid Pullover Top in Red / AE Ahhmazingly Soft Flannel Boyfriend Shirt in Red
My sherpa jacket is no longer available in a size small, but you can sign up to be notified via email if it's restocked. It is available in sizes M and L. I've also linked to a few similar options.
Vici Like a Cloud Pocketed Sherpa Jacket / Kaley Button Down Pocketed Sherpa Jacket / Laredo Pocketed Sherpa Jacket / Ice Breaker Pocketed Sherpa Statement Jacket – Beige / Dreamboat Sherpa Pocketed Jacket / Vanderbilt Pocketed Sherpa Statement Jacket
What's your take on sherpa? Have you ordered from Vici? Please share your thoughts!