This is a fantastic time to be in London. It's a history-making year, apparently… I was already quite looking forward to the birth of the new royal baby, and the royal wedding in May, but this past week might have taken the cake. It snowed here in central London, and it was incredibly exciting. (At least, exciting to watch from indoors.)
We'd seen the forecast for snow on our weather apps, but we weren't sure whether to believe it…
Well, I woke up Tuesday morning and flipped out when I saw snow flurries falling past my roommate's window. I'd been getting ready for work, and I'd not yet opened the window shade, so I hadn't noticed the snow. It wasn't until I walked into Kyla's bedroom (Kyla is a fellow Program Assistant) that I realized it was snowing. The neighbouring buildings were covered in frost and snow. I was totally elated. Kyla, however, was not as impressed – she's just come from a very snowy winter in New York.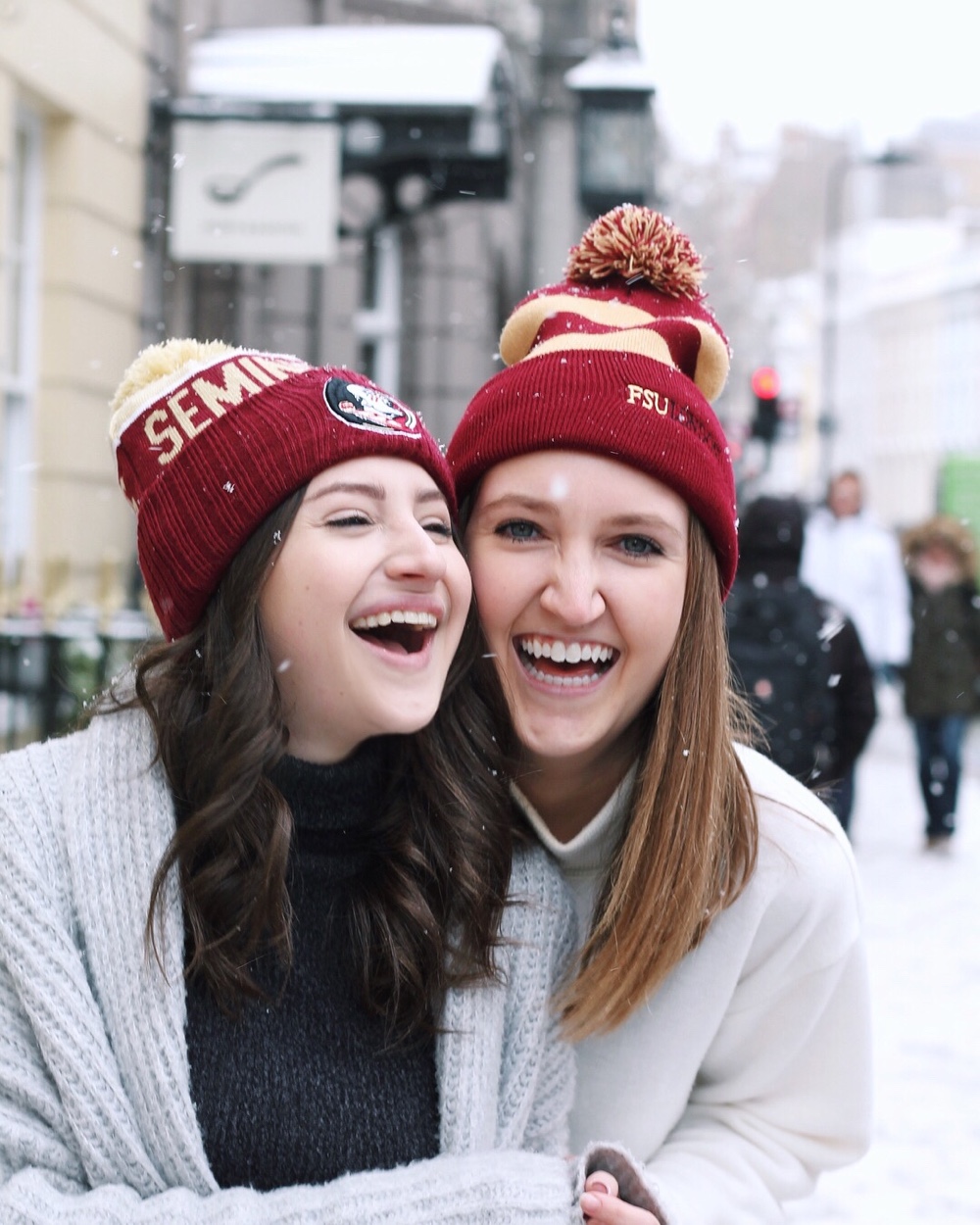 It snowed periodically throughout the day, but it didn't really stick.
The next day, however, it was a winter wonderland. Sitting at my desk at work, I felt as though I were in a snow globe as the white flakes drifted past the windows.
Apparently, temps in London have not been so low since February 2013. Staff in my office say it's been many years since they last saw snow in London. Unfortunately, all our students were on their spring break during our snow week, so they missed out on all the excitement. Many of them were experiencing much warmer weather. (Although there was some snow in Italy, as well!)
The cold temps and the snow caused transportation chaos – there were severe delays on the tube, and trains were either delayed or cancelled altogether. People traveling into the city for work were fearful of being unable to get home at the end of the day.
Luckily, these weren't issues for me, as I live on campus and have a non-existent commute. (Which is so lovely.)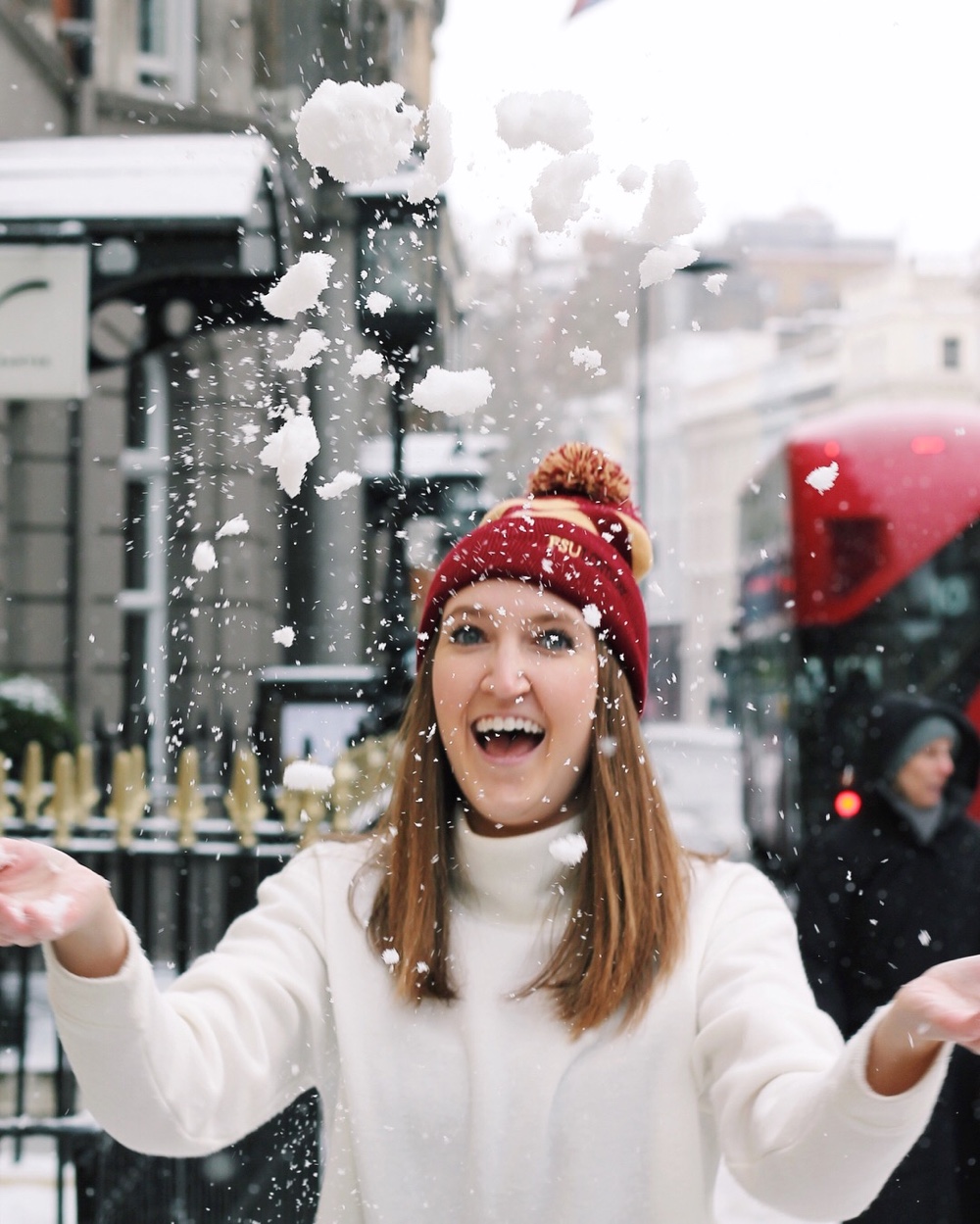 The morning of heavy snow, we took a snow break and went outside for a mini photo shoot. (Because #wheninLondon #amiright?)
And in case you were wondering – no, I was not warm enough in this sweater. You do what you got to do for good photos. When/if I needed to venture out or run errands, I'd throw on my heavy wool coat and scarf.
The snow gave me a fun excuse to break out my new pair of winter boots, a pair of Sperry's I bought for the rainy London weather. Not so much for heavy snowfall, but I really didn't need to go too far, and the rubber soles of my boots were enough to combat the wet, slippery sidewalks.
I've only seen snow twice in my life. My freshman year of college, my family spent Thanksgiving at a ranch in North Carolina. We played outside in the snow all day, making snow angels and throwing snowballs. And earlier this year, maybe the 2nd or 3rd day of January, it snowed in my hometown in Florida (which is totally unheard of!). My dad came running into the house, yelling, and we all piled outside to see it snow from our driveway. It snowed for like 5 minutes (and yet, still worth it – we actually made the national news).
Anyhow, I felt this was something I should share on the blog.
Tell me, are you a fan of snow? Where do you spend your winters?