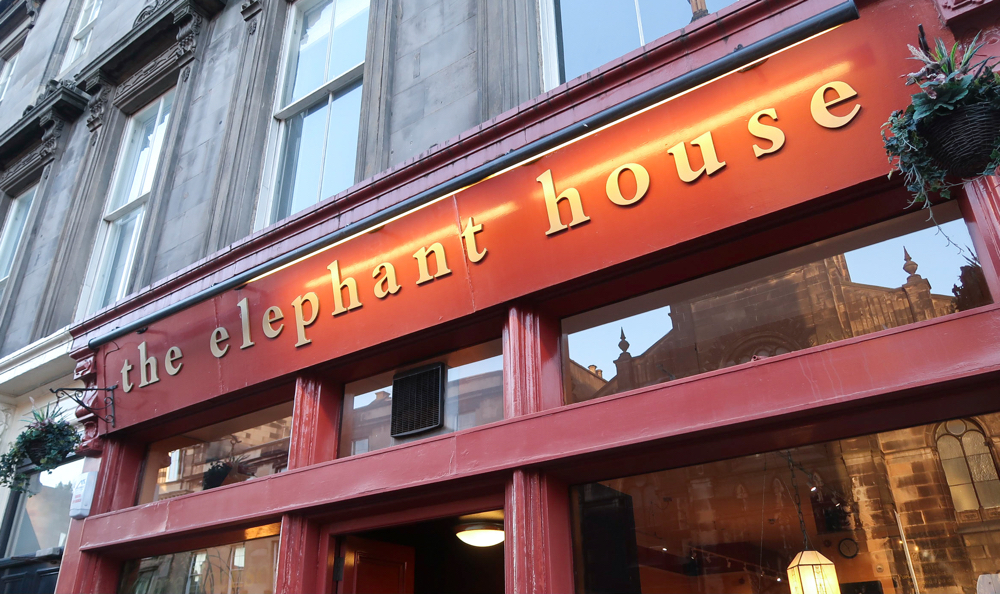 Maybe you haven't noticed, but I'm a huge fan of Harry Potter. I grew up with the books. My dad and I read the first Harry Potter novel together when I was in third grade. I felt inspired by J.K. Rowling and by her stories, and I've wanted to be a creative writer from a very early age.
So, naturally, it's some kind of magic to be here in Europe, to be surrounded by the people and the places that fueled J.K. Rowling's imagination and the story we've all come to know and love.
There's quite enough Harry-Potter-related activities in London (and, trust me, I want to do it all!), but it was special to travel to Edinburgh, Scotland, where J.K. Rowling lived and worked on her novels.
I've highlighted 5 of the Harry Potter hotspots in Edinburgh, several of which I've experienced myself…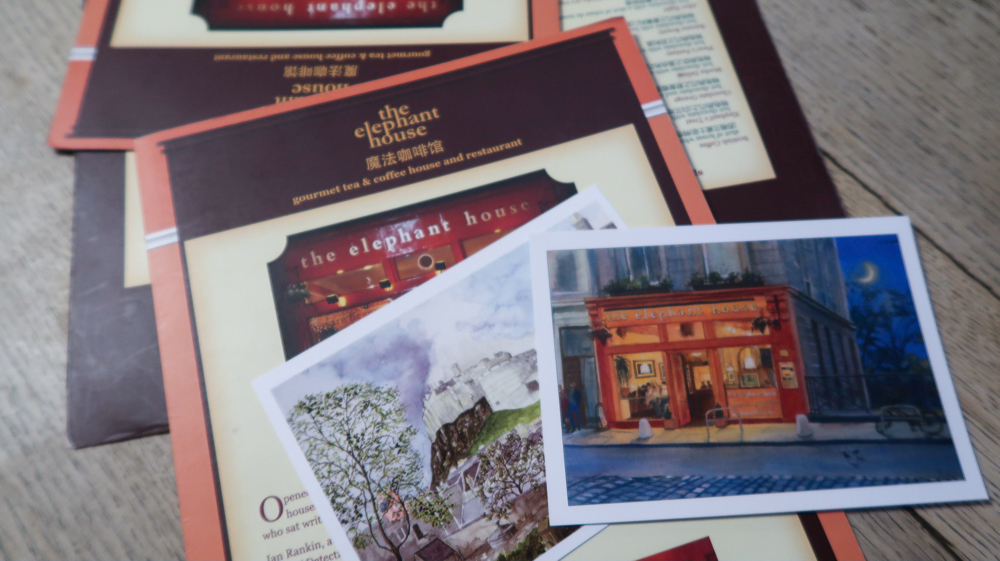 1. The Elephant House
The Elephant House is a cafe in Edinburgh which J.K. Rowling often frequented to write. She sat at a table in the back, with windows overlooking Greyfriars Kirkyard, George Heriot's School, and Edinburgh Castle on the hill. Today, the cafe calls itself "the birthplace of Harry Potter," (which is debatable). There are photos of Rowling working in the cafe. There are sketches and scribblings by fans pinned to the walls. The bathroom is covered in graffiti celebrating the novels, with phrases such as "Dumbledore's Army," and "I love Ron."
When I visited Edinburgh two years ago, one of my roommates and I sat at a counter in the window of The Elephant House and ordered tea and dessert. It was surreal to think that J.K. Rowling was once just an aspiring writer… a local who sat at the cafe and dreamed of publication.
This time, I walked with a group of students to Greyfriars Kirkyard, and we circled back to The Elephant House. We were hoping just to pop our heads in, thinking it might be busy, but we were lucky and it was very quiet. We were able to snag a table for 6 in the back. This was around 6pm or so, and I was hungry, so I ordered the lasagna on the menu. The others ordered tea, coffee, and cake. I ordered the "cake of the day" as well, a slice of chocolate orange cake, which I ate after my meal. It was delicious – moist, and I could taste the orange flavor though it wasn't overpowering.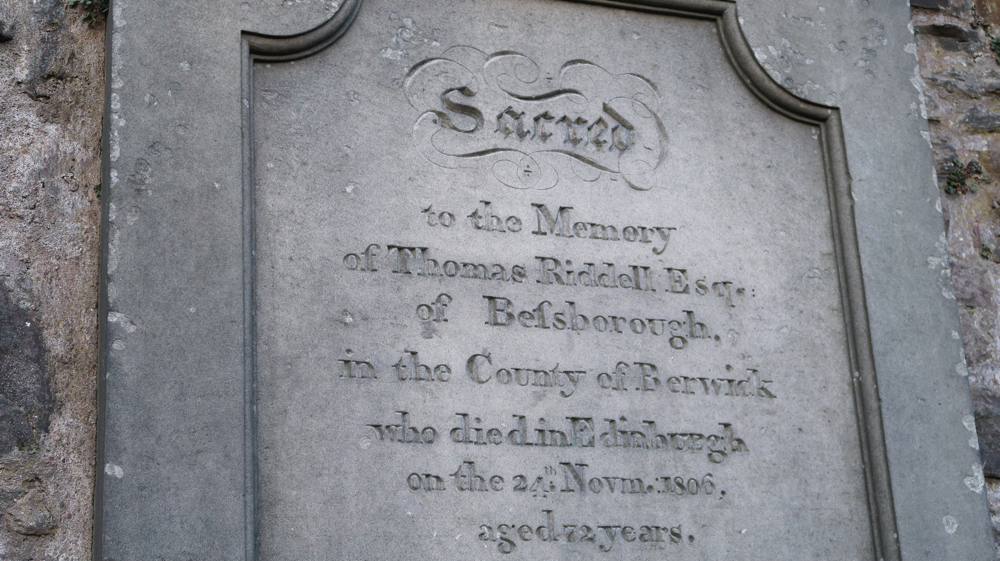 2. Greyfriars Kirkyard
This is said to be one of the most haunted graveyards in the world… and it so happens to be the graveyard J.K. Rowling often overlooked as she sat writing at The Elephant House. Who's to say whether or not the graveyard directly inspired the novels or the characters, but it's likely that Rowling strolled through the cemetery and took note of the names that interested her. For example, you'll find a headstone for a "Thomas Riddell." It may be spelled differently, but this is simply too coincidental to ignore! Also, a plaque for Scottish poet William McGonagall.
3. George Heriot's School / Edinburgh Castle
J.K. Rowling would have also overlooked this school from the back windows of The Elephant House. Though she's never stated that Hogwarts was based on any one particular place, George Heriot's School has four towers and four houses, so it seems likely as a source of inspiration. Edinburgh Castle, too, is certainly quite majestic sitting high on the hill, and has been said to have inspired J.K. Rowling's fictional school. You can have a peek at George Heriot's School through the bars of a gate in Greyfriars Kirkyard, but there is no admission to the public as it is still a functioning school. But you could visit Edinburgh Castle and tour the grounds, which is an activity I'd recommend even for those who aren't fans of Harry Potter. The castle is beautiful and offers spectacular views of the city.
4. Edinburgh City Chambers
Visit Edinburgh City Chambers to find J.K. Rowling's handprints on a flagstone. In 2008, Rowling received The Edinburgh Award, which honors "outstanding individuals who have made a positive impact on the city and gained national and international recognition for Edinburgh." Winners receive an engraved cup at a special ceremony and have their handprints reproduced on a flagstone. I think it's cool to see her handprints in the stone and to know that she lived and worked in Edinburgh, and that the city is forever changed because of her stories. I think it's fantastic that she's been recognized for that.
5. Victoria Street
Often cited as inspiration for Diagon Alley! There are quite a few streets in London, as well, that are said to have inspired Diagon Alley. I'd like to think J.K. Rowling found inspiration in many places, so it's entirely plausible that each of these locations in some way gave form to the wizarding shopping alley described in the books. Located in the Grassmarket district in Old Town, Victoria Street is a curved street paved in cobblestones, home to colorful shop fronts.
All of the Above: The Potter Trail
If all these things interest you, check out The Potter Trail, a free walking tour in Edinburgh for Potter fans. I did not take this walking tour, but it looks fantastic and is highly recommended online. (This tour has been featured by USA Today, Sunday Post, and PBS, just to name a few.) Also, it's free, so you really have nothing to lose. Your guide will take you to many of the spots I've mentioned above, so this could be an excellent way to knock everything out in one go. Plus, your guide will provide helpful history / context. No prior booking is required for a tour, you simply meet "at the statue of Greyfriars Bobby at the junction of Candlemaker Row and George IV Bridge." The tour is about an hour and a half. Currently, tours run every day at 3pm. This changes in June 2018, when tours will run every day at 12pm and 4pm. All of this information (and more!) can be found on the Potter Trail website.
J.K. Rowling's stories truly come alive in Edinburgh, Scotland, so if you're a fan I encourage you to plan your visit. Tell me, which of these Harry Potter hotspots would be at the top of your bucket list?