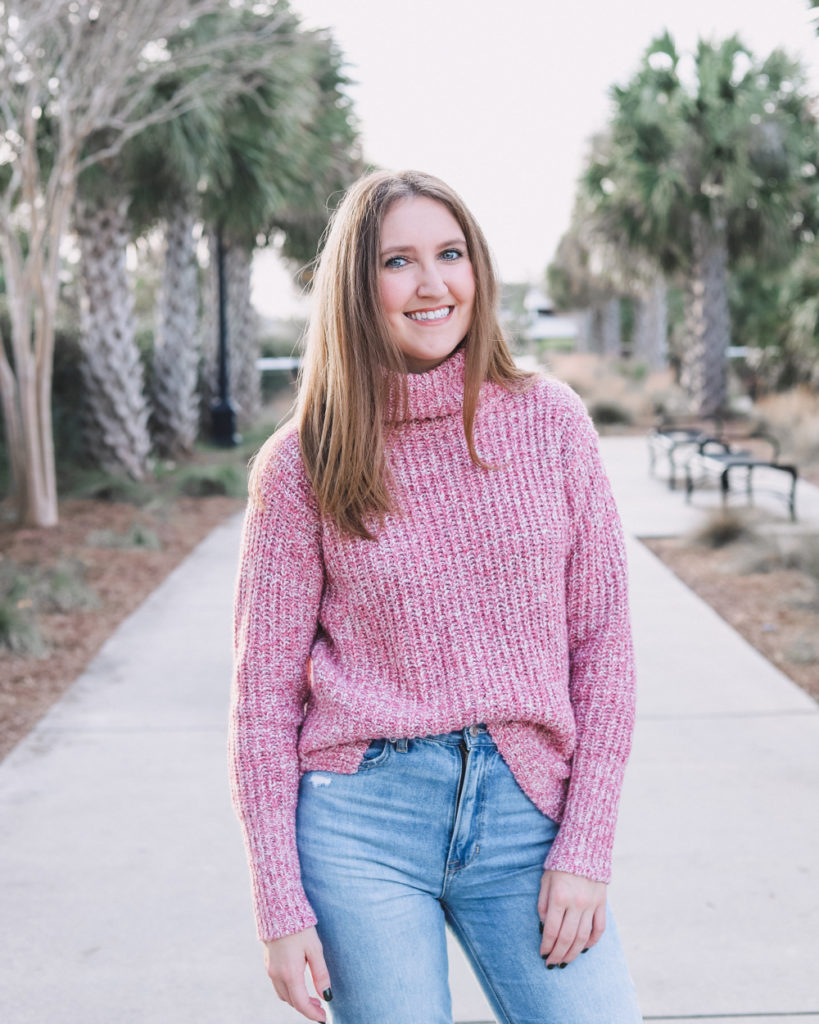 Hard to believe the first month of the New Year is coming to an end! Valentine's Day is in two-and-a-half weeks and I'm really excited to share a fun February tradition with you all… I call it "Red, White, and Pink Week." I commit to wearing red, white, and pink every day for the entire week surrounding Valentine's Day (in this case, February 11 – 15).

Why pick just one outfit for the 14th when you could dress for the holiday all week long? It's really fun to be creative with my outfits throughout the week, and I love wearing pink and red as a festive gesture. I want you all to participate! I'll be posting photos each day and using my unique hashtag #redwhitepinkwk, and I want you to use it, too. Keep reading for all the details about participating!

I've always loved Valentine's Day – yes, it may be one of the more "commercial" holidays, but I choose to believe it's an opportunity to remind the special people in our lives (friends, family, partners!) how much we love them. A friend and I were recently talking about how much we loved exchanging "valentines" in elementary and middle school – my teachers always encouraged us to write positive and uplifting messages to our classmates. And it was a lesson in seeing the best in others and in having the confidence to say so. I, for one, was always excited to read the messages my classmates wrote to me in their valentines cards.

Of course, there's so much else to look forward to, like candy and chocolate and flowers. Who would pass that up?!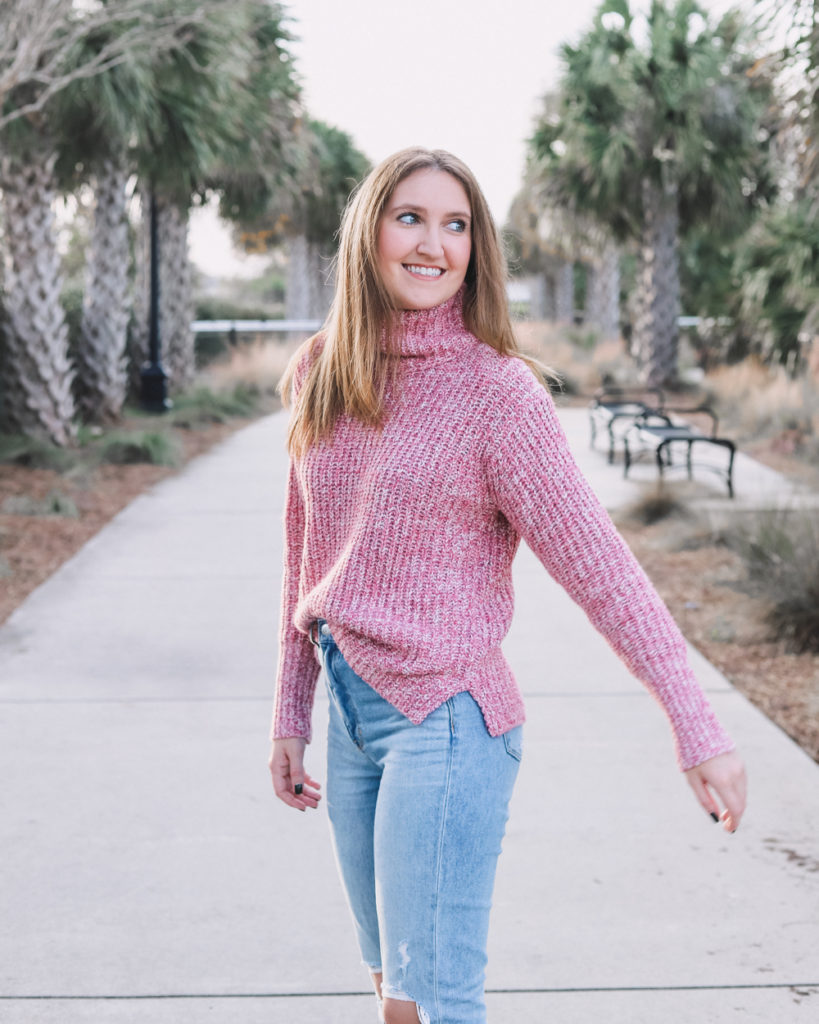 THE IDEA BEHIND RED, WHITE, AND PINK WEEK

Red, white, and pink week is a tradition I've had since high school. I have a condition called hyperhidrosis which causes me to sweat excessively (I've written about it in this post), and it used to bother me that I couldn't wear a cute red or pink t-shirt or top on the 14th because I feared obvious sweat stains. Sounds super gross, right? It was a huge insecurity of mine, especially during those awkward / hormonal high school years, but now I've embraced it and have learned to work around it. (We all have our challenges, #amiright?)

For a while, much of my wardrobe was limited to neutral colors like white or black. So I got creative about accessorizing with bright colors – wearing colored jeans, or cute patterned shorts or skirts, jewelry, etc. And the week of Valentine's Day became a challenge of sorts… to incorporate pink and red into my wardrobe in whatever ways I could.

So that's the spirit of "Red, White, and Pink" week.

In cooler temps, I have more flexibility with my wardrobe because I can wear colorful sweaters made of thicker materials.

In today's post, I'm sharing my suggestions for fun red/white/pink pieces. You've still got time to order before the week of the 14th! There are a lot of great sales going on now. Draw inspiration from your favorite Instagram influencers, so many bloggers are posting photos in Valentines-inspired looks. You're sure to find pieces that fit your style for that perfect Valentine's Day outfit.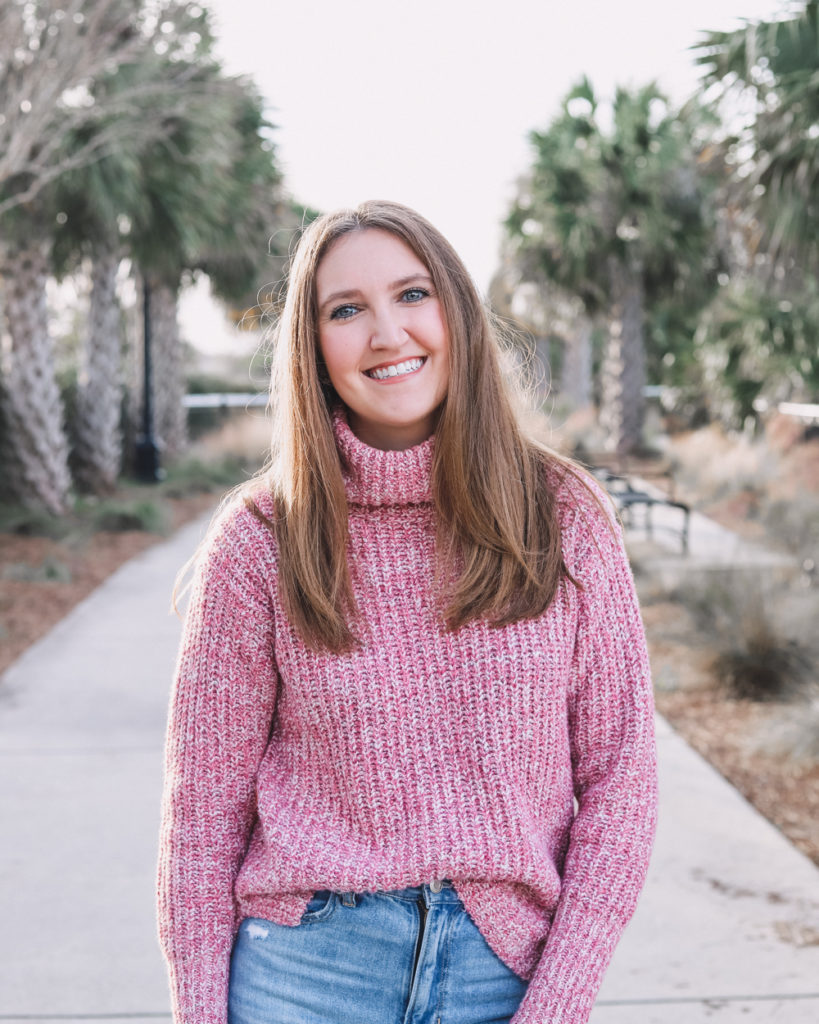 HOW TO PARTICIPATE IN RED, WHITE, AND PINK WEEK

I'll be posting my "red, white, and pink week" looks on my Instagram account every day during the week of the 14th. Whether you're joining me for the whole challenge (committed to wearing red, white, and pink every day of the week) or would simply like to share a single look (whatever day you wear it!), use the hashtag #redwhitepinkwk to participate. Also, tag my account, @marionaveblog, if you feel so inclined! And encourage others to participate.

There are no hard-and-fast "rules," apart from incorporating red, white, OR pink into your outfit. This challenge is all about creativity, so you can incorporate these colors any way you'd like (tops / bottoms / accessories / shoes / etc.).

The more, the merrier! ALL are welcome to participate. Post a photo, use the hashtag! I'm excited to see your photos and I'll be sure to hop over and show some love.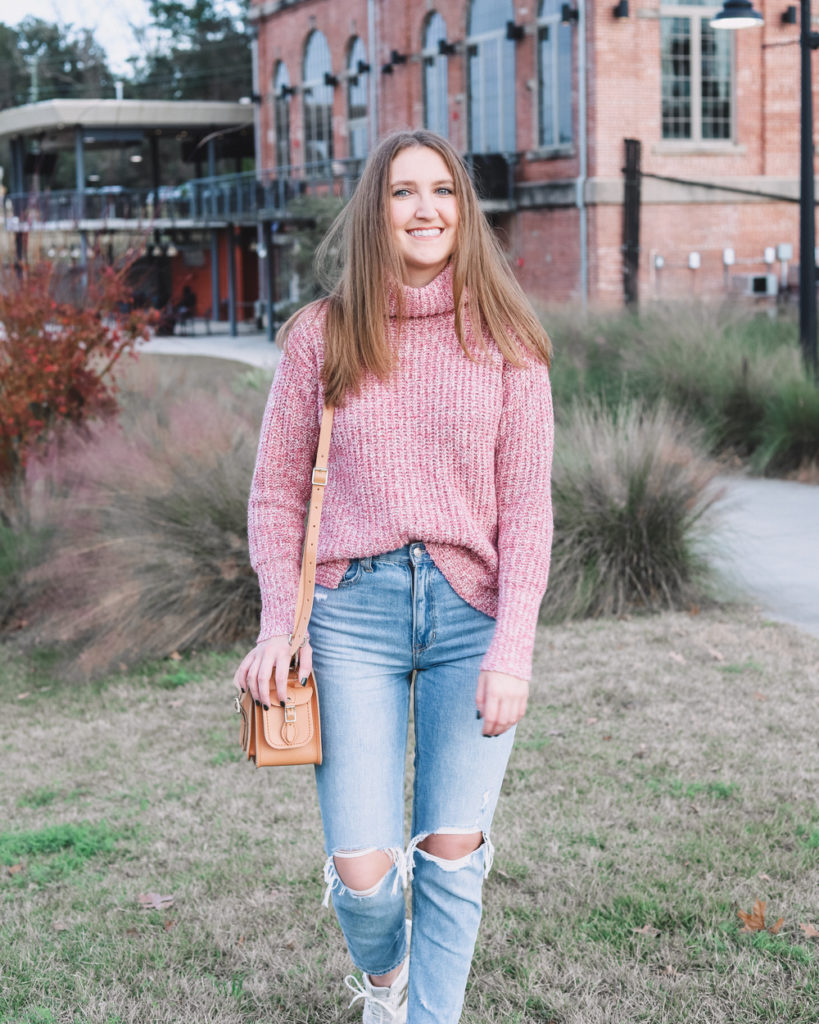 WHAT I'M WEARING & SUGGESTED "RED, WHITE, AND PINK WEEK" LOOKS

The sweater I'm wearing in these photos is sold out, but I've linked a few similar options as well as many other cute sweaters. I've paired my sweater with ripped "mom" jeans and New Balance sneakers for a more casual look. During "red, white, and pink week," I'll be showcasing a variety of looks, including both casual and more dressy Valentines-inspired outfits.
J. Crew Point Sur Balloon Sleeve Donegal Crewneck Sweater in Guava Berry Donegal ($66.99 w/ 15% off)
J. Crew Point Sur Chunky Ribbed Crewneck Sweater in Heather Light Coral ($110 w/ 25% off)
American Eagle Mom Jean ($49.95)
These are new pieces I've recently purchased:
J. Crew Slim Perfect T-shirt in Stripe in Peony Ivory Orange ($32.50 – on backorder) / Chicwish Heart and Soul Patched Knit Sweater in White ($49.90) / J. Crew Velour-lined Hoodie Sweatshirt in Bright Cerise ($59.99 w/ 24% off) / J. Crew Point Sur Paperbag Pant in Guava Berry ($99.99)
Sweaters
Chicwish Sweet Love Spot Knit Sweater in White ($49.90) / Vici Cupid's Arrow Ruffle Knit Sweater ($54) / Goodnight Macaroon 'Fiona' Heart Pattern Oversized Sweater ($56) / J. Crew Tippi Sweater in Pink, Fresh Rose, or Sundrenched Peony ($79.50 w/ 25% off) / J. Crew Women's 1988 Rollneck Sweater in Cotton in Pink Blush ($79.50 w/ 25% off) / J. Crew Long-sleeve Everyday Cashmere Crewneck Sweater in Heather Pink ($98)
Tops
J. Crew Leopard-print Heart T-shirt in Vibrant Flame ($19.99 w/ 42% off) / J. Crew Raw-edge V-neck T-shirt in Ivory Bright Cerise ($39.95) / J. Crew Heart-to-Heart Embroidered T-shirt in Navy ($39.50) / Vici Heart on My Sleeve Cotton Blend Sweatshirt ($44 – Preorder) / Vici Skips a Beat Drape Blouse ($54) / J. Crew Boatneck T-shirt in Mixed Stripes in Pink Multi ($55)
I hope you're just as excited about Valentine's Day as I am! And I hope you'll participate in "red, white, and pink week." What are your favorite finds for the upcoming holiday?