Recently I visited the Royal Mews at Buckingham Palace, "home to historical royal carriages and one of the finest working stables in existence."
It's fun for me to find things to do in London I haven't done before. While I've been to Buckingham Palace numerous times, I've never visited the Royal Mews, and I was excited to see the carriages and to learn more about their history and significance to the royal family.
The entrance to the Royal Mews is located to the left of the palace. Follow the sidewalk around the palace and you'll run into it. I'll include all the necessary details pertaining entry (opening hours / ticket prices / etc.) at the end of the post.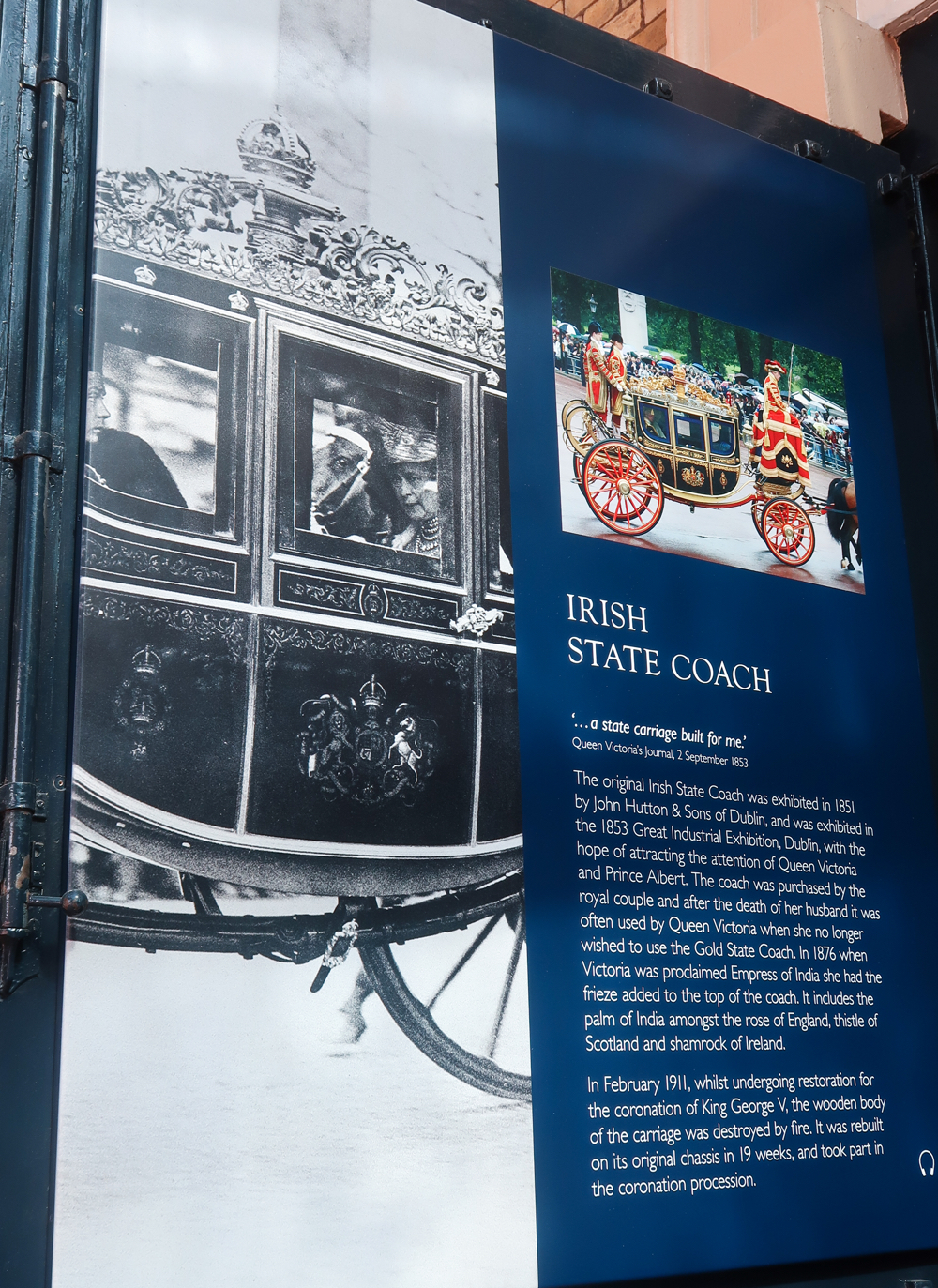 What is the Royal Mews?
According to the website, "The Royal Mews at Buckingham Palace is responsible for all the road travel arrangements for the Queen and members of the royal family."
It's called the "Royal Mews" because its history goes back to the 14th century, during which King Richard II kept his royal hawks in the "King's Mews." "The word 'mew' means moulting, and the birds were kept in a 'mews' as they weren't used for hunting whilst their feathers moulted."
Even when the building was destroyed in a fire and rebuilt as stables, it kept the name "Mews."
Highlights of the Tour
Today, you can tour the Royal Mews and see all the beautifully ornate carriages on display. Each carriage has its own unique history and purpose. There is a carriage specifically assigned to the crown – yes, it has a carriage of its own! The crown is, of course, symbolic of the monarchy itself. We saw the carriage which carried Meghan Markle in the royal wedding (No. 5!). So that was very cool.
The Gold Coach was absolutely stunning.
I enjoyed our trip, particularly each time a horse and rider passed by. And we visited during a weekday morning, during which the changing of the guards at Buckingham Palace was happening just around the corner (!). How surreal. It was simply a reminder that these carriages are part of a living, breathing history, and of the importance of tradition within the culture.
If learning more about the British royal family is your thing, I'd highly recommend visiting the Royal Mews.
Visitor Information
The Mews is open between the months of February and November (closed Dec and Jan). Adult tickets are 11 pounds, student tickets are 10 pounds. There's also the option to purchase tickets for a combined visit to the Royal Mews & the Queen's Gallery. The Royal Mews opens at 10 AM.