I'm excited to share this post about my weekend in Edinburgh, Scotland, as this was my first overnight trip with the program (as a Program Assistant). I was really thankful for the opportunity to spend time with the students and to get to know them better. It was a totally different experience interacting with them on this "fun" cultural trip, in comparison to our typical interactions in the admin office at the study centre.
The trip went really, really well, and I think everyone had a fantastic time. We were incredibly lucky to have awesome weather – Scotland can be very chilly, but the temps were fairly mild, and we had sunny blue skies every day!
When I studied abroad two years ago, I took this same weekend trip to Edinburgh, and it was my favorite overnight trip of the semester. I just loved Scotland and everything we were able to do there.
This time around, I had a hand in organizing / facilitating the trip, as Program Assistants are staff. When we left at 5:45 AM on Friday morning, I was responsible for getting a group of 60-something students onto a bus to King's Cross (which, let me tell you, was an adventure – but we made it!). There were 90-something students total, and we'd reserved seats in two carriages on the train, so I helped take headcounts and made sure everyone was settled.
The train ride was 4 ½ hours, but it was relaxing and picturesque as we sped through the English countryside. (I saw sheep!)

1. Hiking Arthur's Seat
After checking into our hostel, we met in the lobby around 4 to walk to Arthur's Seat. This is an ancient volcano in Holyrood Park offering some of the best views of the city. It's a pretty intense hike – there are multiple paths to the highest point, some of which are steeper / more challenging than others, but no matter which path you take, your calves will burn by the time you reach the top. But it's totally worth the climb! The views from the path are just spectacular. The greenery and the rolling hills are beautiful, especially during golden hour. We had great weather, and I was able to strip off my coat and scarf on the way up. But it's crazy windy at the top, so hold on to your hats and glasses. The students really enjoyed the hike – we took fun photos at the top.
Time: 2 – 2 ½ hours
2. Shopping on the Royal Mile
The Royal Mile is the main thoroughfare in Edinburgh, leading to Edinburgh Castle at the top of the hill. The street is lined with quaint storefronts and restaurants. The two "hot" things to purchase in Scotland are cashmere and wool, so you'll find plenty of both advertised in each and every shop window. Last time I visited Edinburgh, I bought a wool blanket scarf for myself, a matching wool throw blanket for my mom, and scarves for my sister and close girlfriends. I've not had much opportunity to wear my scarf in my hometown in Florida, but I've worn it frequently here in London! (It's the scarf I'm wearing in the photo in this post.) I didn't do much shopping this time around, but I would have loved a cashmere sweater or turtleneck. (So I guess I'll just have to go back a third time. Ok? Ok.)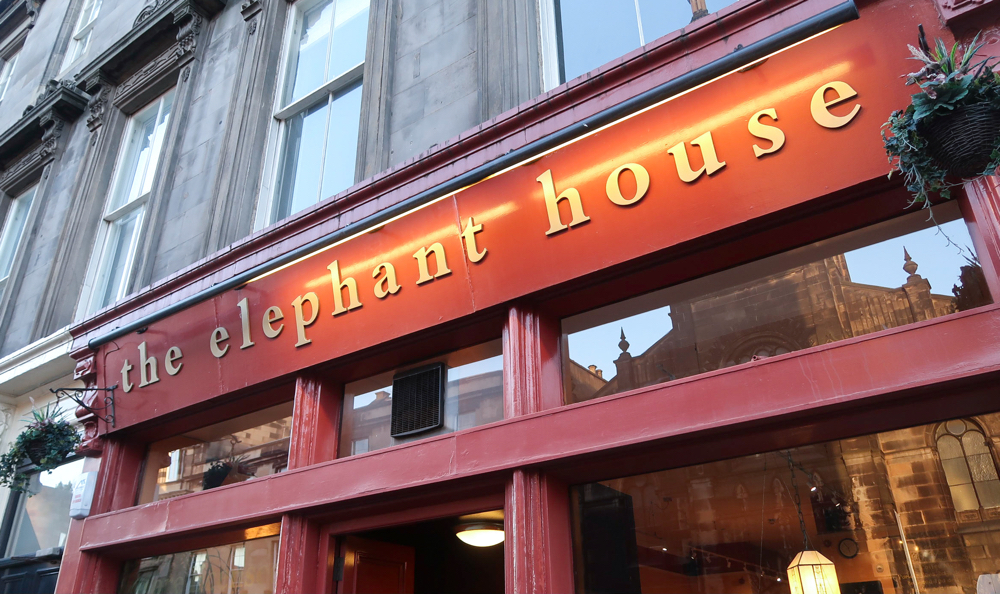 3. All Things Harry Potter
J.K. Rowling lived and wrote in Edinburgh, Scotland. There is a cafe in Edinburgh called The Elephant House, where J.K. Rowling is famously said to have scribbled the first lines of Harry Potter on a napkin. She found much inspiration in Edinburgh, so if you're a Harry Potter fan, visiting "the birthplace of Harry Potter" needs to be on your bucket list. I'll save all the other details for my upcoming post, featuring each and every Harry-Potter-related activity in Edinburgh.
4. Take a Ghost Tour
In the evening, there are multiple kiosks on the Royal Mile advertising ghost tours. Edinburgh's cemetery Greyfriars Kirkyard is said to be one of the most haunted graveyards in the world. We joined a ghost tour Saturday night at 8 PM (£12, about an hour and a half), during which we walked to the graveyard in the dark and then visited the underground vaults. It was very spooky! But not gory or particularly "scary," as in, nobody jumps out at you or anything like that. All the stories are historical.
5. Watch the Sunrise on Calton Hill
We woke up early Sunday morning (6:30 AM, which felt like 5:30 due to Daylight Savings!) to walk to Calton Hill to watch the sunrise over Edinburgh. We climbed up onto the National Monument, which is an Athenian-style structure nicknamed "Edinburgh's Disgrace" because it's an unfinished project. The view was fantastic and the sunrise was really beautiful. Again, it was worth the early morning walk in the bitter cold. Several students hiked Arthur's Seat a second time to watch the sunrise, which I'm sure would be spectacular.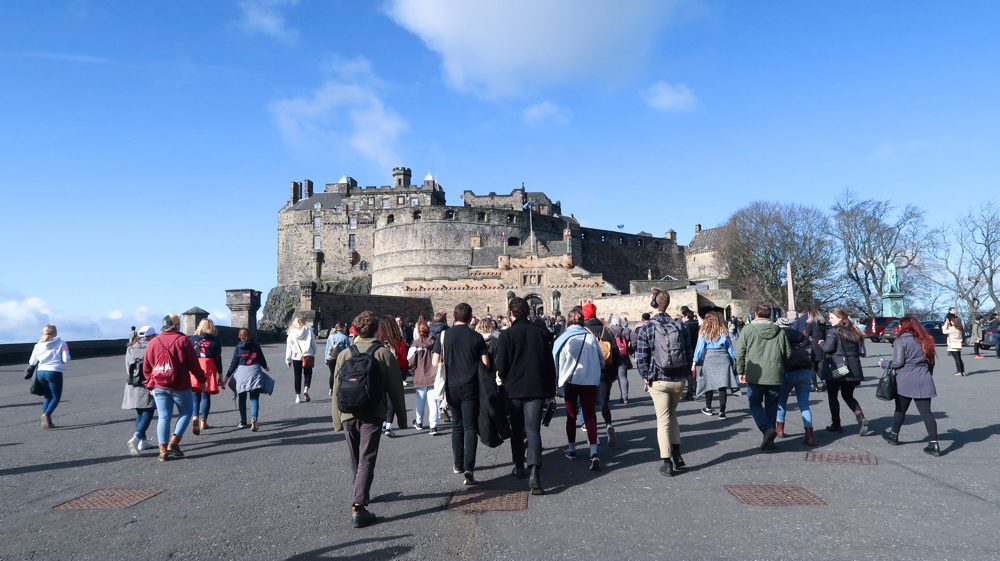 6. Edinburgh Castle
Sunday morning we visited Edinburgh Castle for a self-guided tour. I love Edinburgh Castle because it's so regal at the top of the hill, and because it offers great views of the city. I particularly enjoyed seeing the crown jewels and the prisoners exhibition. There's also a nice gift shop! You simply can't visit Edinburgh without touring the castle – there's so much history.
Our weekend in Edinburgh was so fantastic. I couldn't have asked for a better group of coworkers and students. Stay tuned for future posts about our day trip to St. Andrews and all-things-Harry-Potter in Edinburgh!
Have you traveled to Scotland? If you've been to Edinburgh, I'd love to hear your thoughts!