My good friend Ashley and I recently planned a weekend trip to Disney World. (In last week's post, I wrote about booking last-minute hotel accommodations with Hotwire.com!) Today, I'm writing about our day in Magic Kingdom! I've grown up with Disney, so I'm very familiar with all four parks and have visited with family many times. Ashley hasn't been to Disney World since she was 2, so this trip would feel like her first time.
I knew we'd have a lot of fun, and I looked forward to seeing the park through Ashley's eyes and to share her awe and excitement. We had a really great day, so I've decided to put together my tips/tricks for navigating Magic Kingdom as a first-timer:
BEFORE YOUR TRIP
There's quite a bit you can do to prepare for your trip in advance…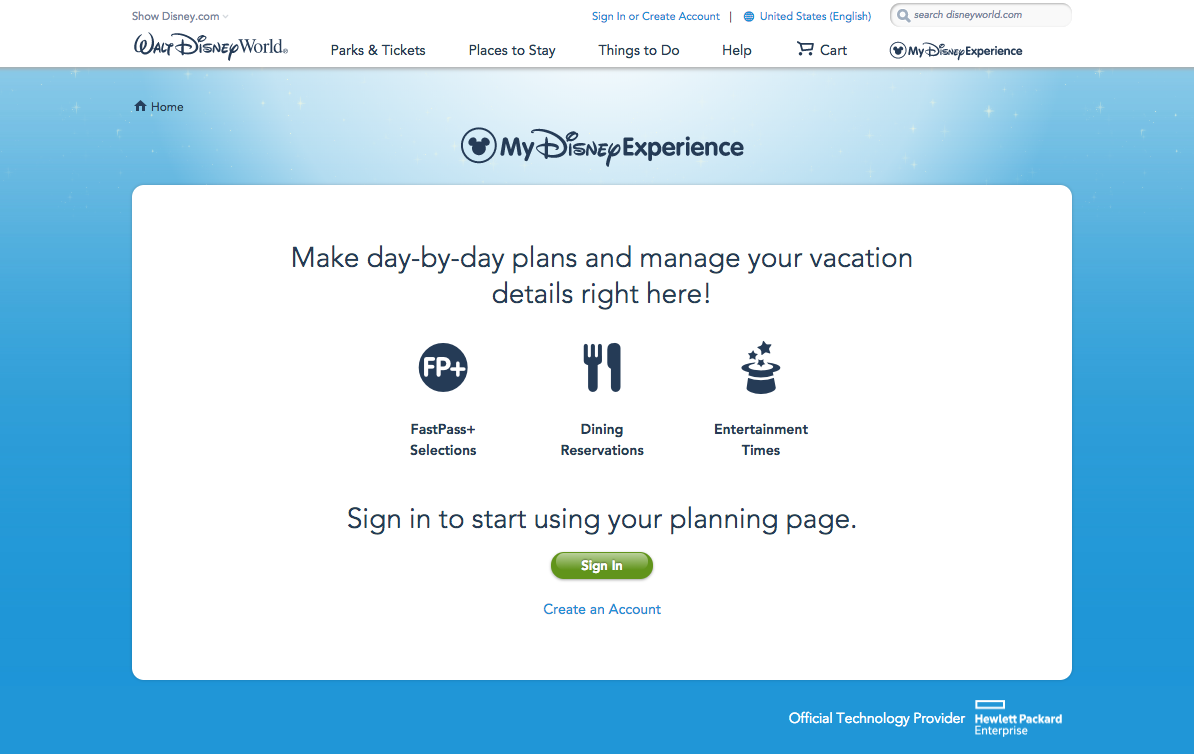 I'd highly recommend creating an online account with Disney. You can make hotel and dining reservations, select up to 3 FastPasses, etc. Dining reservations for popular restaurants like Be Our Guest in Magic Kingdom's Fantasyland can be booked up to 180 days in advance. (This is why it's so difficult to get in!) Make your FastPass selections up to 30 days in advance, OR up to 60 days in advance if you have a reservation at one of the Disney resorts.
2. Download the accompanying Disney World mobile app.
If you've created an online account, all your info (hotel/dining reservations, FastPass selections, etc.) will sync with the Disney mobile app! Connecting your park tickets with the app will enable you to make your FastPass selections… I printed mine and Ashley's tickets and scanned the barcodes with the app, and then I was able to make reservations for the both of us (simultaneously).
3. Pack snacks and water bottles for the park.
You can bring food/drinks into the park! And, even if you plan on "eating out," (purchasing meals in the park), it's always a good idea to pack a few extra snacks in case you're feeling a little munchie during that 1-hour wait for Thunder Mountain. If you pack a water bottle of your own, you can refill it at any of the numerous water fountains throughout the park. I made the mistake once of forgetting to drink lots of water throughout the day (a really hot, sunny day), and had an awful headache that night because I was seriously dehydrated.
FastPass pro tip: You're allowed to reserve 3 FastPasses for each park day. But my recommendation is this: Don't select all three in advance. Reserve 1-2 FastPasses in advance, but save the third for the day of. Due to the last-minute nature of our trip, I only selected our FastPasses 2 days prior to our day in the park, and the best rides were booked up. But I continued to check the app throughout our day in Magic Kingdom, and I happened to find an open slot for Space Mountain at 4:10 in the afternoon. Score!
DAY-OF GAME PLAN
Having a game plan is really helpful when it comes to making the most of your time in the park.
Know what time the park opens in the morning, and be prepared to leave your hotel an hour in advance. If you're a resort guest, check for park "magic hours," which is additional time in the park (either before/after regular operating hours) offered only to guests of Disney resorts.
Ashley and I were lucky enough to have "park hopper" tickets, which means we could visit as many of the parks in one day as we'd like. However, as it was Ashley's first visit, we spent the majority of our day in Magic Kingdom. We planned to head to Epcot in the late afternoon / evening.
My advice is this: if you'll be visiting multiple parks in one day, park your car wherever you hope to end the day. It's much easier to make the trek from one park to another in the morning, because at the end of the day you'll be tired and ready to head straight to the car. I parked our car at Epcot – we did our best to get there early, and got a great spot, and then took the monorail to Magic Kingdom.
Be sure you've downloaded the Disney app! There's nothing worse than trying to access the App Store without WiFi and waiting forever for the app to download. If you've got the app, you can use it to view the layout of the park, as well as wait times for all rides in real-time.
Priorities for a First-Timer
Accessories! Mickey / Minnie ears; "1st Visit" pin
When you enter Magic Kingdom, do a little shopping on Main Street and pick up a pair of Mickey or Minnie ears. After all, you've got to look the part. These will be great accessories for photos!
Hitting each section of the park
Be sure to see it all. You'll walk down Main Street as you enter the park, but there's also Adventureland, Frontierland, Liberty Square, Fantasyland, and Tomorrowland. I love the Walt Disney World Railroad, accessible at the front entrance, which takes you around the outskirts of the entire park and has stops in Frontierland and Fantasyland.
There are three "mountains" in Magic Kingdom: Splash Mountain, Big Thunder Mountain, and Space Mountain. You can't miss these coasters – they'll have lengthy wait times (often over an hour), so be sure to secure a FastPass. "Classic" rides include It's a Small World, Haunted Mansion, and the PeopleMover.
Character meet-and-greets
A first-timer will probably be interested in meeting their favorite Disney character, for a photo or an autograph. Note the times/locations of character meet-and-greets. And remember you can secure FastPasses for meet-and-greets, too!
You can't say you've been to Disney if you haven't indulged in a classic Disney dessert. The Mickey ice-cream bar is iconic, but there are other options. I love the pineapple Dole Whip soft-serve, or the pineapple float at Aloha Isle in Adventureland. I'm also a fan of frozen lemonade. But my favorite sweet treat at Magic Kingdom is an ice-cream cookie sandwich (a huge scoop of ice-cream between two homemade cookies!), served at the Plaza Ice Cream Parlor on Main Street.
There are several parades throughout the day. You're sure to run into one at some point, because they'll block off the street! The parades are always high energy, with music, dancing, and Disney characters, so find a spot with a view and enjoy.
End-of-day fireworks show
One of the hallmarks of a day at Disney. The "Happily Ever After" fireworks show takes place at 7:55 PM over Cinderella's castle in Magic Kingdom. It's a perfect way to end the day.
OUR EXPERIENCE
After breakfast at Be Our Guest in Fantasyland (see below!), we went shopping on Main Street, and then over to Tomorrowland for our Buzz Lightyear FastPass. The Buzz Lightyear ride is super fun for all ages (who wouldn't love spinning around in their seat and shooting lasers?!).
We also rode the PeopleMover (one of my favorites – and there's never a line!), It's a Small World, Pirates of the Caribbean, and Space Mountain. And we ate pineapple Dole Whip soft-serve, which was absolutely delicious. All in all, it was a pretty great day!
Be Our Guest Restaurant Review
Making a Reservation
Ashley and I scored a dining reservation at the extremely popular "Be Our Guest" restaurant in Fantasyland… and no, we didn't book 180 days in advance! In fact, I booked our reservation two days prior to our visit. I'd checked a week in advance, and there were no reservations available. Luckily, I read an article recommending we continue to check for availability in the days leading up to our trip in the hopes of cancellations. That's how I came across our 9:40 breakfast time slot.
I wish I could gush about the experience, but unfortunately I wasn't too impressed. Even with our 9:40 reservation, we waited in line for half an hour (in a claustrophobic hallway from which we had no view of the dining hall!), before placing our orders at a kiosk. I'd read online that breakfast and lunch at Be Our Guest are "quick service" meals, but I certainly didn't expect it to feel as crowded/rushed as any of the other cafes in the park.
Price $$$
All breakfast entrees cost $25, which is quite expensive! I ordered the "Feast A La Gaston," a plate of scrambled eggs, herb-roasted potatoes, apple-smoked bacon, and sausage served with fresh fruit. The eggs and potatoes were very good, but I would have appreciated a larger portion. Both Ashley and I enjoyed the "selection of pastries" served with our meals – we particularly loved the apple pastries and chocolate croissants.
Final Thoughts – Our Advice
I encourage you to watch this video about the restaurant and the food offered at each meal. According to their research, breakfast is the worst value of the day. Of course, breakfast was the only meal for which we were able to make a reservation, so I'd hoped it'd be worth the experience despite the cost. Ultimately, I'd suggest dining at Be Our Guest only if you can score a dinner reservation. This is when the restaurant transforms into a true sit-down dining experience.
All that said, the dining hall is beautiful – there are three dining rooms and we chose to sit in the "ballroom" – and it looked just like the movies. Unfortunately, some of the effect was lost due to the harried nature of the guests and the servers alike.
What are your favorite things to do in Disney's Magic Kingdom? What would you recommend to a first-timer?