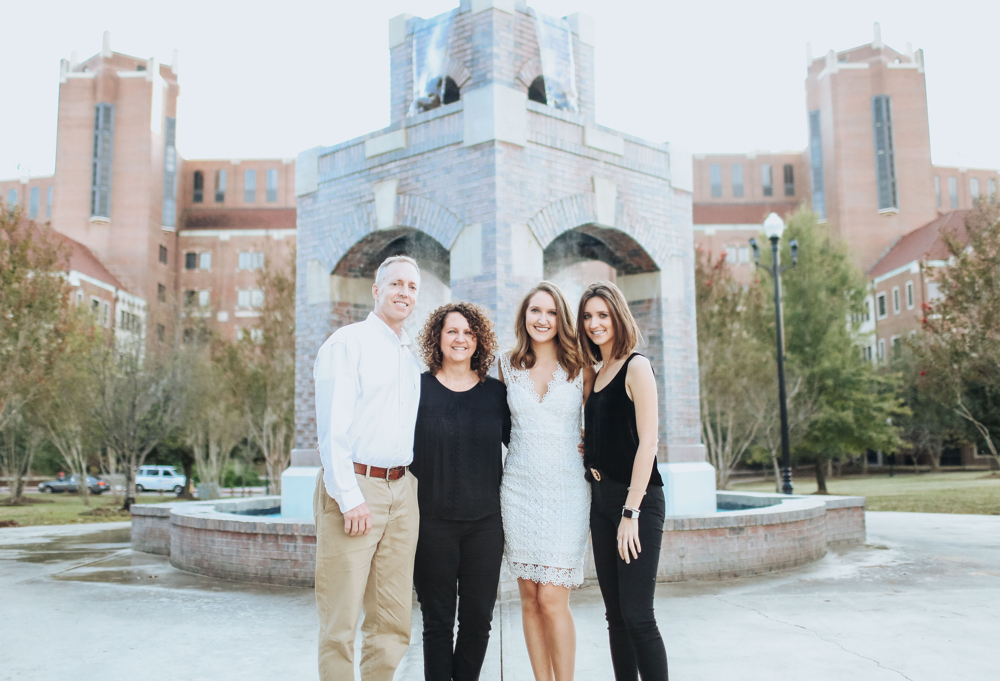 So yesterday was Father's Day, and I was inspired to write something for the blog about my dad and all I've learned from him. I've been across the pond for a little over four months now, which is the longest I've ever been away from home, and I miss my family lots!
When I studied abroad in London during the spring semester of my sophomore year (spring 2016), my dad wrote to me every single day. By the end of my four months in London, he'd written over 100 emails.
I remember reading his first email while sitting in the airport, preparing to board an international flight (alone!). His words were familiar, and they gave me strength. It felt like he was there with me, like we were having a conversation.
I always looked forward to the email of the day. He signed each message "DOD (Dear Old Dad)."
His emails were always relevant, and with each message, he chose a topic or theme of sorts. He'd share life advice, suggestions, observations, links to interesting articles.
And what's awesome is that his messages and advice – though always in relation to my study abroad experience – are still applicable today. As I look back now over each of his emails, I still find his advice inspiring, encouraging, appropriate.
In this post, I'm sharing 10 life lessons I've learned from my dad – with excerpts from the daily emails he sent me while I studied in London a little over two years ago. I chose to write this and to share it on the blog partly as a way to show my gratitude to him (yes, dad, I read every email!!), and partly to remind myself of all I've learned and what I can continue to learn. Especially as I finish up my time here in London as a Program Assistant (only two months left! where did the time go?!).
1. DON'T WAIT UNTIL YOU'RE "READY." YOU'RE NEVER "READY."
From dad's first email titled "A New Chapter":
A New Chapter starts NOW! If you are anything like me, you are NEVER ready when these types of things happen. I can tell you I certainly wasn't ready in a number of situations…
When I went overseas the first time (while still in college)
When I moved to Orlando for my first real job
When I started my first job
When we brought you home from the hospital
I could go on and on. School doesn't prepare you for these seismic changes. And neither do your parents. We do our best, but sometimes you just have to jump in. It is a little like jumping off the tower at Wakulla Springs… the water is cold but you quickly get used to it.
2. APPRECIATE CHALLENGES AND LEARN FROM YOUR MISTAKES.
From an email titled "Be comfortable (being uncomfortable)":
"That which does not kill us, makes us stronger." Friedrich Nietzsche
Our lives are SOOOO comfortable these days. We are able to control just about everything. If it is a little hot… turn up the A/C. A little cold… turn on the heat. If you're hungry… get something to eat. Don't be afraid to be a little uncomfortable now and then.
I know… this just makes you think I'm a little crazier than you thought before. Appreciate the challenges you are facing (every day) understanding that the way you respond will either help or hurt you going forward. I choose to use these things to make myself stronger. I hope you'll do the same.
MY STUDY ABROAD ROOMMATES AND I STILL LAUGH ABOUT THIS EMAIL… WE OFTEN QUOTE THE "BE COMFORTABLE / PARENTHESES / BEING UNCOMFORTABLE." BUT CLEARLY, IT WAS MEMORABLE! 
From an email titled "It's all about your approach":
…But what I'm learning now, is that these "failures" or mistakes are actually learning "opportunities" – if you approach them with the correct mindset. Obviously, I don't set out to fail. But sometimes I do "avoid" things because I'm afraid to fail. Or afraid of what someone will say. So what I keep coming back to is approaching these challenges with anticipation… looking to get better (not perfect).
Rush toward "better" knowing you will fail and make mistakes. If you get knocked down… dust yourself off, get up, and keep moving forward.
3. THE KEY TO HAPPINESS = A THANKFUL HEART.
From an email titled "Happy People":
Something to keep in mind… Happy people are thankful people… and thankful people are happy people.
Simple and yet profound. Try thinking about things you are thankful for and see what happens. Who knows, it might surprise you. I believe our outlook (or mindset or perspective) controls many aspects of our emotions.
Circumstances may remain the same, but we can actually change how we feel about them by seeing them in a different light.
From an email titled "Attitude is…":
As I've mentioned to you and Sydney so many times… what you say (and how you say it) makes a HUGE difference.
4. ABOVE ALL ELSE, SEEK CHRIST.
From an email titled, "Seek First":
But seek first the kingdom of God and his righteousness, and all these things will be added unto you. (Matthew 6:33)
Where is YOUR faith? Is it in yourself… your roommates… your parents?
From an email titled, "Consider it Pure Joy":
Faith is like a "muscle" – the more we use it, the more it grows (and therefore the more we can rely on it in the future).
God NEVER promised a pain-free life (for anyone – even Jesus). But he does promise that if we follow his commands, he will be there for us. Pray constantly. And dig into the Word of God.
5. FORGET YOUR PROBLEMS BY FOCUSING ON OTHERS.
From an email titled, "Look at the hole NOT the pole" (inside reference, a story for another day): 
Focus on helping others. You aren't the only one over there who is "anxious" about things. Others may hide it…but everyone is looking for a friend.
Be a friend to someone.
6. JUDGE NOT.
From an email titled, "Learn from others":
It is EASY to spot weaknesses in other people. And it makes you wonder… why can't they see these GLARING issues?
Judge not, that you be not judged. For with the judgement you pronounce you will be judged, and with the measure you use it will be measured to you. Why do you see the speck that is in your brother's eye, but do not notice the log that is in your own eye? (Matthew 7:1-3)
Jesus said this for a reason. I think this "judgement mentality" is in all of us. It is our nature as a human being.
What I've learned over time is that EVERYONE has "blind spots" – I have issues that are just as glaring as others'. Guess what… you do too. And I know you realize this. Our job is to identify those "issues" and work (with God's Grace) to "remove" them from our personality.
7. A FRIEND IS SOMEONE WHO HELPS YOU BECOME THE BEST VERSION OF YOURSELF.
From an email titled, "Friends": 
In the deepest sense of the word, a friend is someone who sees more potential in you than you see in yourself, someone who helps you become the best version of yourself.
Can't remember where I found this quote (it's not my wisdom). But I thought it was pretty good. You want friends who will tell you the TRUTH. And you want friends who will build you up (they see potential in you). They help you become the best version of yourself.
8. DON'T WAIT FOR [FILL IN THE BLANK] TO BE HAPPY. DON'T TAKE LIFE FOR GRANTED.
From an email titled, "Don't Wait": 
My only point for today – don't ever wait to enjoy your life or what you are doing. No matter where you are, you control your attitude and feelings. Whenever someone dies it reminds me that we can't take anything for granted. You never know when it will be your time. Only God knows that.
Grandpa Jimmy lived a long life. Can you even imagine what the world (especially England) was like in 1925 when he was born? Try to imagine the changes the world has gone through since then. Then try to imagine what the world will be like in 30 years when you will be my age. Impossible to imagine.
Don't wait until (you have a job / money / spouse / bigger house / etc.) to be happy. Enjoy every bit of grace that God has dished out on you.
HE WROTE THIS TO ME SHORTLY AFTER MY GRANDFATHER PASSED AWAY. I WAS STRUGGLING BECAUSE MY FAMILY WAS SO FAR AWAY, AT A TIME WHEN I WANTED TO BE CLOSE.
9. DO NOT BE TROUBLED.
From an email titled, "Look at the hole NOT the pole" (inside reference, a story for another day): 
I KNOW you made the right decision to go on this London adventure. It will shape you in ways you can't even imagine right now. Just hang in there. Focus on getting through this afternoon. Don't worry about tomorrow. As the Bible says…
Therefore do not worry about tomorrow, for tomorrow will worry about itself. Each day has enough trouble of its own. (Matthew 6:34)
From an email titled, "Do not be troubled":
Peace I leave with you; my peace I give to you. Not as the world gives do I give to you. Let not your hearts be troubled, neither let them be afraid. (John 14:27)
God provides peace. And I thought the same for you (and me). We should not be "troubled" about things. I know a couple of your assignments are causing some anxiety for you. But don't be troubled. Trust in God.
10. DON'T LIMIT YOURSELF.
From an email titled "Don't limit yourself":
"Don't limit yourself. Many people limit themselves to what they think they can do. You can go as far as your mind lets you. What you believe, remember, you can achieve." – Mary Kay Ash
You did such an amazing thing by setting and achieving your goal to study abroad. I can't even imagine pushing myself like you have done at your age. Make sure you keep pushing. You don't have to "fall" back into your old life when you return. In fact, that probably isn't even a possibility anymore. You are a DIFFERENT person than when you left in so many ways.
Don't limit yourself. And CERTAINLY don't let anyone else limit you. Set goals that EXCITE you and motivate you. You have the gifts and talents to make a "dent in the universe" (as Steve Jobs once said).
London is an incredible city (I still believe it is the BEST city in the WORLD)… but I think you have MANY more places to see and things to achieve in your life. Don't look BACK – pick a new challenge that EXCITES you going forward. I expect one day you'll get back to London. And you will have so MANY wonderful memories from your first trip.
…AND WHAT DO YOU KNOW?! HERE I AM, LIVING AND WORKING IN LONDON, 2 YEARS LATER. DAD, I COULDN'T HAVE DONE IT WITHOUT YOU.