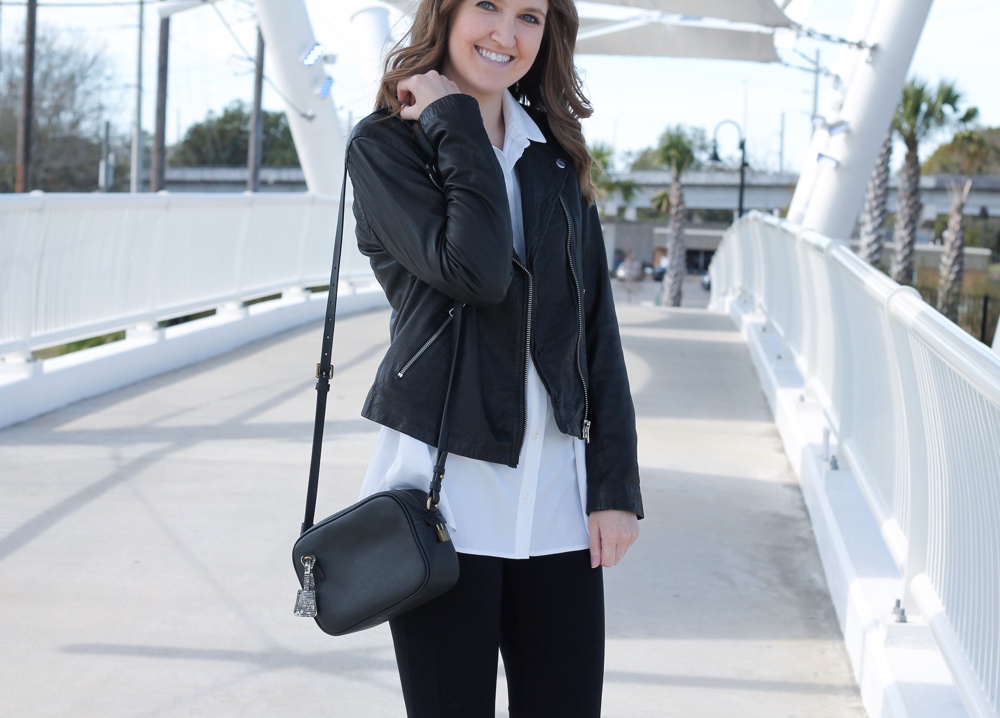 I love the concept of the minimalist "capsule wardrobe." You may have heard of it, but if not, the idea is to collect basic, essential pieces (these are pieces that you can easily mix/match) so that you buy less but wear more of what you have in your closet. You choose a select number of pieces and you commit to wearing only these pieces throughout the season.
I have a LOT of clothes, and yet, when I open my closet, I often feel like I have nothing to wear. Slowly but surely, I'm trying to fix this. I want to be better at purchasing items I know I'll wear, pieces that will pair well with the clothes I already own. I'm purging my closet of all the clothing I don't touch, and I'm attempting to either sell it or donate it.
While I'm not forcing myself to adhere to the strict capsule guidelines of picking a # (I.e., only 30 pieces for the next 5-6 months), I'm learning more about how/why the capsule works. This means I'm attempting to identify the best "basics" or "staples" to have in my wardrobe so it's always easy to put together classic outfits.
Also, the capsule wardrobe appeals to me because I'll be living in the UK for 6 months, and there's only so much I can pack. I'll bring 2 checked bags and a carry-on, so I'll have to be smart about what I pack so my wardrobe will transition me from the winter/spring months into the summer months.
I've identified several key pieces to create the "capsule wardrobe" I'm hoping for – a versatile but classic wardrobe for my time in London. I've tailored this list to the winter/spring seasons, but I've also included spring/summer alternatives.
1. White button-down
You can wear a white button-down so many ways! White is chic and classic, and a button-down can be dressed up or down. I sized up because I wanted my shirt to be longer / a bit more boxy. I love to tuck it in to a pair of high-waisted jeans, and pair with a long cardigan. Very preppy. Also easily worn as a layering piece underneath a chunky sweater, with leggings.
What I'm Wearing: drapey oversized boyshirt in pure white (Madewell)
Alternatives: J Crew Factory Stretch Classic Button-Down Shirt ($24.50 – w/ current 50% off sale!) / Everlane Japanese Oxford Shirt ($58)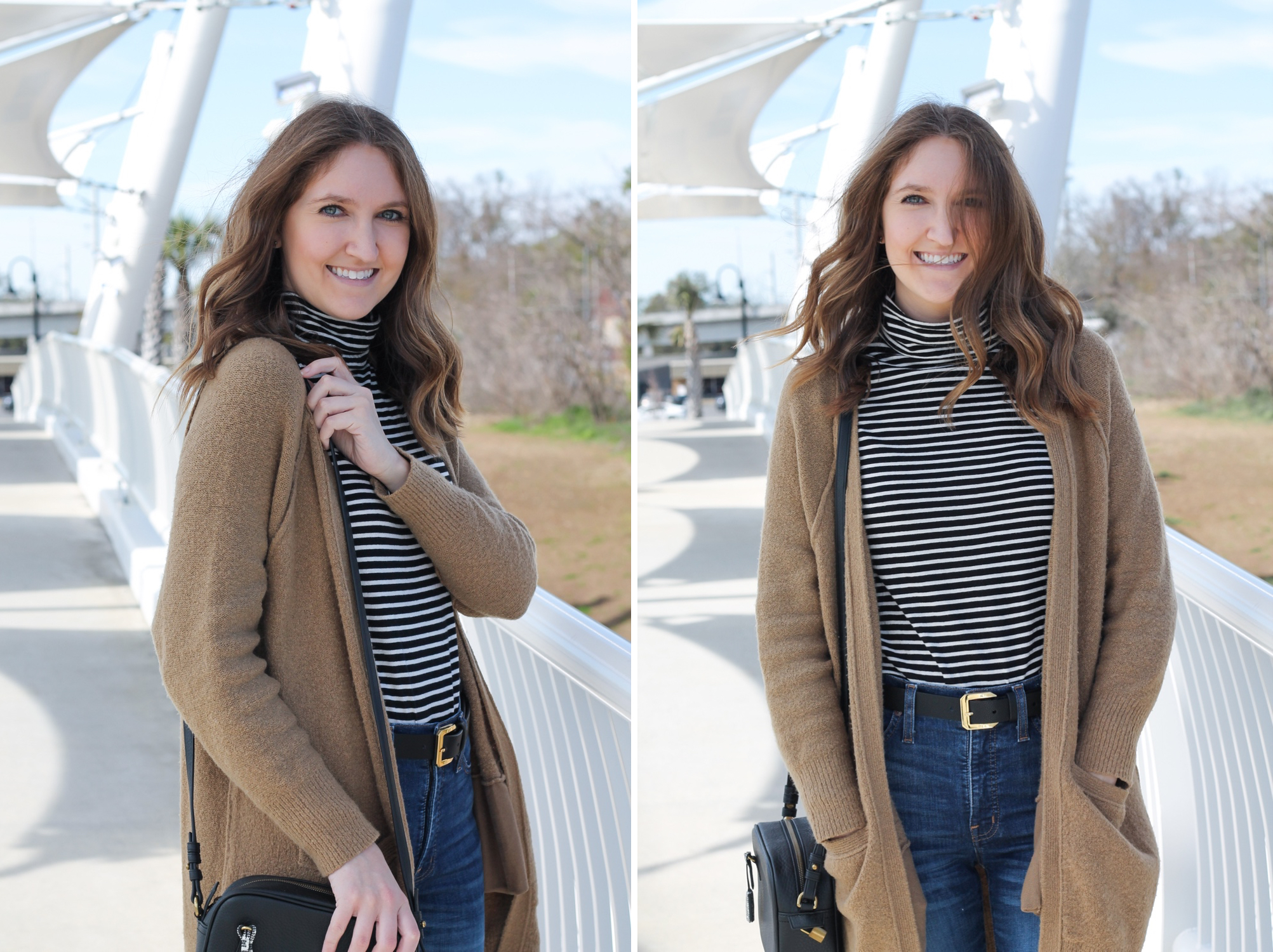 2. Striped shirt (black/white striped turtleneck)
Black and white stripes are also very classic / versatile – a recommended piece in every article I read concerning capsule wardrobes. For the winter weather, I've purchased a slim-fitting black and white striped turtleneck, but in the spring and summer months you could opt for 3/4 length sleeves or a t-shirt. Black and white stripes pair well with black / denim / camel / gray.
What I'm Wearing: J Crew black & white stripe tissue turtleneck / Lucky Brand malibu cardigan in camel
Alternatives: Everlane Slim Cotton Long-Sleeve Crew ($25) /

3. Leather jacket
I'm convinced every woman needs a leather jacket. A leather jacket is both a "basic" and a "statement" piece, and can easily dress-up any look. I know I'm going to love wearing my leather jacket in London on chilly afternoons or to go out at night. Throw over a white t-shirt and jeans, or pair with a chic all-black ensemble. My leather-jacket equivalent in the summer months is my trusty denim jacket, which is lightweight but keeps me warm in cooler temps or in restaurants. I wear my denim jacket over everything.
What I'm Wearing: Madewell washed leather motorcycle jacket
Alternatives: Jou Jou Faux Leather Moto Jacket ($48) / Levi's Faux Leather Moto Jacket ($79.99) / Blank NYC Life Changer Moto Jacket ($98)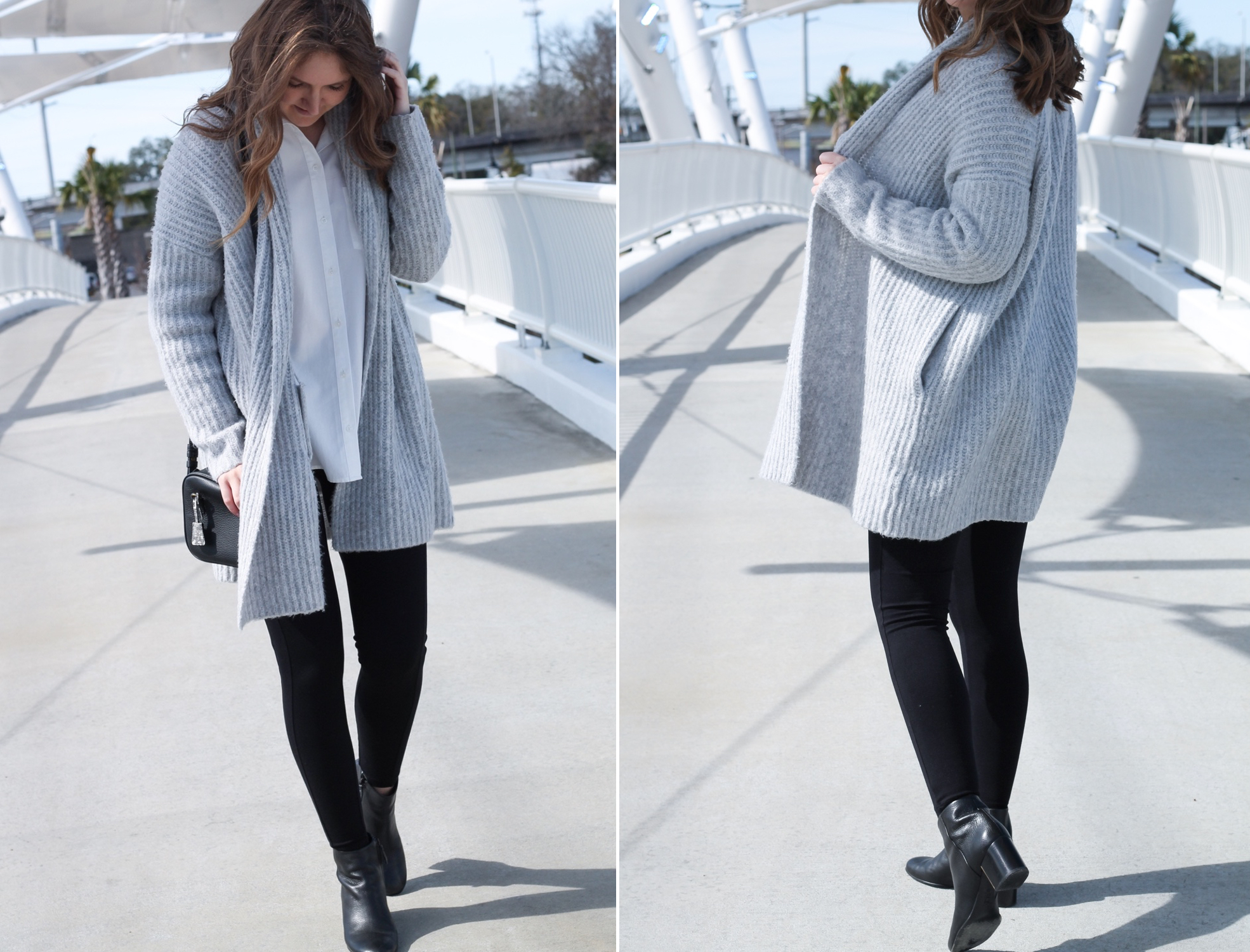 4. Long open cardigan
Similar to a jacket in that it could quickly dress up any outfit. But a cardigan is softer, cozier. For the winter months I have long sweaters with heavier fabrics, but lightweight cotton is perfect for warmer weather. I have two open cardigans – a gray sweater from J Crew and a fantastic camel sweater I found at Lucky (both of which layer beautifully over the white button-down and the striped turtleneck!). These are recent additions to my wardrobe, and I can honestly say I don't know what I wore before I bought these sweaters.
What I'm Wearing: J Crew ribbed shawl cardigan in hthr nickel
Alternatives: Madewell Kent Cardigan Sweater (select colors $59.99 – $89.50)  / 
5. Ponte leggings (OR high waisted denim / high waisted black jeans)
Leggings are awesome when you're not in the mood to wear a heavy pair of jeans. I've included ponte leggings in this list because they're excellent for travel – easy to pack, lightweight, pair well with long sweaters and cardigans. The ponte material is fantastic because it's a bit heavier, so there's no need to worry about your leggings being inappropriate or see-through. Leggings are a must-have year round, but if you're not into that, my alternative for the bottom-half is a pair of high waisted jeans (either denim or black). I think high-waisted jeans are flattering on everyone.
What I'm Wearing: Loft leggings in seamed ponte (black)
Alternatives: Lou & Grey Ponte Leggings ($49.50) / Loft Leggings in Heathered Seamed Ponte ($49.50 w/ additional 40% off) / Express High Waisted Ponte Knit Leggings ($29.94)
---
I purposefully chose not to include shoes or accessories on this list, because I wanted to focus on the clothing pieces themselves. (But I'd love to write a post featuring my favorite footwear, as I've worked really hard to find what's best for my upcoming trip.)
What I'm Wearing: Madewell 9″ high-rise skinny jeans (destructed edition) / J Crew signet bag in Italian leather / Tory Burch black leather booties / Ralph Lauren black belt with gold buckle
*My mom and sister and I share the Tory booties – these are from a previous season. And I found my belt on sale at Dillard's and can't find the exact style online. 
I hope this helps! The pieces I've listed above will be staples during my time in London. What are your go-to "basics" that you couldn't live without?