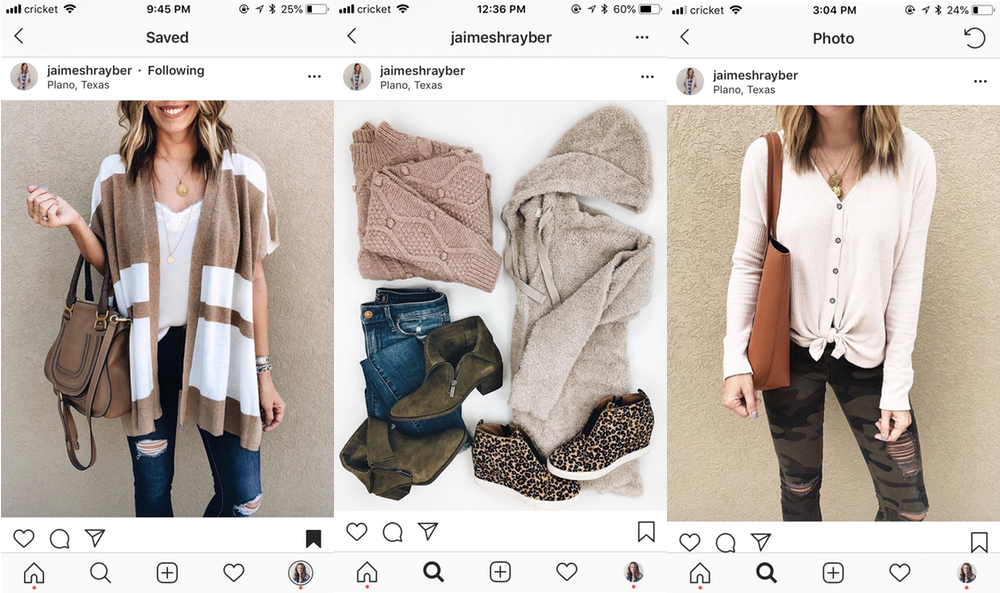 Fall is my favorite season of the year, because I love wearing jeans and sweaters and cute booties! You would think I'd have had my fill of "cooler" temps during my 6 months in London, but the heat wave brought record-high temperatures and I've lived in shorts and t-shirts all summer. Now that I'm home in Florida, I hope it will begin to feel like fall in the coming weeks. (I mean, it IS almost October.)
So on the blog today, I'm sharing 5 Instagram accounts to give you some fall fashion inspo. I follow so many fantastic Instagram accounts, but I've narrowed it down to these 5 by scrolling through my Instagram "collection," or "saved" posts. I use the bookmarking feature in Instagram to save posts I'd like to go back to later, especially outfit inspo. When I get around to it, I screenshot these "saved" posts so I can look up the pieces I love in the LikeToKnowIt app.
It was actually really enlightening to scroll through my bookmarked posts and see which accounts they'd come from. For example, I hadn't realized so many of my "saved" posts came from @jaimeshrayber! Now I'm excited to share her account because I absolutely love her style and her feed.
Jaime's feed is all-things-autumn, and totally puts me in the mood for chunky knits and pumpkin spice. I love all the warm tones. The 3 photos at the top of this post are outfits featured on Jaime's feed… I've actually already purchased the "Striped Poncho Cardigan" from Loft. I'm also eyeing the olive booties and the camo jeans.
Be sure to check out Jaime Shrayber's blog, The Real Fashionista.

Whenever Emily, aka "@champagneandchanel" posts on Instagram, I take notice! I'm loving the burnt orange tones in her feed and all the slouchy sweaters. (I'm keeping an eye on the "chunky thermal cowl neck sweater" featured in her photo on the far right.) I'm also a fan of the over-the-knee boots, which I'm thinking might be an investment this fall.
Be sure to check out Emily Herren's fashion and lifestyle blog, Champagne & Chanel.
Kendall's feed is all neutrals and cool tones, but is no less autumnal! She has great style and I love how she can pull off both chic and super-casual looks.
Be sure to check out Kendall Kremer's blog, Styled Snapshots.
Daryl-Ann is just the cutest, and I love following along with her blogger life and seeing her posts pop up in my Insta feed. Her style is really attainable because she features neutrals and basics but elevates her wardrobe with stand-out accessories like gorgeous sunglasses, handbags, or shoes.
Be sure to check out Daryl-Ann Denner's blog, Something Beautiful.
Crystalin's feed has a minimalist vibe that is really classic. Camel is one of my favorite fall shades and I'm a fan of the camel sweaters and jackets featured in this feed.