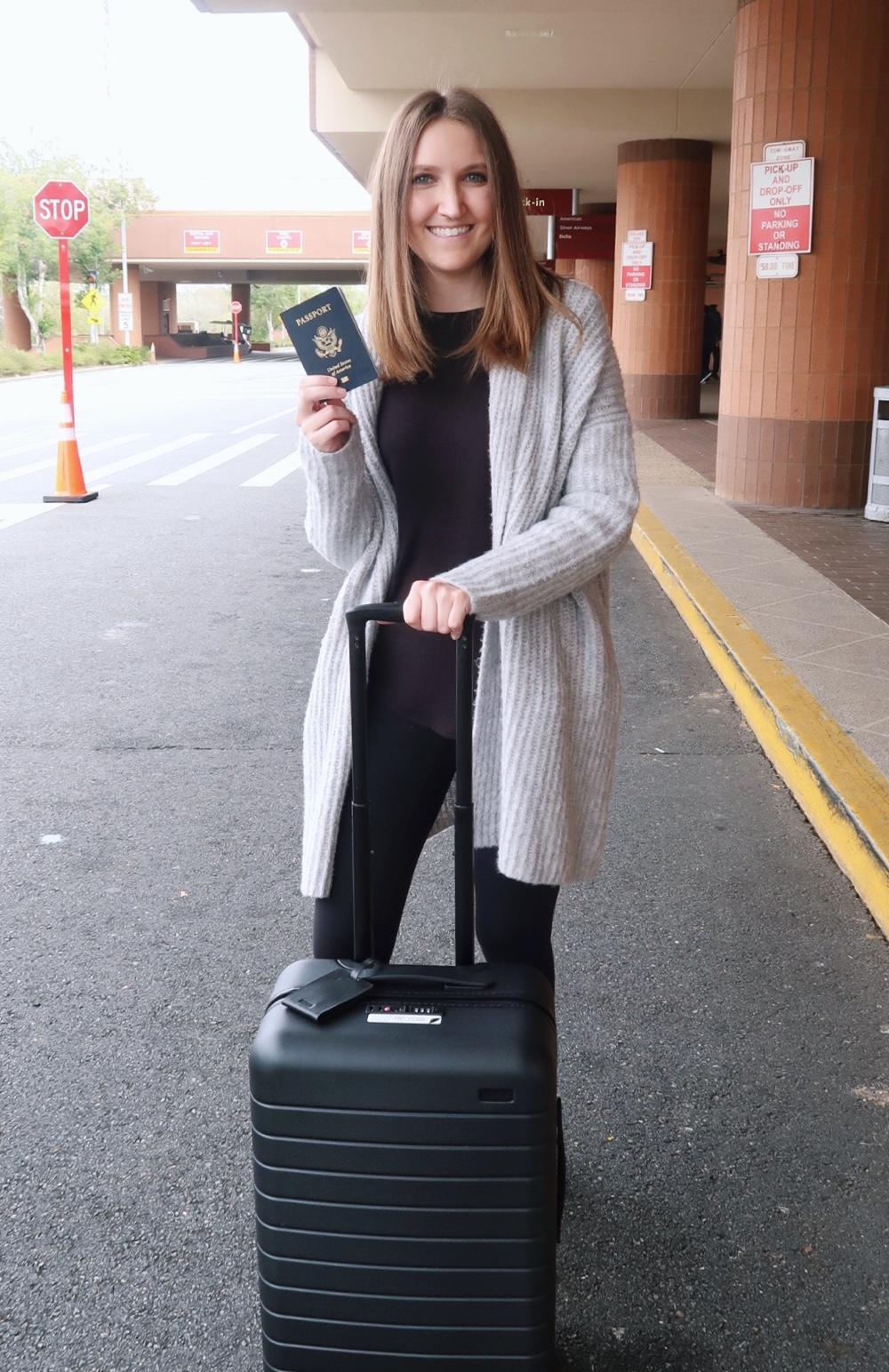 For the last several weeks, I've been preparing for my international flight to London, where I'll be working for 6 months. I know how difficult (and stressful!) packing can be, especially if you'll be traveling for a significant length of time or traveling internationally.
For my trip to London, I packed two large suitcases (which I checked), a carry-on, and a backpack. When I'm packing, I like to have a system because this makes it easier to keep track of my things. Also, there are many factors at play, including weight limits (a max of 50 pounds for each checked bag) and carry-on restrictions (liquids less than 3.4 ounces in a quart-size bag).
STRATEGIES FOR PACKING YOUR CARRY-ON
I try to be strategic about what I pack in my carry-on, keeping in mind that whatever is in this suitcase is all I'd have if the rest of my luggage was lost. A misplaced checked bag is the worst-case scenario, of course, and yet it's always best to be prepared.
Another strategy for packing your carry-on is to include heavy items you'd rather not weigh down your checked luggage. You'd be surprised how quickly you can hit 50 pounds with a large suitcase. However, there are no weight restrictions for your carry-on. It may be a pain to hoist into the overhead, but you've saved yourself the fee for an overweight suitcase. (Cheat the system by carrying a bulky sweater or coat with you onto the plane!)
Therefore, I'd recommend packing the following in your carry-on:
1. A change of clothes.
It's common to feel a little grimy after a flight. It feels good to change clothes once you've made it to your destination. It would be inconvenient to go digging through your checked bags for something to wear, but if you kept an outfit in your carry-on, it'd be easily accessible.
I packed: A comfortable pair of jeans and my red / black checked flannel shirt. I thought this would be a practical (yet cute!) outfit to change into when I reached London. I also packed a pair of black jeans in case I needed to dress up the outfit.
2. A pair of shoes.
It's not a bad idea to have a backup pair of shoes to match whatever outfit you've packed in your carry-on. Pack something practical, comfortable, and appropriate for the weather.
I packed: Black duck boots and tall black leather boots. I wore sneakers on the plane, but knew they'd be too casual for my backup outfit. Also, it's cold and rainy in London, so the duck boots were the most appropriate choice.
3. A travel makeup/toiletry case.
If you were somehow separated from your checked baggage, it'd be a relief to have a few toiletries with you. Even if you had access to your large luggage, you wouldn't want to make a mess searching for makeup or toiletries. Just be sure to follow the TSA guidelines for any liquids.
I packed: A makeup/toiletries kit (all things in small travel sizes!) including a brush set, powder, blush, mascara, deodorant, dry shampoo, and a toothbrush and toothpaste. I kept any necessary liquids (contact solution, hand sanitizer, liquid foundation, face cleanser) – also all travel-sized – in a TSA-approved baggie so I could send it through security.
4. A small purse or over-the-shoulder bag.
Chances are, you've packed a backpack or large tote to carry on the plane (you needed the space!). But if you've made it to your destination and you're ready to hit the town, you could easily swap these bulky items for something a little lighter.
I packed: My J Crew black crossbody purse (featured in the photos accompanying this blog post). This purse is the perfect size for travel or for going out because I can be hands-free. I also packed my everyday bag, a black nylon backpack – but only because I'd run out of space in my large suitcases, haha.
5. Charging cords / any electronics accessories.
You'll want these items to be handy when your electronics run out of juice. 'Nuff said.
Pro packing tip: Roll/stuff small clothing items like socks/underwear INSIDE your shoes or purses. This is a great way to utilize space. The added bonus is that padding your shoes/bags will ensure they keep their shape / aren't crushed.
WHAT TO CARRY IN YOUR "PERSONAL ITEM"
In addition to my carry-on suitcase, I carried a backpack onto the plane. Your "personal item" is typically a purse / tote / backpack. I kept all the items I needed immediate access to in my backpack. This included…
electronics
passport / wallet
snacks
I packed: My laptop, my DSLR camera, my vlog camera, my medical emergency bag (I carry an EpiPen for a tree nut allergy), a pouch for my passport/wallet/etc., my travel liquids, my earphones and phone charger, snacks (goldfish, GoGoSqueeze applesauce, raisins), a book of Sudoku.
MY "AWAY" CARRY-ON SUITCASE
I bought this suitcase as a gift to myself with my graduation money. I've seen this suitcase on social media, recommended by some of my favorite bloggers, and it has really great reviews. As I love to travel, I thought it would be a great investment and I was excited to see if it lived up to the hype. Away boasts "first class luggage at a coach price." I bought the "bigger carry-on" in black, which is priced at $245 (but I found a coupon online and saved $20).
Looking back, I'm disappointed I didn't purchase the "bigger carry-on" and the "large" as a set of two. One day, I'd like to have the matching suitcase, but if I'd gone ahead and bought them both, I could have saved $45. (The set of two is $495, while the cost of purchasing both bags separately would be $540.)
I plan to post a complete luggage review, but my first thoughts (after using the suitcase for the first time, to get to London!) are as follows: I love the matte finish and the square shape. It's extremely durable. And I'm a fan of the two-sided interior – I was able to fit quite a bit in this bag.
I'M IN LONDON: CHECKING IN
I flew to London on February 14th (yes, on Valentines Day!), and arrived early morning (8 AM) the next day. (If you're wondering what I'm doing here in the UK for 6 months, check out this post explaining my new job!)
Luckily, I met my fellow Program Assistant Kyla in the airport for our connecting flight to London, and we were able to make it to the study center together. Thursday was an extremely long first day, as we were jet-lagged and so exhausted. But it was also extremely exciting, as we were beyond thrilled to be back in London and happy to meet our fellow PAs. Three of us went out to dinner Thursday night – awesome pizza at Homeslice in Covent Garden!
Friday we ran some errands and visited The House of MinaLima (a shop featuring the work of the graphic designers who worked on all the Harry Potter movies). We also popped in for tea next door at Maison Bertaux (my favorite scone shop in London!).
Saturday I took the tube for the first time since I've been here (I LOVE the tube – one of my "top ten things to love about London"), had lunch at Borough Market, and took photos on Millennium Bridge.
The weather has been absolutely beautiful – cloudless blue sunny days! Not sure how long it will last, but I'm thankful!
There's much more to come! I couldn't be happier to be back in London. Looking forward to share what I'm experiencing and what I'm learning.
Hope this post is helpful for those of you attempting to pack for an upcoming trip! Tell me, what do you pack in your carry-on?