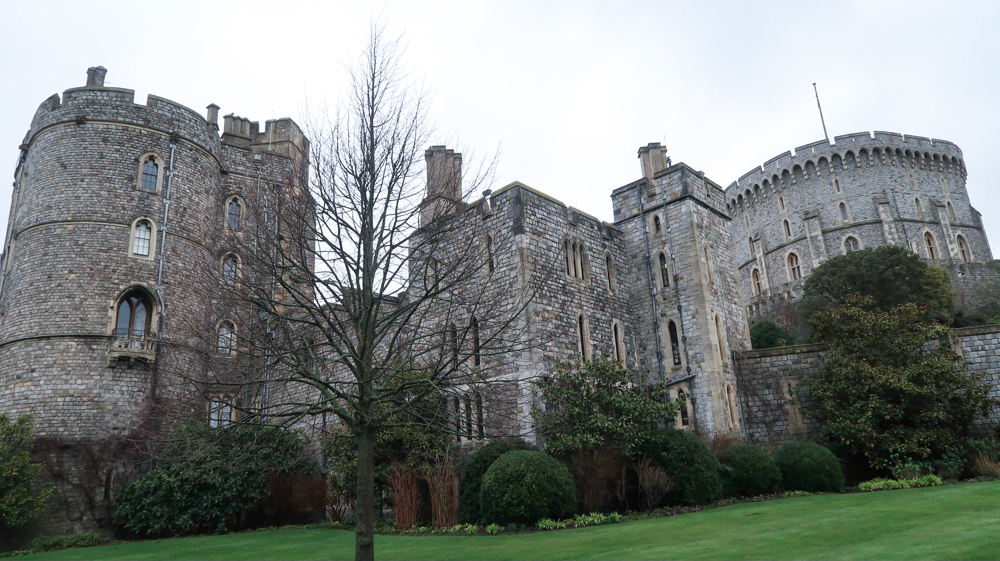 Pretty exciting stuff, this past week I went to Windsor on my first day trip with the program. (If you don't have a clue why I'm in London or what I'm doing here, check out this post which explains my new job as a Program Assistant at a study abroad university!)
We took buses to Windsor to explore Windsor Castle. We arrived around 10 AM, toured the castle and the castle grounds, grabbed lunch, and were back on the buses by 4.
Windsor Castle is one of the official residences of the British Royal Family, and the queen actually spends quite a bit of time here. Similarly to Buckingham Palace, you'll know if the Queen is in if the British Royal Standard flag is flying. If possibly bumping into the Queen isn't enough of a compelling reason to visit Windsor, here are 3 other reasons…

3 REASONS TO VISIT WINDSOR CASTLE
1. The Royal Wedding!
Prince Harry and Meghan Markle will be getting married at Windsor Castle on May 19. Um, enough said? I may not be receiving an invitation to the royal wedding, but visiting Windsor Castle felt close enough. I toured St. George's Chapel, which is where the wedding ceremony will take place. And after the ceremony, there will be a carriage procession from the chapel through the town of Windsor. So I'd say it's pretty exciting to have walked these streets, because this wedding will make history.
2. Changing of the Guard
If you're visiting London, witnessing the changing of the guard at Buckingham Palace may be on your bucket list. But the changing of the guard takes place at Windsor Castle, too, and you won't have to compete with the large crowds. Be sure to visit Windsor on a day the ceremony takes place – usually Tuesdays, Thursdays, and Saturdays at 11:00 AM. (You can check the schedule.)
3. Queen Mary's Dolls' House
I thought this was one of the most interesting exhibits at Windsor Castle. The State Apartments are incredible, of course, featuring exquisite furniture and art and opulent decorations, but the dollhouse is my favorite. This life-size dollhouse built for Queen Mary is on display for all those that visit Windsor. The detail is astounding – there are tiny books on the shelves, place-settings on the dining room table, a garden. Unfortunately, you're not allowed to take photographs of the dollhouse or within the State Apartments, so I don't have any images to share. But that's exactly why you should go and experience it for yourself!
PLAN YOUR TRIP TO WINDSOR
A standard adult ticket costs £21.20. Student tickets are £19.30. When planning your trip, check online to be sure the Semi-State Rooms and the State Apartments are open. Tickets are cheaper when these rooms are closed, but in my personal opinion, it's not worth it. The State Apartments are the main attraction at Windsor Castle and you wouldn't want to miss it.
The easiest way to get to Windsor is by train or by bus.
Pro tip: After touring Windsor Castle, be sure to have your ticket stamped in the gift shop before you exit, as this will allow you to return to the castle for free for an entire year.
If you're looking for something to do outside of Central London, I'd highly suggest a day trip to Windsor Castle. If you've visited Windsor, comment to tell me more about your experience! What did you love best?