I love dressing for the fall season because I can break out my jeans, cozy sweaters, and booties. I love the colors of the season – rich browns, olive green, garnet. A few weeks ago, I listed 5 Instagram accounts to follow for "fall style inspo," because these bloggers' looks definitely inspired MY seasonal shopping. In this post, I'm recommending 5 pieces (both basics and "fad" pieces!) you need in your wardrobe this fall. I've included styling tips and links to each of the pieces I'm wearing, as well as alternatives at various price-points!


1. CAMO JEANS
Camouflage is a huge trend this season, so much so that the pattern has become a "neutral." I've recently added a faded camo tee and camo jeans to my wardrobe, and now I'm wondering how I ever got by before. I particularly love the faded grayish-green camo jeans, because they're a bit more subtle. I'm so excited to pair these jeans with cute booties.
What I'm Wearing: American Eagle Ne(X)t Level 360 High-Waisted Jegging in Taupe ($49.95) (size 4)
Alternatives: ASOS Whitby Low-Rise Skinny Jeans in Camo Print with Detachable Chain ($26) / Zara Z1975 Camouflage Jeans ($39.95)
2. BUTTON-UP WAFFLE KNIT TEE
This top will be my go-to for the fall season. It doesn't get too chilly here in Florida, so these button-up waffle knits are light enough for layering but still quite cozy. Tying a front knot is a trend for this season, and it's super stylish. I love that I can tuck it in or tie a front knot. In these photos, I wore the ribbed button-up over my camo jeans and as a layering piece underneath my poncho cardigan.
What I'm Wearing: Caslon Button Front Ribbed Knit Top in White ($49) (size S)
Alternatives: BP Ribbed Cardigan in Beige Oatmeal Medium Heather ($39) / Urban Outfitters Out From Under Jojo Oversized Thermal Button-Front Top ($44)

3. PONCHO CARDIGAN
Cardigans are fantastic layering pieces for the fall season. They're not quite as heavy or warm as a pullover sweater. Throw on a poncho cardigan to instantly dress up your look. I saw this poncho cardigan on Instagram and knew I needed it for my fall wardrobe. It appears to be sold out, but Loft has already restocked the cardigan multiple times, so keep an eye on the site just in case!
What I'm Wearing: LOFT Striped Poncho Cardigan in Sand Camel Melange (size S/M)
Alternatives: Loft Striped Poncho Wrap in maple sugar ($79.50) / Madewell Kent Colorblock Long Cardigan ($98)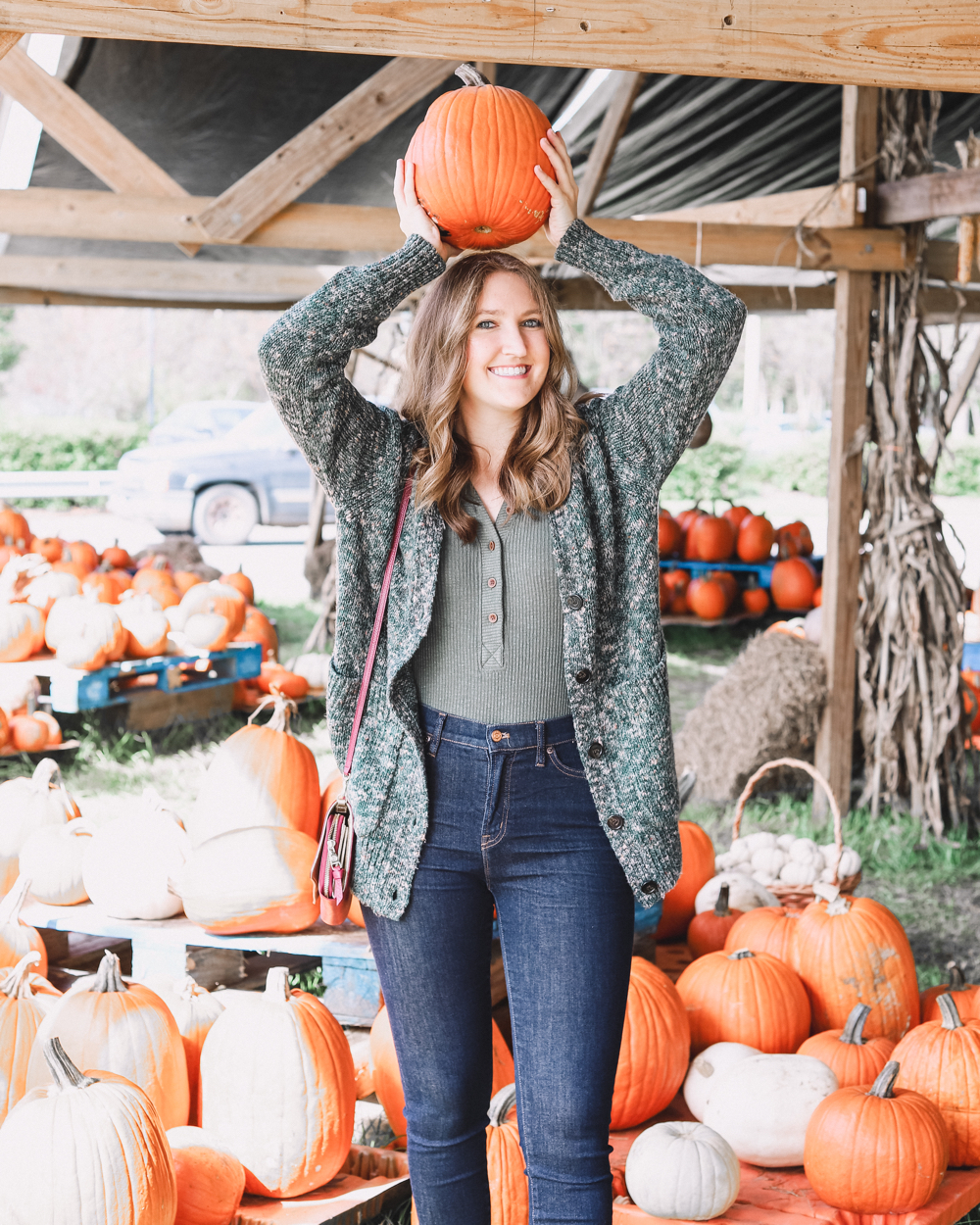 4. BODYSUIT
For a seamless tucked-in look, opt for a bodysuit. I love how classy a form-fitting bodysuit looks with high-waisted jeans. *Wish I'd remembered to wear a belt with this look!* This ribbed bodysuit is so comfortable and stretchy that I bought it in two fall colors, olive green and chestnut (linked below). Bodysuits are fantastic layering pieces, especially underneath chunky knits and sweaters.
What I'm Wearing: J Crew Point Sur Ribbed Henley Bodysuit in loden green and deep redwood ($59.50) (size S) / Point Sur Oversized Patch-Pocket Cardigan Sweater in Hthr Dark Seaweed ($148) (size S)
Alternatives: River Island Dark Red Brushed Ribbed High Neck Bodysuit ($24) / River Island Green Rib V-Neck Button Bodysuit ($24) / River Island Beige Rib V-Neck Button Bodysuit ($24) / Free People All You Want Bodysuit ($48) / Free People Right On Rib Bodysuit ($48) / River Island Black Frill V-Neck Button-Through Bodysuit ($56)

5. SUEDE BOOTIES
I love a classic suede bootie! I've worn these TOMS wedge booties for years, because they're cute and uber comfortable. I'm not about heels (accident waiting to happen), but I can easily walk around town in these wedges. My pair are an older style, but I've linked to a comparable style as well as suede booties from other brands. My go-to everyday booties in London were the Blondo Loxx booties in black suede (linked below)… I did quite a bit of research and bought the Blondo Loxx because they're water-resistant suede and because I love the height of the heel.
What I'm Wearing: TOMS Kala Wedge Bootie in Desert Taupe Suede ($89.95) (size 7)
Alternatives: BP Barris Block Heel Bootie ($89.95) / Vince Camuto Pavista Bootie ($99.90) / Blondo Loxx in black suede ($150)
I hope this inspires you in putting together your fall wardrobe! What are the fall pieces you can't live without?