So I've published my first London vlog! The video chronicles my first month in London. The vlog is live on my YouTube channel, and if you're interested, I'd love for you to check it out. I really enjoy creating videos to commemorate my experiences, and that's what the vlog does for me. I started vlogging at the beginning of last summer (June 2017), so I could make videos for family and friends about my internship in New York.
Of course, I'd like to keep it up while I'm here in London! I'm making memories here that I never want to forget, and I love video because it captures so many things – action, moments, emotions – that photographs alone cannot.
I want the vlog to complement my blog. I believe they serve different purposes, but both platforms are incredibly powerful.
That's why today, on the blog, I'll be giving the videos some context through my written word. Specifically, I'll be writing about what I've learned about vlogging over the past 10 months (has it really almost been an entire year?!).
LESSON #1. What IS a "vlog"?
The word "vlog" is a shortened / slang term for "video blog." And yet, it carries a different meaning for everyone. Each and every one of us is unique, and we all bring something different to the table. When I started vlogging, I had to define what "vlog" meant for me. Would I talk to the camera, or narrate my footage? How much of my videos would be strictly montage? We may think traditional "vloggers" sit in front of the camera and talk about their thoughts/feelings/experiences (or, at least, it's what we used to think). Over time, I've developed my own set of rules and my own style for my videos. Now, I know what I like, and I have a template of sorts for each of my videos. This consistency makes it increasingly easier to create the vlogs.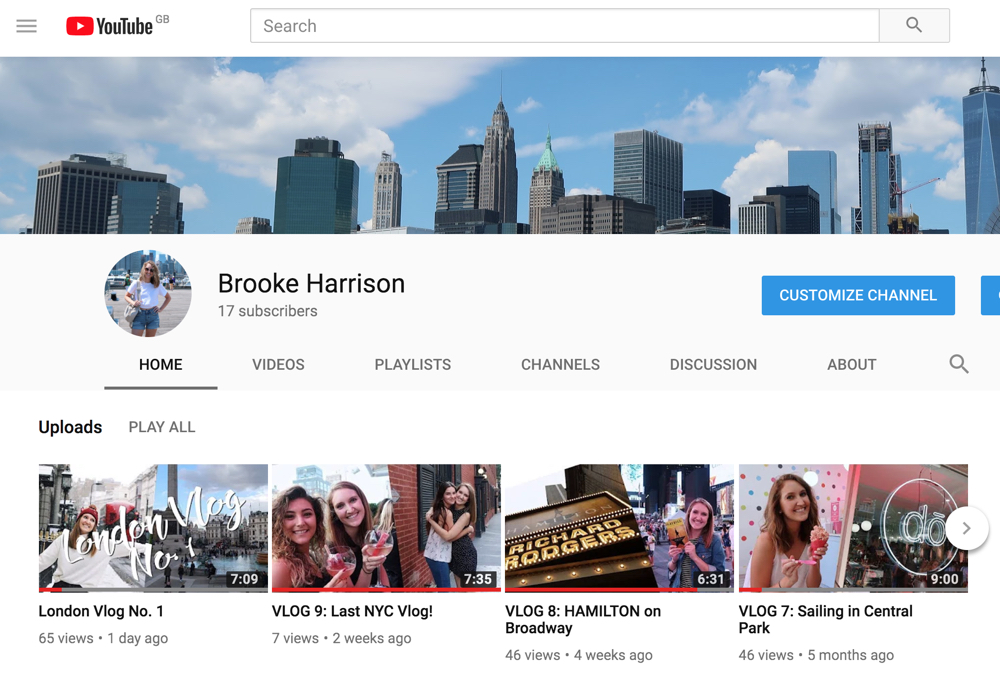 LESSON #2. How to embrace my identity as a vlogger: OWN it!
This is true of anything you do in life. Don't be embarrassed of the things you're passionate about. Easier said than done, right? Whenever I meet new people or put myself in new scenarios, I have to overcome the nerves and the embarrassment about the vlog all over again. I couldn't even tell you WHY I'm embarrassed about it; maybe it's because it sounds silly when you're telling everyone you're making a video about yourself? What's awesome is that vlogging is no longer misunderstood… honestly, it's fairly mainstream now. But even if it weren't, I've realized I can't worry about what other people will think of me. I don't have to explain myself to anyone else. If I'm excited about my work, that's all that matters. Ultimately, I've found that people will respect you for being confident in your interests and goals, whether or not they share them. And, in my experience, most of my friends / family / random strangers off the street get excited about my videos, and are willing to be a part of it!
*Disclaimer: I'm not referring to the people who are uncomfortable being on camera. As a general rule, I'll ask everyone around me if they're comfortable being in the vlog. And if they're not, that's totally ok and I'll completely understand.
LESSON #3. To be realistic with my expectations for myself.
I'm no Casey Neistat (though I'd certainly like to be!). It may be too ambitious to publish daily or weekly videos. I've had to come to terms with my own limitations, and give myself a pass when I'm unable to finish a video by the arbitrary deadline I've set. At the end of the day, this is a learning process. As long as I'm actively seeking to improve, it shouldn't matter to me if I can't meet my own impossibly high standards. It's unhealthy to compare myself to others, especially to the experienced vloggers who've been putting in the hours for such a long time! All that said…
LESSON #4. Ditch perfectionism, be consistent. AKA, "just do it."
There is a time and place for perfectionism, but vlogging isn't it. I have to set that aside and just get the videos up there for friends and family to enjoy, even when I'm not totally satisfied that it's "ready." I want to produce quality material, of course, but even the highest quality video is pointless if it's so late it's no longer relevant. (I'm exaggerating to make my point. I will always value my videos, whether they're "timely" or 6 months in the making. Because, let me be real, I only just published the last of my New York vlogs like 3 weeks ago.) The point is, a large part of the learning curve is about post-production, about "finishing" what you start. I wouldn't be a vlogger if I took loads of video footage but never used it to create a final product.
LESSON #5. It isn't easy.
So many vloggers make it look easy! But behind every video is a lot of hard work. Vlogging takes a combination of skills. Storytelling, videography, post-production, etc. I have to remember I'm a storyteller – what do I want my vlog to convey? Is the goal to entertain, inform, etc., etc.? (Flashbacks to middle-school essay writing, anyone?) There are so many stylistic choices I have to make from the very beginning of the process to the end. I love piecing my videos together and playing with the order of each clip, and selecting background music. Honestly, choosing the music is one of my greatest challenges, because it sets the tone/mood for the whole video and it's critical that I've made the right choice before moving forward.
---
My parents have always encouraged me to think deeply about my experiences, to reflect, and to identify what I've learned. It's exciting to think about how vlogging has challenged me and changed me over the course of the past several months, and to put those thoughts into words. I'm really proud of how far I've come, and I'm proud of each and every vlog I've produced. It's been such a fun way to commemorate my experiences and memories, and I know I'll have an even greater appreciation for the videos down the road when this chapter of my life has closed.
If you haven't watched the London vlog, I'll give you a brief recap: I arrive in London to begin my 6 months as a Program Assistant with my university's study abroad program, I meet my coworkers / new best buds Kyla and Eric, I meet my students (shoutout to each and every one of you – you're awesome!), snow in the city, we take a daytrip to Windsor, I see Hamilton on the West End (yes, I've previously seen the show in NYC! and yes, I wrote a blog post about it!), I go to the Harry Potter Warner Bros Studio Tour, I eat a lot of really good food.
More videos to come! Tell me, what creative projects have you taken on lately? And what have you learned?