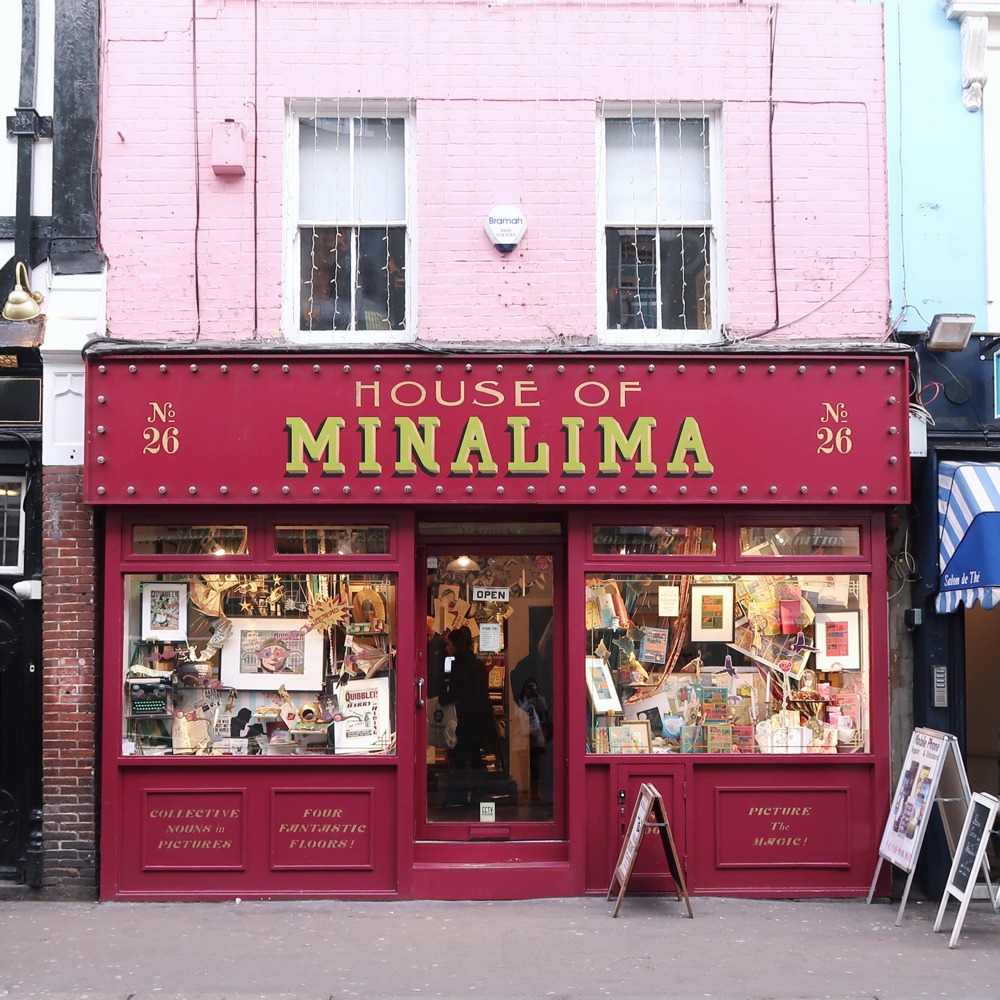 I've finally had the opportunity to visit the House of MinaLima, which has been on my bucket list since I left London two years ago. House of MinaLima is "an exhibition and shop of the graphic art of the Harry Potter films, and other works… by graphic design duo Miraphora Mina and Eduardo Lima." The shop showcases 15 years worth of their creative collaboration. How cool is that?!
House of MinaLima opened its doors only weeks after I left London in April 2016 upon the completion of my semester abroad. This was in timing with the premiere of Cursed Child on the West End, which I was also upset to have missed. The shop is located just around the corner, behind the theatre on Greek St.
I remember returning home from London and spotting the article on Facebook. One of my London friends shared the link, and it caught my eye because it was Harry-Potter-related. At the time, I was incredibly disappointed because it was advertised as a pop-up shop, and the article claimed it would close its doors in January 2017. Luckily for me, that was not the case! Also, in viewing the thumbnail photo attached to the article, I was shocked to find that I recognized the neighboring building – the awning of my favorite scone shop in Central London, Maison Bertaux!
My first weekend back in the UK, I went to Maison Bertaux for tea, and decided to pop into House of MinaLima next door. It's just fantastic. It truly feels as though you've stepped into one of the Harry Potter films, or perhaps into Hogwarts itself. There are 4 floors of graphic art, and each floor has a "theme" of sorts. For example, there is an entire floor dedicated to the Daily Prophet newspaper. The papers are framed on the walls in the order in which they were designed. (Starting with Daily Prophet papers from the first films.) What's fascinating is that you can see the growth over the course of the films, as the template and design of the newspaper takes on a very distinctive style.
There is an attendant on each floor, ready to provide context, to explain what you're looking at, or to answer questions. The attendant on the floor featuring the Daily Prophet newspapers pointed out headlines in which Mina and Lima had slipped 'inside jokes' or names of family and friends. Greek St, for example, is given a shoutout in one of the headlines. The ground floor is a gift shop, where visitors can purchase postcards, prints, and other trinkets.
Other graphic design work featured in the shop includes Hogwarts textbooks, art from Weasley's Wizard Wheezes, Hogwarts letters, etc. Everything is so unique and intricate. Clearly, Mina and Lima took great pride in helping bring J.K. Rowling's wizarding world to life, and they certainly had a hand in making the films such a success. It means a lot to fans when filmmakers respect the origin story and attempt to make the movies as authentic as possible.
Check out this behind-the-scenes video of House of MinaLima setting up shop. If you're a fan of Harry Potter, you'll absolutely enjoy this experience. It's just one of many Harry Potter attractions / activities in London, and the best part is, it's free! If seeing Cursed Child or purchasing tickets for the Warner Bros. Studio Tour is out of your budget, there are plenty of ways to get your Harry Potter fix for free.
What would you be most excited to see at the House of MinaLima? If you've been, I'd love to hear about your experience!