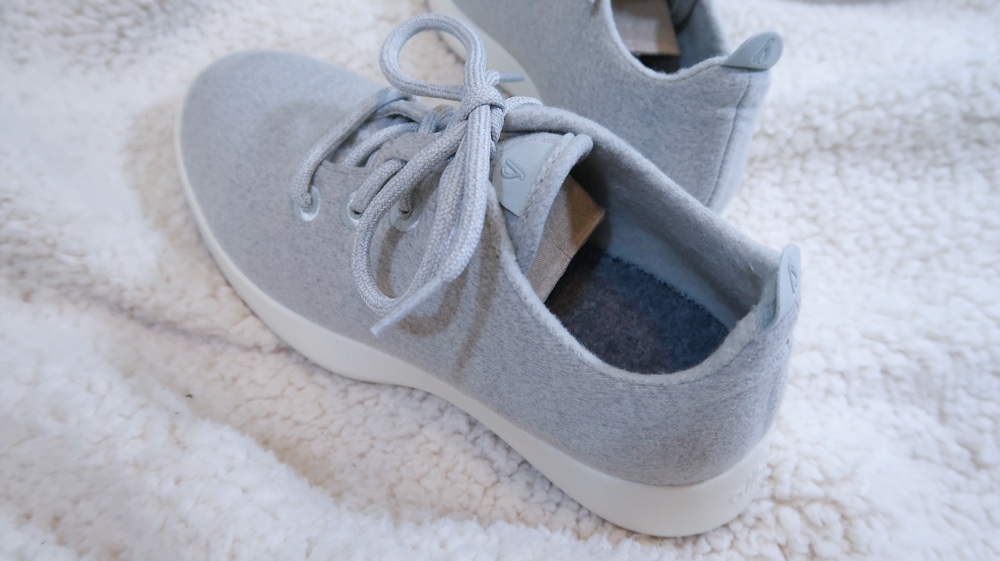 I bought a pair of Allbirds "wool runners" back in February, and wrote an "unboxing" review of sorts to capture my first thoughts concerning the shoes, the brand, and my overall opinion. How were the sneakers packaged? How did they fit / feel? How did they look as part of an outfit?
So I thought it'd be interesting to write a follow-up review, having worn the sneakers for months since! I've also just washed my sneakers for the first time, and thought I'd write a bit about that as well. (Are Allbirds truly machine-washable? How well did the wash clean the shoes? How do they feel after having been washed?)
THE SHOES – MY OPINION 6+ MONTHS AFTER PURCHASE
When I was living and working in London, I started wearing my Allbirds almost every day. I'd wanted a versatile sneaker that was comfortable / supportive but also stylish, and my Allbirds totally hit the mark. They're comfortable AND cute, which meant they were perfect for the office but also for walking long distances on excursions into the city or weekend trips. I could dress them up or down – casual with shorts or denim, but trendy when paired with a blouse or sweater and dark jeans.
VERSATILITY
Also, the sneakers bridged the gap between seasons – I wore them with jeans and sweaters in spring, when the temps were still chilly but too warm for booties. Allbirds sneakers are made of superfine merino wool, so they could pass as a more "wintry" sneaker, but they're not so bulky as to look out of place in warmer weather. I continued to wear my sneakers into summer.
MATERIAL
And if you're worried about wearing wool in summer, this is what the brand has to say: wool actually minimizes odor / regulates temperature / wicks moisture. So, as I've mentioned above, Allbirds truly bridge the gap between seasons. There is much more detail about the make of the shoe in my previous review! I wrote quite a bit about the benefits of the merino wool because it was the main selling point for me… I have a condition called hyperhydrosis (excessive sweating in my hands and feet), and wool is highly recommended for people with this condition.
My Allbirds were so comfortable and stylish that I wore them daily in London for like 2-3 months. I'd purchased the limited edition Kotare Birch, which are a light gray color (no longer available), and they got pretty dirty. (I bought a pair of white sneakers in London and completely trashed them. In comparison, the Allbirds were not as bad! The dirt was less noticeable. Just thought I'd include that as a side note.)
I don't know about you, but it bugs me when my shoes are dirty, and so I wear them less and less. Sneakers are not quite as easy to clean, particularly light-colored sneakers. I explained my reasoning for choosing the Kotare Birch color in my previous post. And I still don't regret the purchase! I'm happy with my choice. I knew the shoes might get a little dirty, but I was OK with that (expected it, even), especially because Allbirds are machine-washable.
FIRST MACHINE-WASH
In London, however, I didn't trust the washing machines at our study centre, and so I wasn't willing to risk my shoes for a first-time wash. I decided to wait until I got home. It was for this reason (dirty sneaks), and also because it was time to switch things up with my wardrobe, that I stopped wearing the Allbirds so frequently.
Fast-forward, and I'm home now, and ready to wear my Allbirds again! I pulled up the instructions online for machine-washing my wool runners. Remove the insoles (you can wash these by hand OR purchase new insoles on their site), remove the laces, and wash your sneakers on a delicate cycle in cold water.
Voila! We left them outside on the porch to dry. (Do NOT toss in the dryer!) My Allbirds runners look great. Not quite as sparkly as the day they arrived, but significantly cleaner. The wool just bounces right back.
I also think it's important to note that my shoes never smelled – even prior to washing. My feet get really sweaty, even when I wear socks (I wear the no-show Hue Air Cushion Liners), but my Allbirds never stunk. And I'm sure this is due to the merino wool. This is worthy of applause, because, let me tell you, my Superga sneakers did NOT smell real good by the time I was stuffing them into my suitcase on my way home. (And this is not Superga's fault, I'm merely pointing out that the Allbirds held up really well, even for a girl with hyperhydrosis.)
PURCHASING ALLBIRDS – NEW COLORS & STYLES
Allbirds frequently releases new limited-edition colors, so if you see something you like on their site, you should just go for it. Currently, they sell 4 classic colors for women (these are permanent styles), and 6 seasonal / limited edition colors. As for the women's wool "loungers," there are 2 permanent classic color options and 6 limited edition. Both the "runners" and the "loungers" cost $95.
And since February, Allbirds has released two new shoe lines with a mesh knit alternative to the wool material. Their "Tree – Light & Breezy" line includes "runners," "loungers," and "skippers," while the "Sugar – Free & Bouncy" line offers "sugar zeffers" (flip-flops). Check it out! My next purchase may be a pair of Women's Tree Skippers.
I hope this updated review sheds more light on this awesome brand! This post is (unfortunately) not sponsored by Allbirds, I just really love the sneakers and wanted to write an honest review to help you make an informed choice. I think it's interesting to evaluate decisions / purchases down the line, after you've put the product to the test.
It's worth mentioning that during my 6 months in London, I noticed quite a few people wearing Allbirds, and it always caught my eye! I'd never seen a pair "in the wild" prior to purchasing my sneakers in February, so it was pretty cool to spot the brand in the real world, and not just on my Instagram feed.
Tell me, have you heard of Allbirds? Are you thinking about purchasing a pair of runners? If you already own a pair of Allbirds, I'd love to hear your thoughts!