Maison Bertaux is a French pastry shop (aka, patisserie) in Soho, London. It's my favorite place for tea and scones in all of London (and I've had many scones!). Now that I'm back in London, revisiting Maison Bertaux was at the top of my list. I thought I'd write about it here on the blog as an opportunity to feature a local gem and to discuss my passion for afternoon tea.
Story Time: My First Scone
I discovered Maison Bertaux in the first few weeks of study abroad in spring 2016 (two years ago now!), thanks to a class assignment. Our study abroad courses were designed to get us out and about in the city, and professors would often take us on walking tours or to exhibits. One of my professors led us to three Soho locations – an Asian food market, a coffee shop, and a pastry shop (Maison Bertaux) – and asked us to pick one of the three for a writing assignment. We were tasked with writing highly descriptive essays using all five senses.
I, naturally, chose the pastry shop because I have a notorious sweet tooth. Something about Maison Bertaux called to me – tucked away on a side street, the pastel blue building stood out – it seemed charming and cozy. A few classmates and I popped into the shop hoping to complete our assignment, maybe take a few photos, and sat down for tea instead.
It was my first true English scone, and it was delightful. It was a special experience for me, because my grandmother loved tea and scones, and this was one of many reasons I'd decided to study abroad in London. To this day, having tea reminds me of my grandmother, and our tea parties.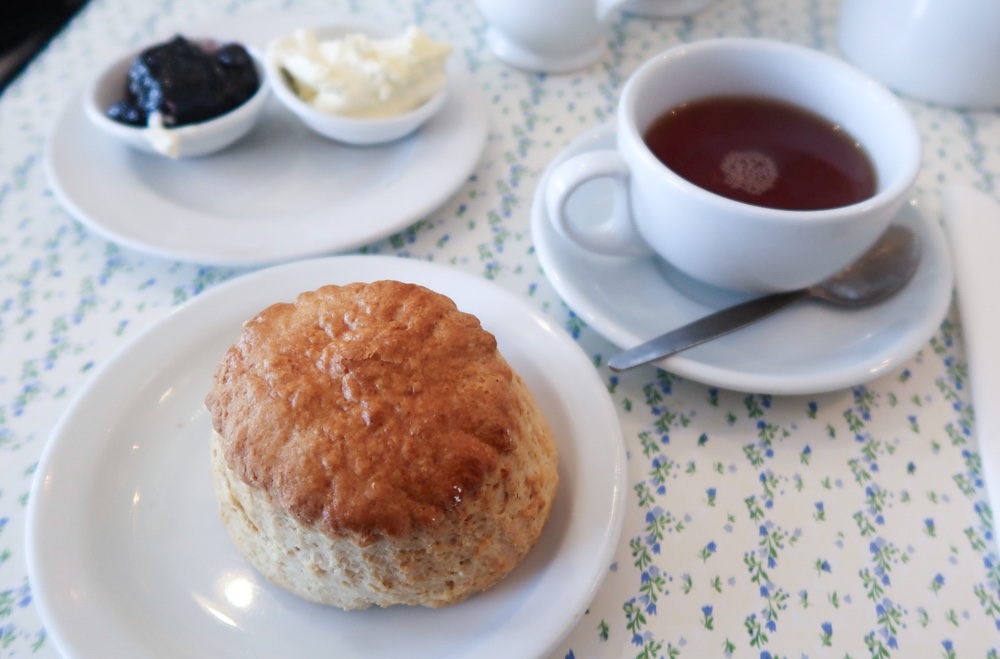 …my obsession with tea and scones continues…
I decided to make it my mission to find the best tea and scones in the city. Anytime I ventured out to explore, I'd research the area in the hopes of finding a new tea shop. This gave me purpose, and it often helped to have a destination in mind rather than wandering aimlessly through an unfamiliar area of town.
I've had tea at The Orangery, Tea and Tattle, Fleet River Bakery, the British Museum, the Sky Garden, Blackbird in Brighton, the hidden tea room in Soho, and the National Gallery. I've yet to find a scone that compares to Maison Bertaux!
Several came close – the runner-up would be tea & scones at the Victoria and Albert Museum. I've also appreciated warmed or toasted scones, which I've enjoyed at Bea's of Bloomsbury and The Muffin Man in Kensington.
I've been back in London for 12 days and I've already had tea at Maison Bertaux twice (!).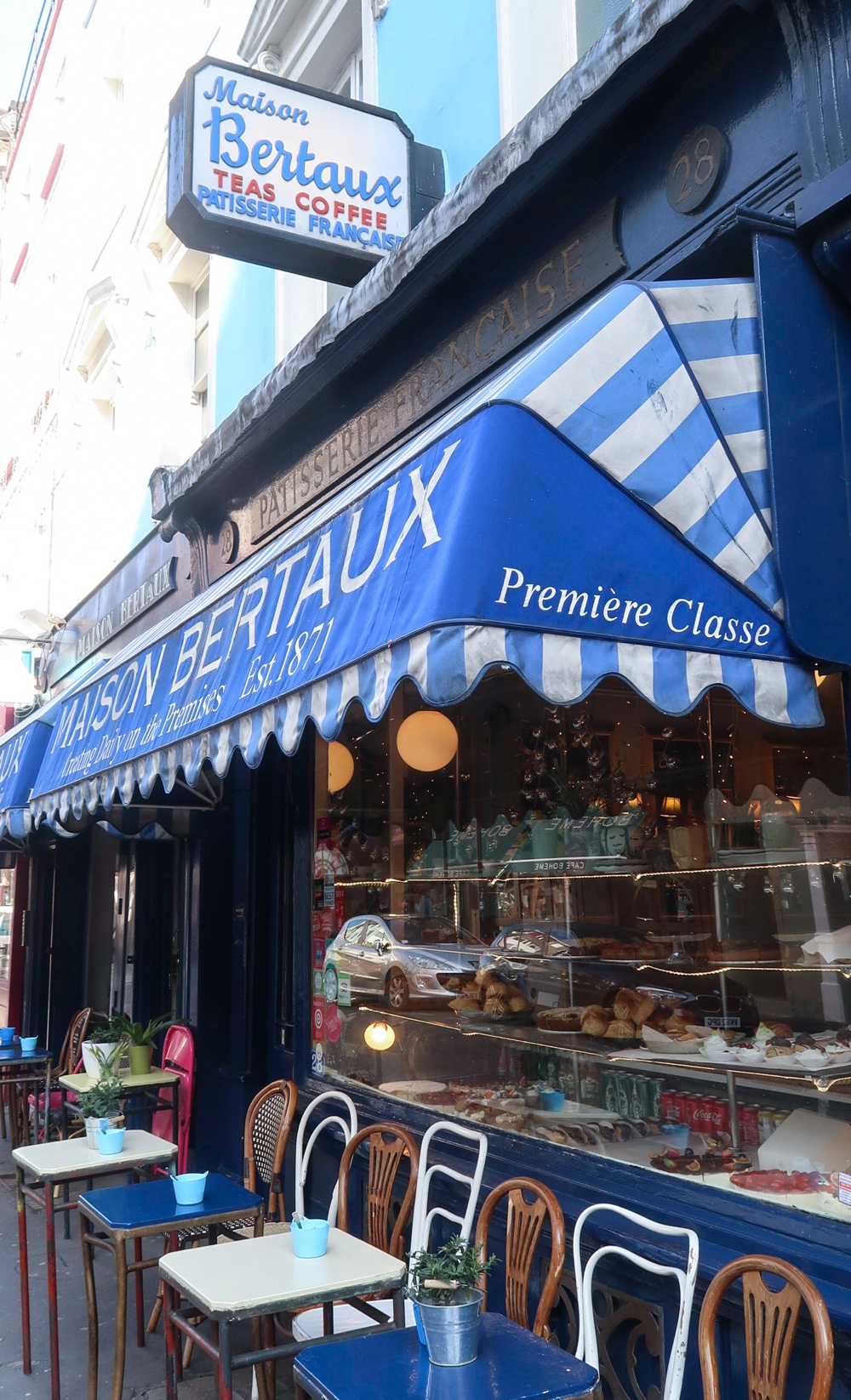 LOCATION
Maison Bertaux is within walking distance of our study center – 28 Greek St., just off Charing Cross Rd and Shaftesbury Ave. It's next door to graphic design shop House of MinaLima, featuring the art of the graphic designers who worked on the Harry Potter films. Both Maison Bertaux and House of MinaLima are behind the Palace Theatre, which is where Harry Potter and the Cursed Child is currently playing.
The colored buildings of both shops – pastel pink and pastel blue – make for the perfect picture or Insta post. I've seen Maison Bertaux's awnings on many a London instagram feed, though audiences don't always know what they're looking at (in these photo, it's merely a pretty building!).
HISTORY
Maison Bertaux was founded in 1871. Current owner Michelle Wade worked as a "Saturday girl" before she bought the business in the 1980s. She is very much involved in the day-to-day operations of the shop, and I've seen her on more than one occasion. In fact, she's served me my tea. I remember taking a friend to Maison Bertaux back when I studied abroad, and we realized we wouldn't have time to sit down for tea, and Michelle offered to let us take our tea and scones to go. We were in a hurry (I was nearly late for class!), but she efficiently boxed up our scones and poured our tea into plastic cups and we were on our way.
I think Maison Bertaux's history is what makes it special. It's been around for such a long time, serving both loyal customers and newcomers alike. While drafting this post, my dad happened to send me several interesting articles about the patisserie and owner Michelle Wade. (This was totally coincidental! My parents just happen to be very familiar with my love for this shop.) If you're interested, check out this interview with Michelle Wade and this article describing the shop's background.
ATMOSPHERE
Maison Bertaux is completely authentic and local. It's warm, cozy, and inviting, a bit cluttered and whimsical. Small cafe-style tables and chairs are set up around the shop – there's seating on the ground floor as well as an upstairs seating area and a separate sitting room accessed by a neighboring door.
There are knickknacks and fairy lights and mirrors. The front window is filled with shelves of fresh pastries.
Anytime I go, I feel relaxed and peaceful. A hot cup of tea and a pastry will certainly do that for you. Whether I'm alone or with a friend, I enjoy sitting in the corner or at the window people-watching.
MENU
I'm not going to lie, I've actually only ever ordered tea and scones at Maison Bertaux. One of these days I'll try another of their pastries (apparently they're well-known for their cheesecake!), but I'm just so in love with the scones that it seems like a waste to order anything but my favorite.
Let's talk scones. Maison Bertaux serves both plain and fruit (raisin) scones. Scones are served with clotted cream and jam. You can order a pot of tea for one or for two – I always opt for English Breakfast (can't go wrong). The scones are the perfect cross between a biscuit and a pastry. My parents and I have attempted to bake scones at home, in the US, and while they were tasty, we couldn't seem to replicate the consistency/density or get them to rise as high. Our scones were either too fluffy, or too dense.
If you're visiting London and would like to have tea and scones, I'd recommend Maison Bertaux! Skip the touristy "high tea" at a stuffy department store or hotel and pop into a local shop with charm and history. Do as the locals do!