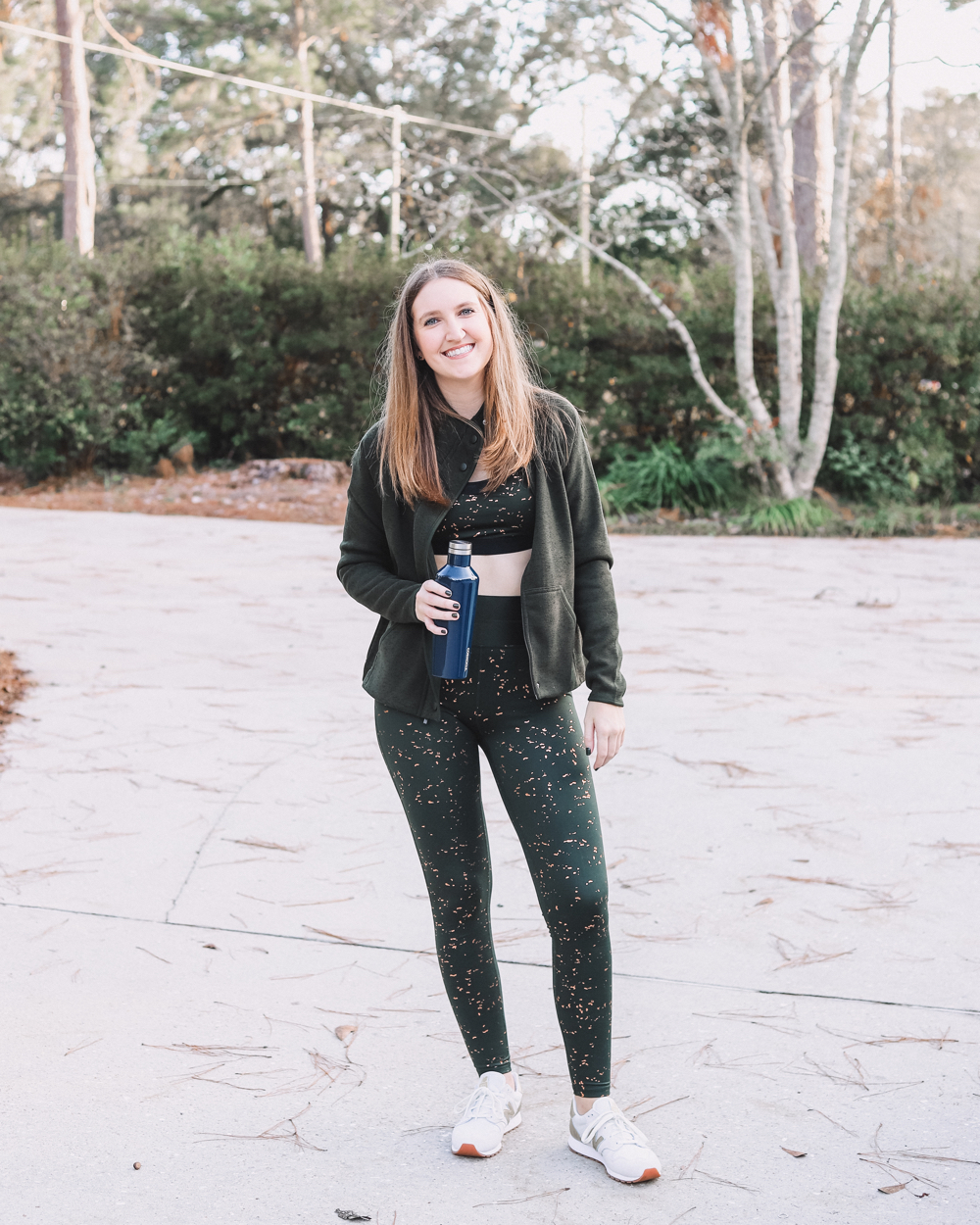 I think the most common New Year resolutions are about developing a fitness routine / working out / "getting fit." We know it's important to exercise and to take care of our bodies, and it feels good to look good! And what better time to commit to a new routine than at the start of the new year? We feel so fresh – so motivated, so dedicated. But real life gets in the way and that new routine is a distant memory by March.
I've been there! In fact, I've been there so many times it's getting old. I've gone through several "phases" of working out (Zumba, jogging, pilates, ballet), hoping something would stick. (And that's not to say I didn't enjoy those things! But for whatever reason, I couldn't commit long term.)
About 6 months ago, I started working out with Kayla Itsines' "Sweat" app, which is wildly popular on social media. (Who HASN'T seen an ad for the "Sweat" app on Instagram?!) I didn't want to try it just because everyone else was doing it – I decided to give it a shot because I thought, "if it's working for all these other women, why wouldn't it work for me?" I'll go into that more below, but let's fast forward… with this app, I've worked out consistently for almost 6 months. That's huge for me!
Along the way, I've begun to understand what factored into my commitment and how my mindset – particularly about my fitness routine – has changed. I want to share those things in this post, to help you develop a fitness routine you can commit to! And it may not be the "Sweat" app for you, and that's ok, it's really about finding what works for you and your lifestyle.
*I've linked all the pieces in this activewear set at the end of the post!*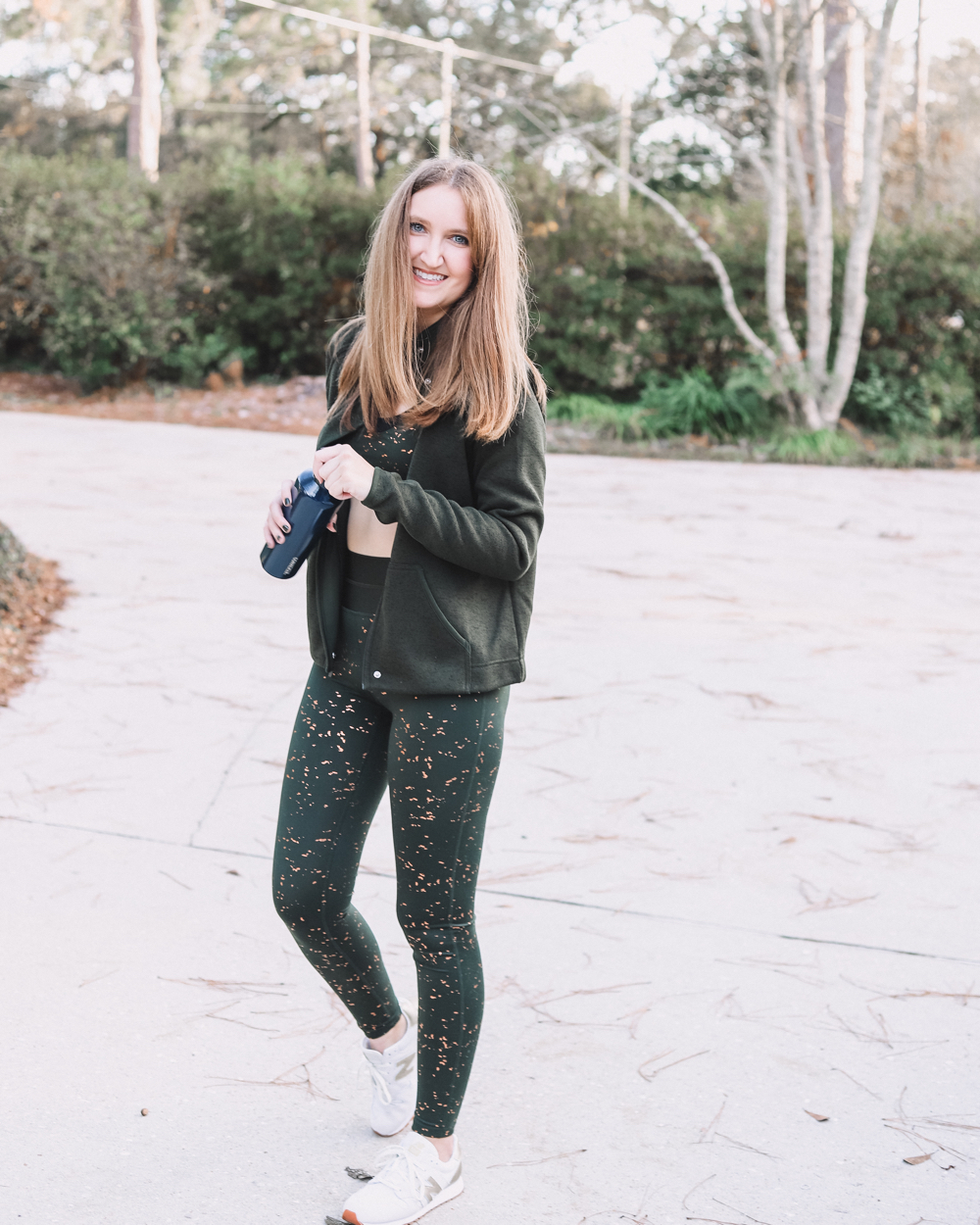 My Fitness Journey
Let me give you a little background about my fitness journey – feel free to keep scrolling if you'd like to get straight to my review of the "Sweat" app and my tips for developing a fitness routine you won't quit. But I thought sharing my story might make this more relatable, to show you that developing a fitness routine and "working out" wasn't something that came easily for me. I'm not one of those people who loves exercising or enjoys going to the gym regularly. And, as I've mentioned above, I've found it difficult to commit to a routine in the past!
Let's just say I was not the "athlete" in the family growing up. That was my younger sister Sydney, who was good at almost every sport she played (swimming, tennis, cross country, basketball, soccer, volleyball). You'd find me indoors, reading a book.
But my parents encouraged me to exercise and to be outdoors. My sister and I were on a local swim team in elementary school. In high school, I took tennis lessons. And there were PE classes, of course.
In college, I tried the gym thing. I thought, at one point, that it might hold me accountable to get up / get dressed / drive to the gym. Sometimes it can be difficult to "work out" at home because it's too easy to make excuses (oops, I hit "play" for the next Netflix episode). I joined Planet Fitness for a few months because I appreciated their slogan ("no gym-timidation"). I took ballet for a year with a close friend (only once a week – but we loved it, and my flexibility really improved!).
A few things I've learned about myself thanks to these experiences:
I'M NOT A FAN OF THE GYM.
Obviously, plenty of people have gym memberships. But I didn't appreciate the time it wastes to drive to/from the gym. I've also found I don't like machines – I worry I'm using them incorrectly, and might hurt myself. If you're repetitively doing an exercise incorrectly, you could really injure yourself.
I ENJOY FITNESS CLASSES / BEING TAUGHT BY INSTRUCTORS.
When I'm working out, I like being told what to do, and I appreciate a fitness instructors' expertise. They know what exercises or routines are best for your body, the best way to achieve your personal fitness goals, how to correct your form, etc. Also, I've always thought fitness classes (Zumba, pilates) are more fun because you get to work out with a group.
How I Got Started with the "Sweat" App
When I returned home from London, I needed a new fitness routine.
I felt really strongly about getting into shape and creating a more healthy lifestyle. My 6 months in London were a different experience than my time as a student – this time around, I ate out a whole lot more (didn't have the time to cook meals for myself) and walked a whole lot less (I worked full days!).
Deciding to work out and develop a fitness routine wasn't about weight loss for me. I wanted to work on a healthy lifestyle, to focus on toning up and building muscle. So I began researching the "Sweat" app…
I think my misconception in the beginning was that the app was only for hard-core fitness enthusiasts who enjoy working out. (I mean, let's be real, it's a little intimidating when you see Kayla Itsines herself, who is in incredible shape. Inspiring, but intimidating. Also, "BBG" literally stands for Bikini Body Guide, and even that seemed intimidating.)
I took a closer look at the "success" stories Kayla posts to her Instagram account, featuring before/after photos of the regular women who are using her app. I realized everyday women like me were using her app to lose weight and get in shape.
And it wasn't a "get fit quick" scheme. The BBG program is 12 weeks (16 weeks with the 4 weeks of "BBG Beginner). The program promotes a healthier diet alongside the fitness regime. So I knew it would take time.
But I wanted to know what these real women were saying about the app themselves – what did they think of the workouts? What does the fitness routine look like? Was it difficult? How much did it cost?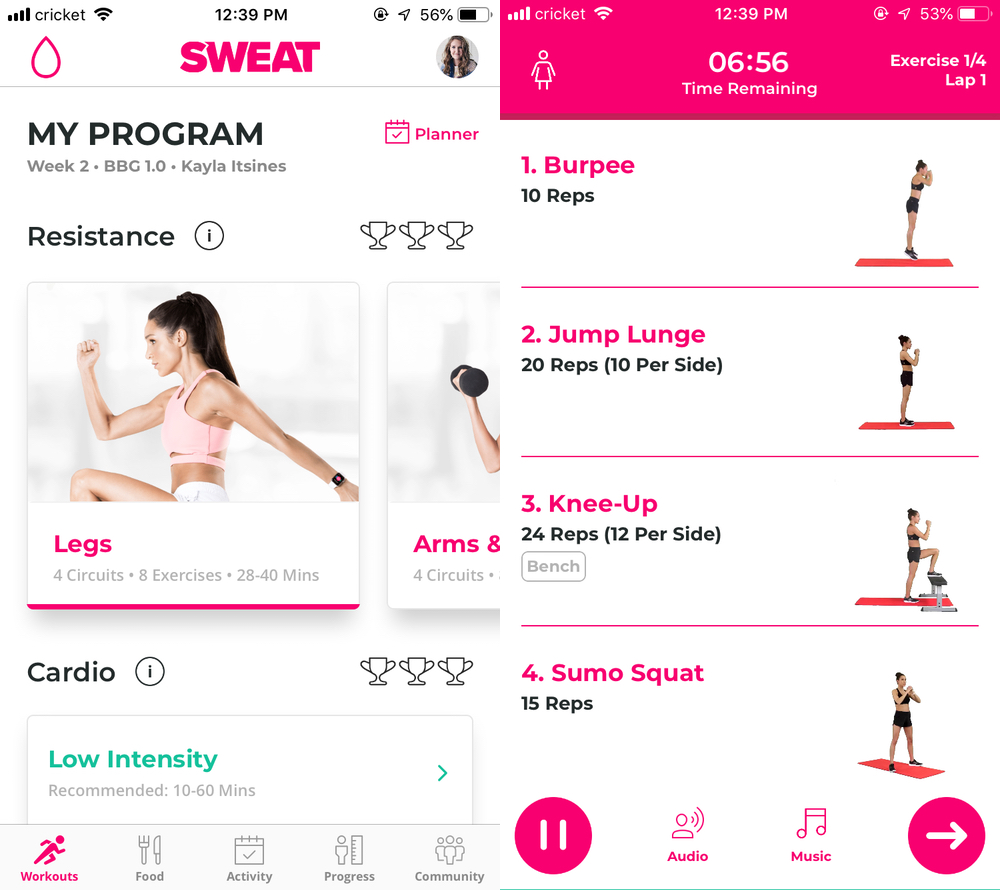 What is the BBG program?
The BBG program breaks down like this:
4 weeks BBG Beginner (this is optional – you could go straight into BBG 1.0)
12 weeks BBG 1.0
Each week (even in BBG Beginner) there are 3 "resistance" workouts: legs, arms & abs, and full body. These are the higher intensity workouts, and I usually complete them on Mondays, Wednesdays, and Fridays. The days in between give my body time to rest and recover. But you'll also be completing a "cardio" workout every other day (Tuesdays / Thursdays / Saturdays), and you can choose low-intensity activities such as walking, jogging, or cycling. I take a 35-minute walk around the neighborhood.
It sounds like a lot, but it's actually very manageable. Let's break down the 3 "resistance" workouts:
Resistance workouts are 28 minutes. There are 4 "circuits" (Circuits 3 & 4 are merely repeats of Circuits 1 & 2). Each circuit has 4 exercises and you repeat these exercises as many times as you can in 7 minutes. You have a 1-minute break before the next circuit begins.
4 Circuits x 7 mins each = 28 mins
From start to finish, these workouts take me about 45 minutes – I get dressed, 5-min warm-up, 4 circuits for 28 minutes w/ 1-minute breaks between, 5-10 min cool-down.
The app costs $20/month. At first, I was disappointed the 12-week BBG course wasn't a one-time purchase. I didn't love the idea of paying $20/month. But $20 was significantly less than my previous gym membership, and I decided to give it a go for a few months to determine whether it was worth it. (I believe there's a 1-week free trial, which is a great way to get a feel for the app and whether or not it's your thing. Also, if a friend of yours uses the app, they can gift you a free month, which is even better.)
Here's why, after 5+ months of using the app, I've determined that the monthly cost is worth it:
I like following the workouts within the app. The app has built-in timers for your warm-ups, each of the circuits, and your cool-down. There are also short video clips (almost like gifs?) of Kayla Itsines herself demonstrating each of the exercises. You can play music through the app. You can follow the weekly schedule.
There are multiple exercise / fitness programs within the app – there's the original BBG program, of course, but also BBG 2.0, BBG Stronger, Post-Pregnancy, and Build.
There are weekly challenges within the app and also "quick workouts" if you don't have the time to complete one of the 28-min resistance workouts.
My Experience with Kayla Itsines' "Sweat" App & BBG
So let me talk about my experience with the app. I started the 12-week BBG program in mid-September. I actually decided to start with the 4 weeks of BBG Beginner. Coming from months with no fitness routine, I wanted to start slow!
I remember my first day – it was so. tough. I'd scrolled through my workout (leg day) and thought it was pretty manageable. Only 4 exercises in Circuit 1 and another 4 exercises in Circuit 2, rinse and repeat. I was sweating before I'd even completed the first circuit! I'm pretty sure I skipped the third and fourth circuits because I didn't want to burn out on the first day. And I was SO SORE the next day – my thighs were so stiff I could hardly walk. But it felt like progress, and I looked forward to my 35-minute "low intensity" walk the next day (it helped my sore muscles loosen up!).
I'm usually really good about "starting" things. I throw myself into new projects and I get super passionate and fired up – and then, eventually, the excitement wears off or I peter out. This is especially true of my past workout / fitness routines…
Here's the question: Why do I believe this program worked for me when literally nothing else had? Why was I willing to be consistent with BBG?
3 Reasons the BBG Program Worked for Me
There may be several reasons. I think, in the beginning, it was because I knew there was a specific time frame for the program – 16 weeks (4 wks BBG Beginner + 12 wks BBG 1.0), and I'd have "completed" the program. I thought I could finish this program and whip myself into shape (but with the thought in the back of my mind that it would be over, and I wouldn't continue).
My mindset changed the further I got – I had 2 weeks, then 3 weeks, then 4 weeks under my belt. I was proud of myself for having come so far. And it was getting easier to wake up each weekday morning and knock out my workout first thing. Because I knew I could do it! It became easier to get through all 4 circuits. My body felt stronger and less sore as the weeks went by. It felt really good to accomplish something so early in the day, and my workouts gave me energy and a positive attitude.
I realized I was forming a habit – a lifestyle. I know exercise is important, and I want to take care of my body. And "finishing" BBG didn't have to be the finish line. The everyday exercise is what mattered – and I could simply start BBG over again or even try one of the other programs.
I like BBG because it's simple. I didn't need machines or excessive equipment. Most of the exercises in Kayla's routines are bodyweight exercises you can do without equipment – squats, lunges, push-ups, sit-ups, burpees, etc. And better yet, I workout on the floor of my living room. Guys, I don't even bother with a yoga mat!
Though while the individual exercises are simple (they're manageable, and accessible – I can do them on my own), the routines are challenging. As you work through the circuits and repeat the exercises, you feel the burn! Promise!
This was a really huge breakthrough for me. And, in 2019, the goal is to keep it up – continue to exercise regularly, to stick to the routine.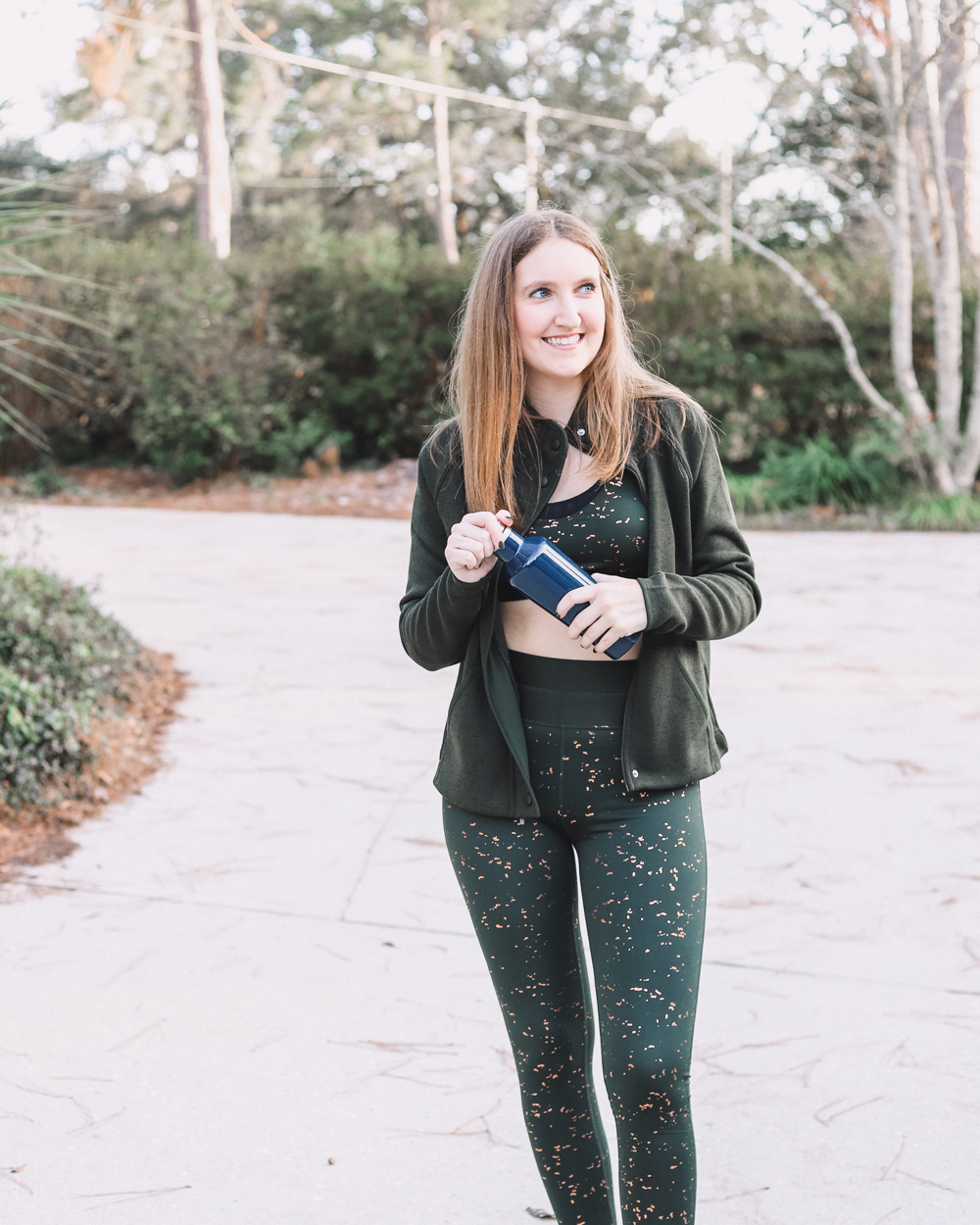 5 Tips for Developing a Routine You'll Stick To
Plan ahead, and take these tips into consideration when you're developing your "new year" fitness routine:
Choose something manageable.

Your routine has to be something you could do now, today. Because if you go over your head – if it's too hard, too ambitious – you're going to find reasons not to do it. Don't worry if you have to start small. Consistency is what will be important. It's how you'll grow and make progress.

Give yourself permission to only do what you can do. Avoid beginning burnout!

Don't be so hard on yourself in the beginning that you burn out too soon. Pace yourself, and know your limits. Challenge yourself, of course, but if your workout is too difficult, give yourself a break. There are some days I do one round in a circuit, and have to skip the rest. In my first few weeks of BBG, I sometimes skipped the third and fourth circuits! Be willing to compromise and know that it's OK, because there's always tomorrow.

Commit for a specific time frame.

Make a commitment with yourself that you'll try the app / the pilates class / the new gym for [fill in the blank] weeks. In my case, I told myself I'd use the app for a month to decide whether or not to continue. I enjoyed the Sweat app so much that I adjusted my goal in order to finish out the 12 weeks of BBG.

If you "fall off the wagon," just get back up.

Some days are better than others. Some weeks are better than others. Sometimes I skipped workouts when we left town for the weekend, or I woke up sick. Don't sweat it, just take the day off and get back to it as soon as you can. Don't be frustrated that you've missed something – pick up where you left off. In December, I had my wisdom teeth taken out, and so I couldn't exercise for an entire week. And then we left town for the weekend, and when we came home I got sick. Another solid week off my feet. And the week after that, Christmas! So I lost progress, but it's still comforting to think that I'm much better off than I was 4 months ago. And I've already started again.

Track your progress.

This is huge for your continued motivation! You're much more likely to stick with it if you see you're making real progress. Keep a record of your workouts, what you're able to do each day, or take before/after photos. BBG encourages users to take "sweaty selfies" so you can compare your progress as the weeks go by. This was something I didn't do, but wish I had! I hit a plateau midway through the program, and it felt like I wasn't getting any better or building muscle. I think a few progress photos would have helped remind me that I'd come a long way. Also, I'm disappointed now that I don't have photos to show all of you, because the photos are the best evidence of the program at work.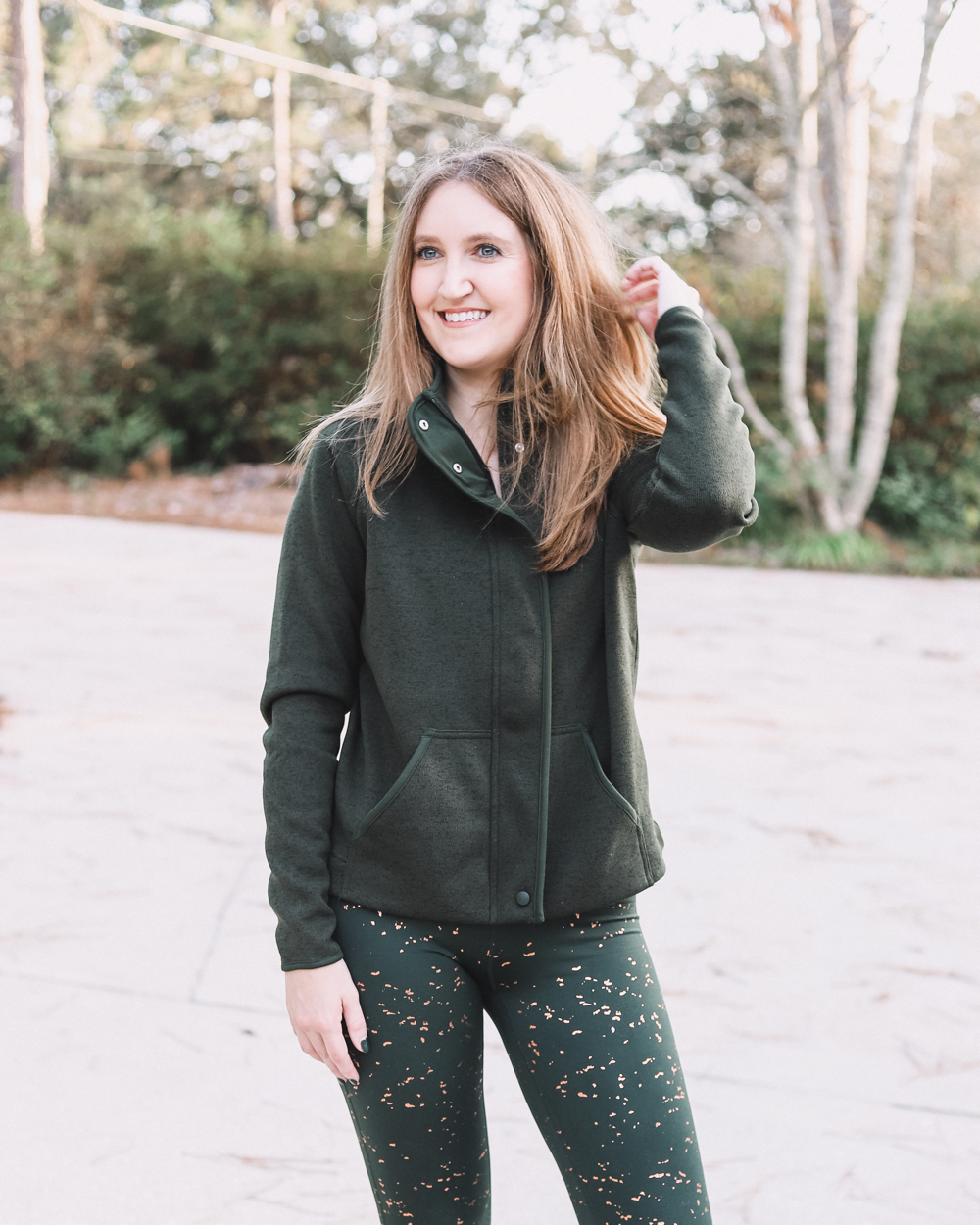 What I'm Wearing
I love this matching activewear set I got for Christmas. (Very reasonable prices! Especially considering it's rare that I find workout leggings I love as much as my Lululemon Align leggings, which are $98.) This hunter green color has been my favorite color of the season. I'm really excited about my Corkcicle Canteen (Classic Canteen in Gloss Navy, 16 oz), too, which was another awesome gift! My sneakers were a gift a few months ago – I love the New Balance brand and had my eye on this white/gold pair for a while (New Balance for J.Crew 520 sneakers in Gold Salt).
Padded V-Neck Foil Sports Bra – C9 Champion – in Bottle Green Sparkle Foil (I'm wearing a size M)
Everyday High-Waisted Leggings – C9 Champion (I'm wearing a size S)
Sweater Fleece Full Zip – C9 Champion – in Heather Green (ran a little large, so I'm wearing a size XS)
I hope this is helpful! Tell me, have you tried the "Sweat" app or the BBG program? What are your fitness goals for the New Year?