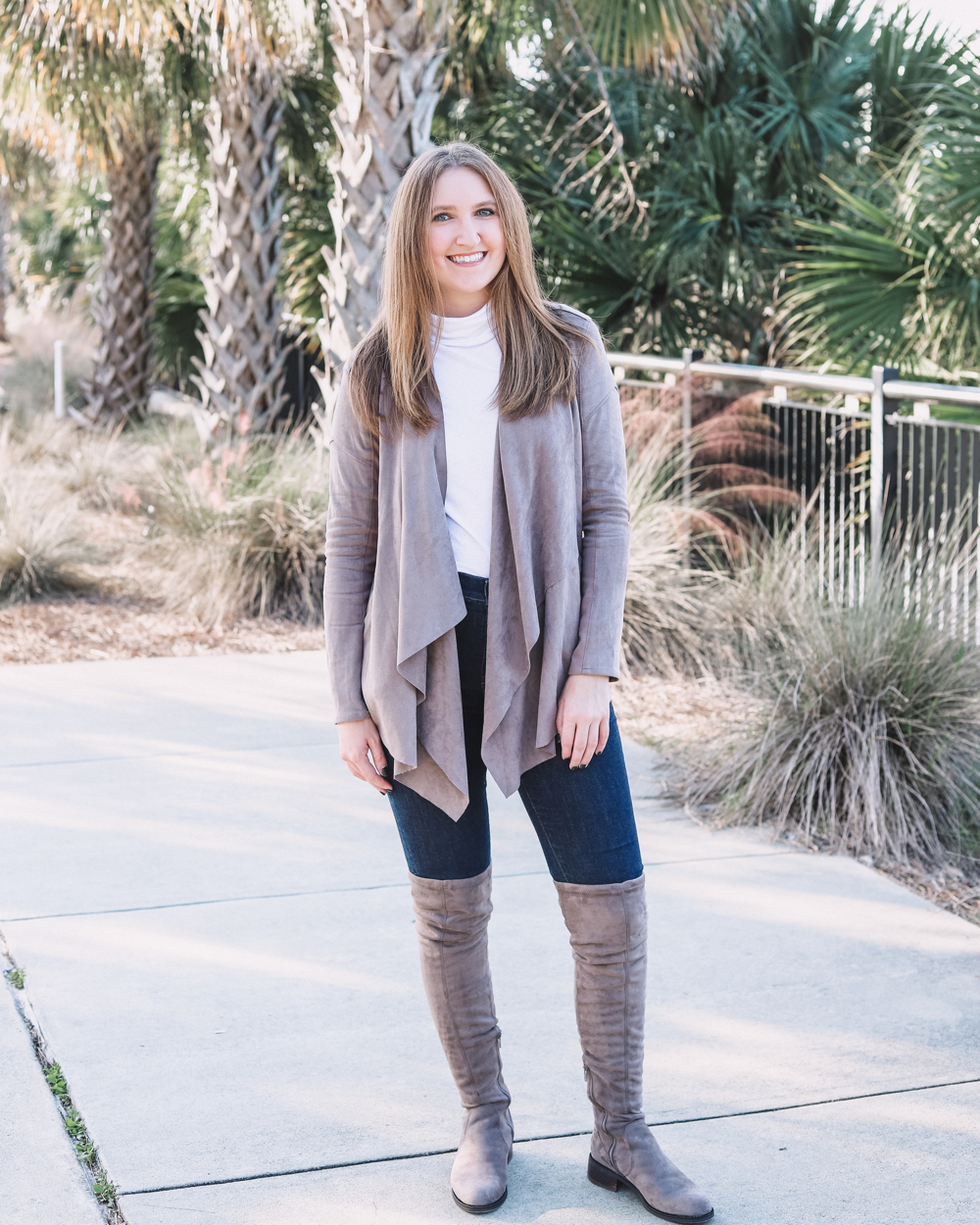 I am absolutely obsessed with over the knee boots this season… I may be a little late to the game, but now that I've finally caught on, I'm really excited to learn how to style over the knee boots.
In the fall, I kept an eye out for an affordable pair. When it comes to pieces I'm excited about, I'm slow to buy because I want to be sure I make the right choice. (Sometimes too slow.) So my sister surprised me with a pair of over the knee boots for Christmas, and I love them. They're mink suede (linked at the end of the post!).
Since Christmas, I've been referencing all the Insta posts I've "saved" for OTK boot inspo, and pinning over the knee boot outfits like a fiend to my Pinterest "style" board. I have a goal in 2019 to be more creative with my outfits – I'm too matchy-matchy and will sometimes pair the same pieces together over and over again, rather than mixing things up to create new looks. I don't want to do that with my over the knee boots! I look forward to wearing them often.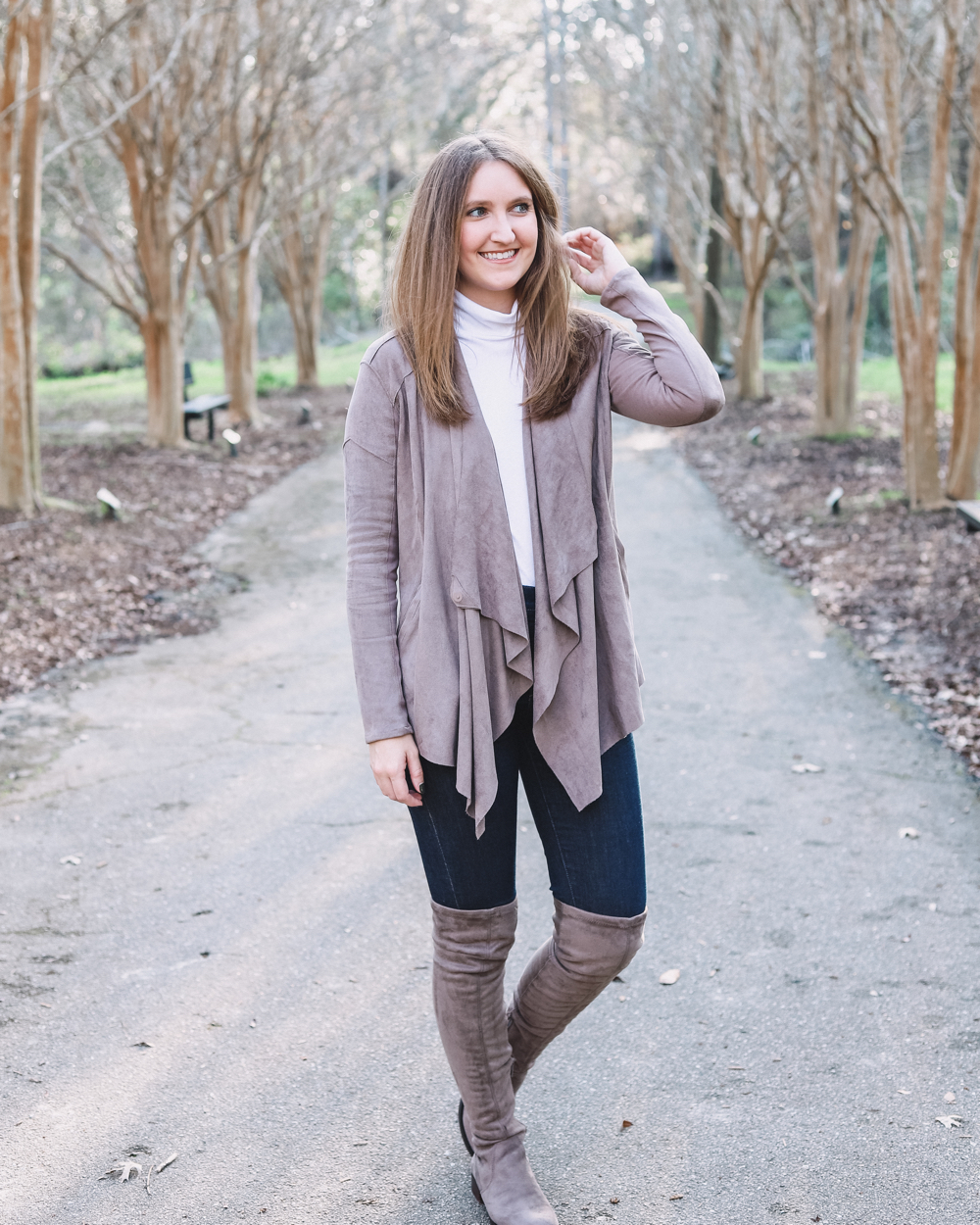 OTK Boot Color / Style Options
Colors: Black, Mink / Taupe, Tan
Black is classic and would match practically anything. I was drawn to the mink suede because I thought they'd pair really well with the neutrals in my wardrobe. The tan boots are growing on me, too, I think they really stand out. I've also seen some funky color options like hunter green, purple, and garnet.
Not all over the knee boots are suede, but I personally prefer the suede because I love the way they stretch / hug the leg and wrinkle.
Heel or no heel?
I wanted a bit of a block heel – nothing too high because I'm not known for my skill in high heels. I thought a low block heel would be a great everyday pair, though I do love the look of the higher heels.
I've linked quite a few pairs of OTK boots at various price points below… the boots I'm wearing in my photos are linked at the end of the post. If I buy another pair in future, I'd probably go for the Goodnight Macaroon pair, as they have great reviews and always look really nice in photos.
BP Logan Over the Knee Boot ($49.96) / Steve Madden Lucca Pieced Over the Knee Boot ($75.98) / BORN Cricket Over the Knee Boot ($87.98) / Sam Edelman Pam Over the Knee Boot ($89.98) / Steve Madden Brinkley Over the Knee Stretch Boot ($99.90) / Marc Fisher Yuna Over the Knee Boot ($114.96) / Marc Fisher Rossa Over the Knee Boot ($114.96) / Vince Camuto Kochelda Over the Knee Boot ($129.90) / Goodnight Macaroon 'Ellis' Black Classic Over the Knee Suede Leather Boots ($163) – also in taupe and tan
6 Ways to Style Over-the-Knee Boots
In the following outfit inspo photos, I'm featuring several of my favorite Instagram influencers / bloggers… Jaime Shrayber (@jaimeshrayber), Kendall Kremer (@styledsnapshots), Emily Herren (@champagneandchanel), Caitlin Covington (@cmcoving), Amy Jackson (@fashion_jackson), Courtney Inkpen (@courteink). I introduced quite a few of them to you in my previous post "5 Instagram Accounts to Follow for Fall Style Inspo."
1. OTK Boots + Denim
This one's easy! Throw on your favorite pair of jeans and a top or sweater. As you can see in these photos, I'm a fan of the front-tuck. Also loving the belt as an accessory in Heather Poppie's photo.
2. OTK Boots + White Jeans
Ok, this may seem like an obvious pairing, but it's not something I would have done without the inspiration of these Insta influencers! I've always thought white jeans are more of a summer style, and would not have paired them with my wintery OTK boots. But I think the look is really crisp and clean. I'm loving the wraps featured in these photos.
3. OTK Boots + Leggings
I think this is such a casual, comfortable look. Pair your boots and leggings with an oversized sweater, or dress, or a button-down. I think the leather leggings are very chic and sassy. My sister has a pair of Spanx "Faux Leather Leggings" which are really popular right now.
4. OTK Boots + Sweater Dress
This is another popular way to wear over the knee boots. It's a great way to wear a dress without tights or leggings, but avoiding being too bare-legged. Plus the boots will keep your legs warm.
5. OTK Boots + Skirt
Similarly to wearing a dress, skirts give just a peek of bare thigh and the boots keep your legs warm. You can pull off endless styles with skirts… I've seen OTK boots paired with corduroy skirts, button-down skirts, leather skirts, suede skirts, plaid skirts. You name it, it's been done. And you can mix and match with different tops – chunky knit sweaters, tight turtlenecks, silk blouses.
6. OTK Boots + Winter Accessories
Layer with fun winter accessories like scarves, vests, and coats. The more layers, the better. OTK boots are very wintery, so play up the layered winter look. The best part is, these layered winter accessories would work with any of the styles above (denim, white jeans, skirts, leggings, dresses).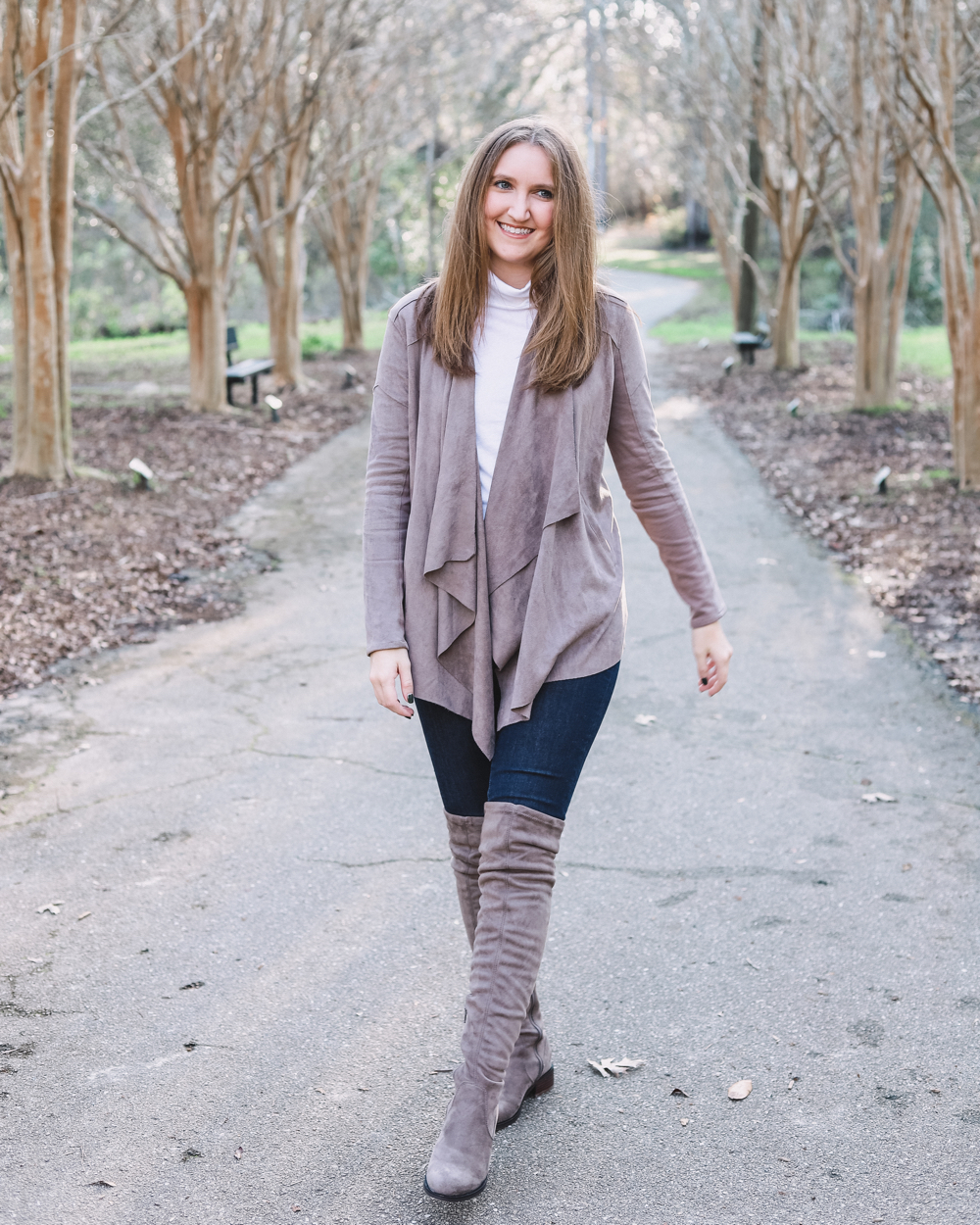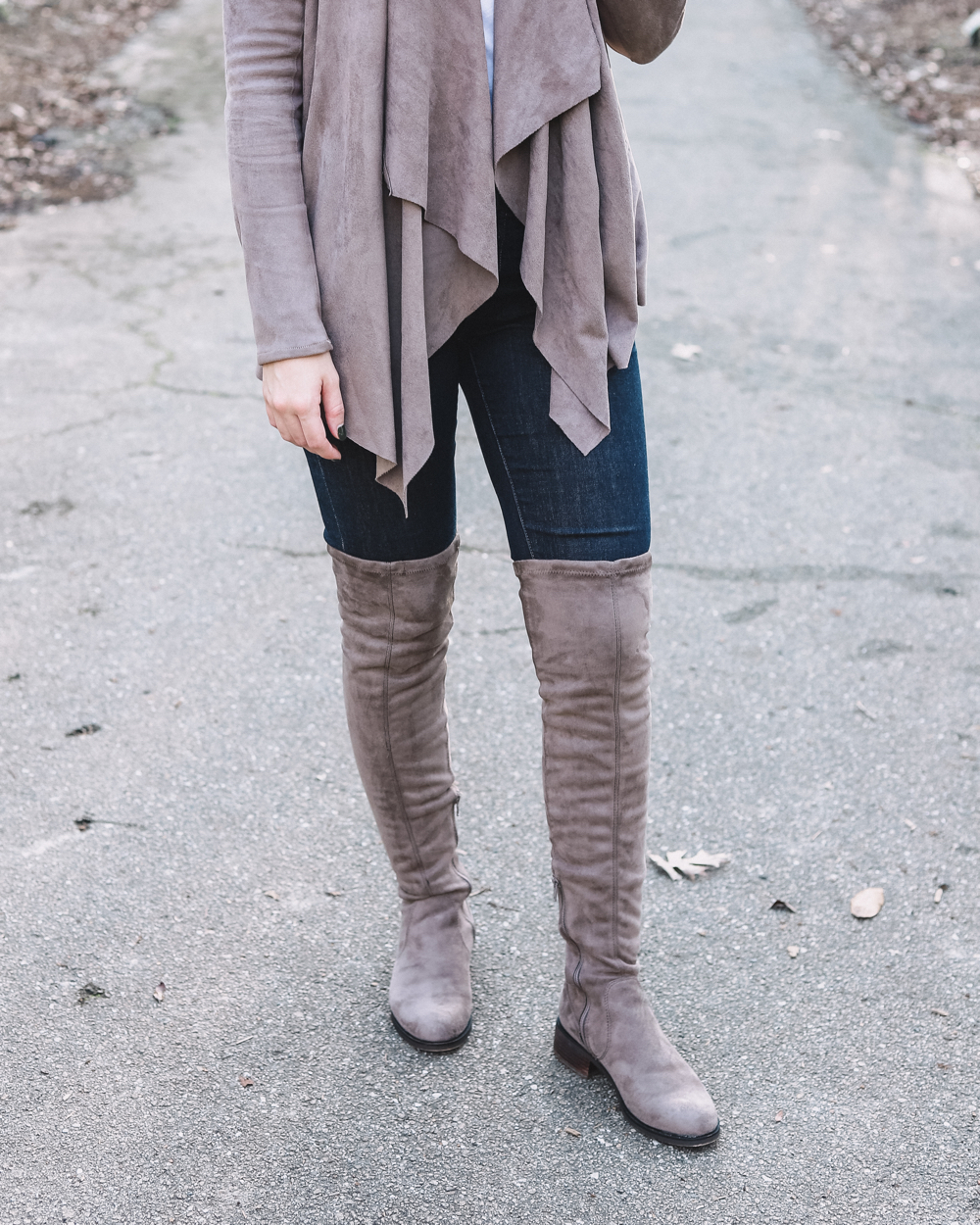 What I'm Wearing
I was so excited when I got these boots for Christmas and realized they'd match the beautiful suede jacket I'd bought a few months ago. I bought the suede jacket after seeing it on Jaime Shrayber's Instagram… I love mink suede, and I thought this would be a really nice piece for our milder fall and winter temps. Together, the jacket and the boots take on a sort of violet hue (I'm not complaining?). I've styled the jacket and boots with a white turtleneck and high-waisted dark wash jeans.
BLANKNYC Cloud Nine Drape Jacket in Mt. Rushmore (sold out) – I ordered this from Nordstrom. This particular style is sold out, but I've linked a few similar options.
BLANKNYC Drape Front Faux Suede Jacket
BLANKNYC Faux Suede Drape Jacket
Aldo Araecia Boot in Grey – on sale for $60!
Goodnight Macaroon 'Ellis' Black Classic Over the Knee Suede Leather Boots