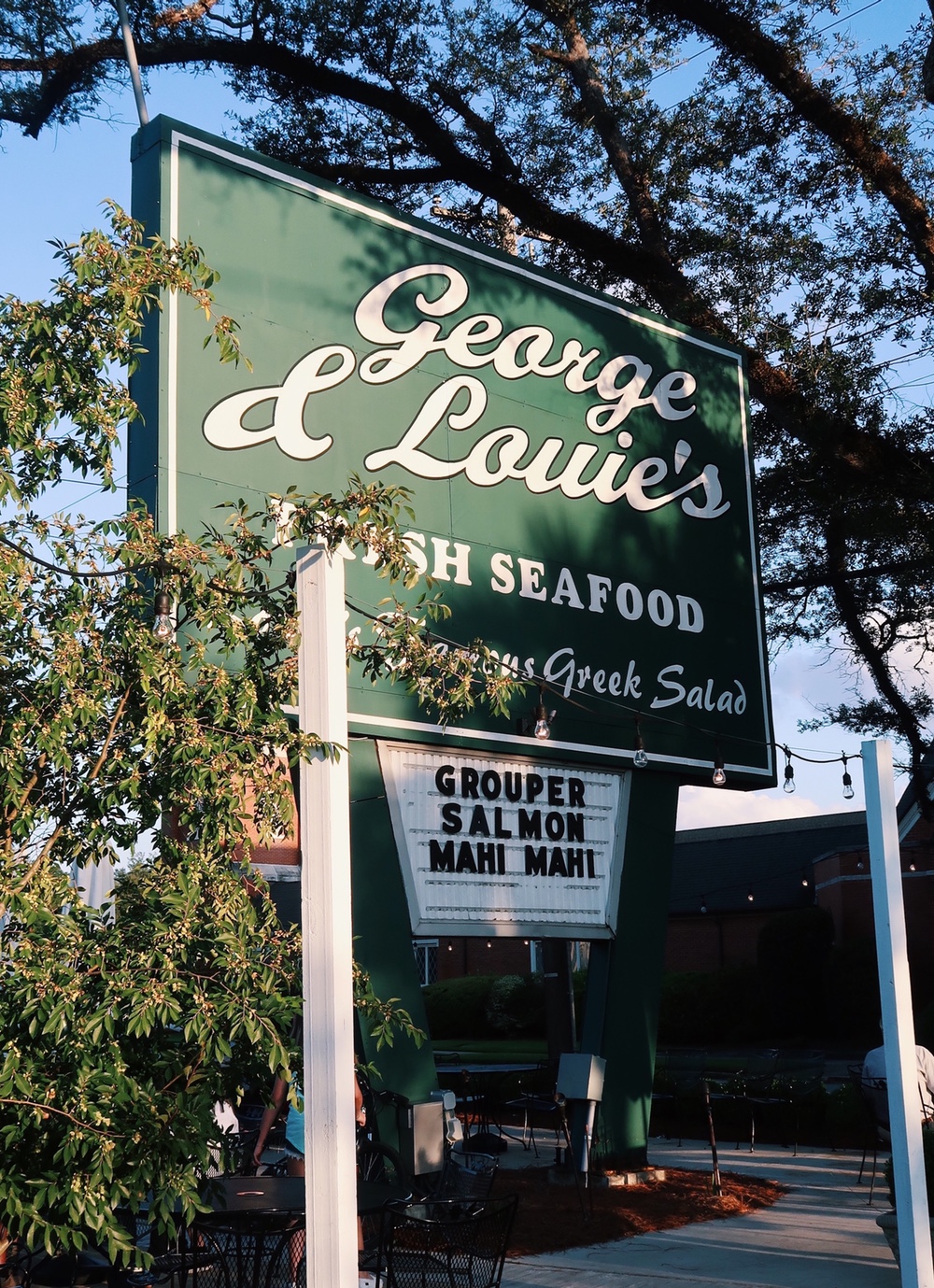 My parents and I drove to Thomasville for dinner the other evening, and it was really nice. This wasn't our original plan, but when we found ourselves heading in that direction, I suggested George & Louie's for dinner because I was really craving good fish and chips.
Let's just say London has been on my mind! Now that I know for sure I'll be returning (in February! just a few short months away!), I've given myself permission to get excited about all the things I've missed about the UK – museums, West End theater, afternoon tea, and fish and chips. (You'll find that many of my passions are food-related.) It's difficult to find a good plate of fish and chips here in the US (it's just not the same!). In Thomasville, however, I've found two restaurants to satisfy my craving; Jonah's Fish & Grits and George & Louie's.
I've been to George & Louie's three times now. I ate there for the first time when I went dress shopping with my good friend Ashley. This was last November, and Ashley's bridal party was invited to a dress shopping expedition in Thomasville. (It's crazy thinking back on this, because Ashley's wedding seemed so far away at the time, and yet it's already come and gone!) I enjoyed my meal there so much that I took my mom and sister back in February during our girls' day trip to Thomasville.
I think I prefer George & Louie's to Jonah's, only because I love the vibe and because it's less crowded (at least it has been the few times I've gone). This may be because the restaurant is just a street over from the main town center. And I simply love the walls of windows – I don't know about you, but I'm always frustrated by dark restaurants. The natural light that streams through the windows at George & Louie's just puts me in a good mood. George & Louie's is also a bit more casual, and I appreciate that when I'm not dressed for a formal sit-down meal. Not to mention the food is just fantastic.
You order and pay at the counter, where there are large chalkboard menus hanging from the wall. I'm going to be totally honest… I've ordered the same thing every time. I can't seem to give up the fish and chips. It's a conundrum, because when you don't get an opportunity to eat someplace often, you eat what you love, but you'd also like to try something new. Gah!
My fish and chips plate is served with 2 pieces of fish, homemade "chips," coleslaw, and hush puppies. A side dish is also included, and I've always ordered the cheese grits. *Just a quick note about the "chips"… in England, "chips" are actually the equivalent of American fries.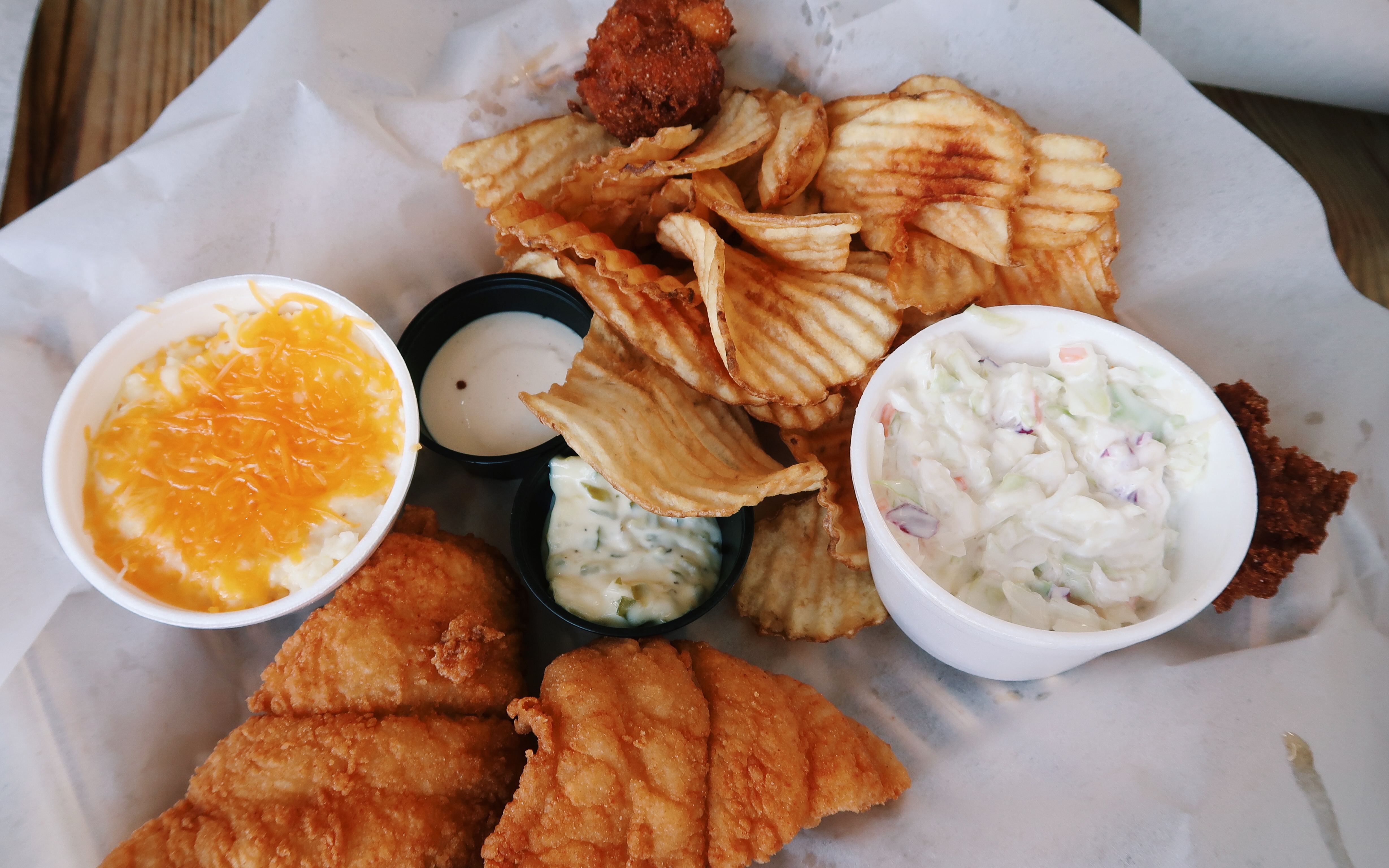 My mom and I decided to split the meal, but I think I could have eaten it all myself. The fish was fantastic, very light and fresh. My dad ordered fish and shrimp, and he told us it was the best food he's had in a while. It was a little pricey ($37.43), but no so pricey that it isn't worth it. We call it "fine casual," to borrow a phrase coined by the genius Danny Meyer, founder of Shake Shack.
If you find yourself in Thomasville, definitely give George & Louie's a shot. And then let me know what you think!