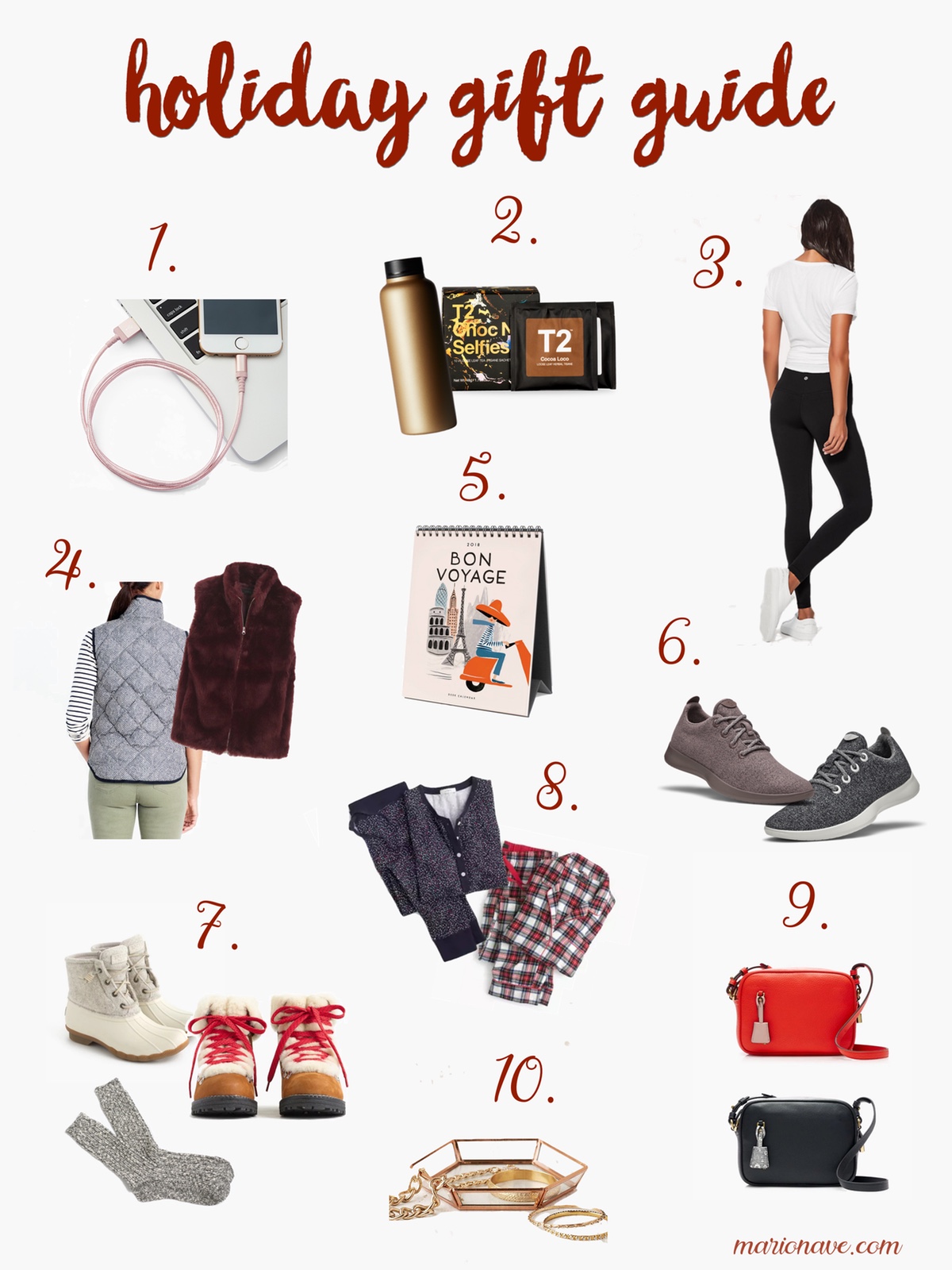 The holiday season has officially begun (can you believe Thanksgiving has already come and gone?!) and it's time to shop for gifts for friends and family. Sometimes it's difficult to brainstorm that "perfect" gift for each of the special people in your life, so I've put together this gift guide to lift some of the pressure. I think there's something for everyone. This collection includes items I personally own as well as items I've added to my Christmas wish list (so I'm a little biased, naturally!).
#1 6FT IPHONE CHARGING CORD
AmazonBasics Nylon Braided USB A to Lightning Compatible Cable – Apple MFi Certified – Rose Gold ($12.99, Amazon Prime)
An extremely useful/practical gift! Who isn't frustrated when their phone battery dies? Or when you can't use it while it's charging because your cord is too short? I bought myself this 6ft charging cord and it's a lifesaver. Also, it's super cute because it's rose gold. (But there are other colors to choose from, including dark grey, silver, and gold!)
#2 TEA / COFFEE THEMED GIFT
T2 Stainless Steel Flask Gold ($35)
T2 Selfies Choc ($5, currently out of stock)
Tea vs coffee – the eternal question. I'm a tea girl, so that's why I've included this T2 flask on the gift guide, but you could easily substitute this for a coffee mug or thermos or a gift card to a local coffee shop! I think T2 is great and I'm a huge fan of the flask, which allows you to brew loose teas on the go. And T2 has an excellent selection of flavored teas, and you can purchase cute themed boxes online (chocolate tea, green tea, black tea, fruity tea, etc.). *In case you were wondering, my favorite flavors are White White Cocoa and Oolong Fresh.
#3 LEGGINGS
Lulu Lemon Align Pant II 25″ ($98)
My sister swears by this brand. I was reluctant to purchase a pair of Lulu leggings at first because I balked at the price. But I went ahead and took the plunge, and it's an investment I'm really glad I made. I'd wear these leggings every day if I could. They're comfortable and flattering.
#4 WINTER VEST
Topshop Clair Faux Fur Vest Burgundy ($66)
I love a good vest in the fall and winter! Especially in warmer states when the weather isn't quite cold enough for a heavy coat. The J Crew faux fur vest in the image is no longer available, but I've linked a Topshop dupe which is just as fabulous. I've linked three other options below, one of which (J Crew Factory Printed Quilted Puffer Vest) is also in the image above. (And, bonus, is currently on sale!)
Loft Velvet Puffer Vest ($98)
J Crew Factory Fleece Vest ($49)
J Crew Factory Printed Quilted Puffer Vest ($34.95)
#5 2018 DESK CALENDAR OR PLANNER
Rifle Paper 2018 Bon Voyage Desk Calendar ($18, Amazon Prime)
I've always loved beautiful stationary, and every year I get excited to purchase a new planner or desktop calendar. I love this desk calendar from Rifle Paper Co. If you're a planner person, I'd suggest a Passion Planner or an Erin Condren planner (neither of which I've used, but I'd certainly like to!).
#6 ALLBIRDS SNEAKERS
Allbirds Women's Wool Runners ($95)
These are the cutest sneakers, and they're made of wool, which means they're excellent for keeping your feet dry (wicks moisture!) but also warm in the winter. I love easy, stylish sneakers to pair with my more casual outfits.
#7 WINTER BOOTS & SOCKS
J Crew Nordic Boots ($178)
J Crew Women's Sperry Saltwater Duck Boots in Ivory Wool ($140)
J Crew Factory Camp Socks ($5)
I love wearing boots during the winter season. While I'm a fan of my classic black and brown leather boots, I'm also appreciative of boots that can survive any/all weather conditions (wind, rain, snow). I'm preparing to return to London in February, so I'm partial to quality boots which will keep my feet warm/dry but are also stylish enough to match my outfits and cute winter coats. *I've linked another option below which is less than $100. And if winter boots are outside your price range, consider gifting a cozy pair of moccasins instead (linked below!).
Calgary Faux Shearling Water Resistant Boot ($88.95)
J Crew Factory Suede Shearling Slippers ($24.95)
#8 WINTER PAJAMAS
J Crew Flannel Pajama Set in Tartan Plaid ($95)
J Crew Pin Dot Pajama Set ($75)
I look forward to the colder weather so I can break out my cozy winter pjs. There is nothing more holiday-esque than wearing your plaid flannel pjs while sipping hot chocolate before the fireplace. I've linked a more affordable J Crew Factory sleep set below. Also, I always find fun holiday pjs at Old Navy for great prices!
J Crew Factory Printed Ribbed Knit Sleep Set ($34.50)
#9 CROSSBODY BAG
J Crew Signet Bag in Italian Leather ($128)
Every girl needs a classic over-the-shoulder bag for those days she'd prefer to be hands-free or to carry something a little lighter than a bulky tote or purse. I particularly love the square shape, because while it's a very manageable size, it fits quite a bit. My J Crew Signet Bag is perfect for nights when I'm going out to meet friends or for travel. *I've linked three similar options below, less than $100!
Nordstrom Ella Tassel Leather Crossbody Bag ($99)
Madewell Simple Leather Crossbody Bag ($98)
Sole Society Adden Faux Leather Crossbody Bag ($59.95)
#10 JEWELRY DISH
Urban Outfitters Hexagon Glass Catch-All Dish ($12)
I think this is such a nice gift for your friends who love jewelry or accessorizing. A pretty jewelry tray is so classy, and would look lovely on a desk or dresser for keeping your everyday pieces neat/organized (rings, earrings, bracelets, etc.). You could gift this to a friend as-is, or pair it with a piece of jewelry. I'm a fan of the jewelry organizers from Urban Outfitters.