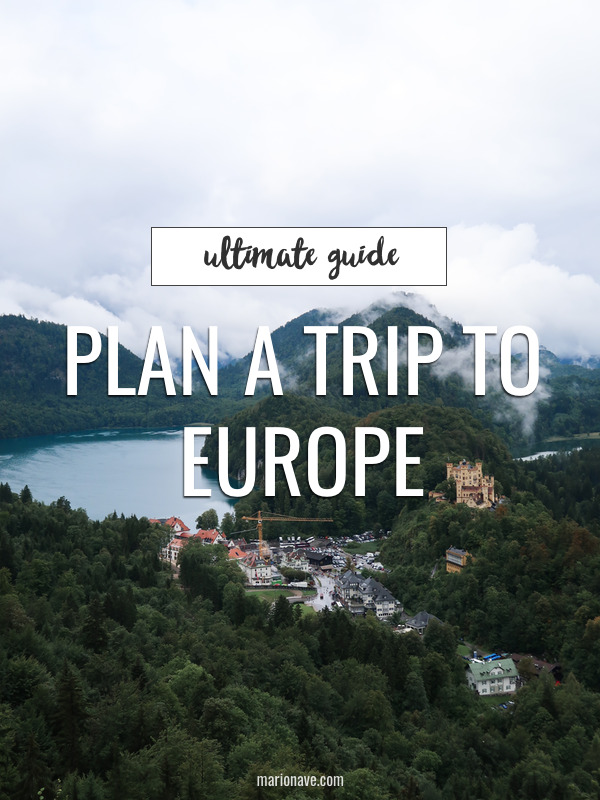 So you're planning a trip to Europe – you're touring Italy or vacationing in Greece, and you've got an entire Pinterest board dedicated to the trip. That's awesome! I've been there, and the conceptualization stage is a fun place to be, because the possibilities are endless and the world is your oyster. But when it comes to the nitty gritty of trip planning, things can be a bit more difficult and overwhelming.
Sure, there's plenty of information about booking your flight or what to pack for your week in Spain, but how do you actually go about planning your trip from start to finish? Where are you supposed to begin?
Having studied abroad as a student and then lived in London for 6 months, I have some experience in this area. My roommates and I planned trips to Copenhagen, France, and Italy while we studied abroad. And when my time as a Program Assistant was up, I traveled with my parents to Germany and Austria and then met a friend in Ireland.
Along the way, I've learned a lot about planning European travel! I've worked with my family and friends to plan the logistics of multiple trips abroad. That's why I'd love to share what I've learned in this ultimate guide. There are several ways to go about planning a trip, and I'll walk you step-by-step through each stage of the process so that you can make all the necessary decisions with confidence.
MAPPING YOUR ROUTE
Know your starting and ending points.
If you don't know where you're going and when, you'll be unable to nail down your transportation and accommodation. So I'd suggest mapping your route as your first step. This doesn't necessarily mean you've got each destination or detour mapped out – but you've got to know your starting and ending points.
1) Transportation
How are you planning to get there? Be aware that certain modes of transportation will limit your options. If you're flying, for example, you have to consider where the airports are located. Same goes for trains / buses / boats.
*Pro tip: When making decisions, take the following 3 things into consideration: price, practicality, and convenience. It's short-sighted to make a decision without cross-referencing all 3. What's the cheapest option? What is the most practical choice? What is most convenient for me?
2) Prioritization
Kyla and I listed our non-negotiable "must-see" spots and then asked ourselves how we could realistically fit these destinations into our 5-day itinerary. You're going to have to make compromises. In the end, you realize it's impossible to do it all, but sometimes that's a good thing because you're able to prioritize what's most important to you. (And that's what matters.)
We knew what we were willing to give up, and narrowing it down made it significantly easier to research / plan for our final destinations. (In other words, we weren't overwhelmed by too many options. We knew we couldn't see all of Ireland and therefore weren't bogged down by considering numerous routes.)
3) Timing
How long will it take to get from here to there? Use Google Maps to get a realistic sense for how much time it will take to travel from one destination to the next. Be aware that these results will change according to whether you're walking, driving, taking a train, etc.
In doing so, you'll be able to map out the route that makes the most sense. Again, consider price, practicality, and convenience. Perhaps the cheapest train ticket from Florence to Rome leaves at 4 AM. It may be economical, but it certainly isn't practical. Let's say you find a great flight (well-priced with a trusted airline) into an airport miles from the city center. It may be practical, but it isn't convenient if you then have to arrange transportation into the city. *This is why I stress the importance of weighing the pros and cons of each of these 3 things (price / practicality / convenience).
(Where is the airport / bus stop / train station located and how long will it take you to get there?)
Haven't you heard, "timing is everything"? Well, when it comes to traveling, this adage couldn't be more right. You'll need to consider the following… How much TIME will it take to get to the airport and through security? How much TIME should you budget for customs? How much TIME will it take to get from the airport to your accommodation? How much TIME will it take to get from one city to the next? How much TIME does that leave in each day for activities?
BOOKING ACCOMMODATIONS
Where will you stay and for how long? Again, there's much to consider. In the previous section, I stressed the importance of taking price, practicality, and convenience into account. I'll add another: safety. It isn't worth it to stay in an unsafe area of town even if it's cheap. Always, always prioritize your safety. If you're concerned about the cost, do your research. Some towns or destinations are less expensive than others. (This could be for any number of reasons… tourism, competition, seasonality). Ask yourself, is it easier to pick a base of operations (stay someplace multiple nights) and take day trips? Or is it ultimately less costly to move from one place to the next, staying in someplace new each time?
Kyla and I are both recent college grads with relatively low travel budgets. Most people our age opt for the cheapest accommodations: hostels. Even so, some hostels are better than others. Some hostels get a bad rep while others are known for their friendly / clean / safe atmospheres.
How to Pick the Right One
Consider price, practicality, convenience. Where is the hostel located? (Is it within walking distance to the city center?) Is it affordable? Is it safe? (Is it located in a safe part of town? Are there single-sex dorms available?) Does the hostel have good reviews? (What are customers saying? Have they had a positive experience?)
When you're researching hostels, read the fine print: Do they offer a complimentary breakfast? (Honestly, this goes a long way. The hostel might be a bit pricier, but you'll be thankful for the slight additional cost when you realize how convenient it is to grab something to eat on your way out.) Does the hostel have WiFi? Do you have the option of paying for an ensuite bathroom (rather than sharing a communal bathroom)? Are there lockers for every bed?
Be sure to flip through photos so you can see the accommodation for yourself. Kyla and I booked our hostels through Hostelworld, a site which categorizes all this info and makes it significantly easier to compare your choices.
PLANNING DAILY ACTIVITIES
This, my friends, is the fun stuff! This is the part where you scroll through Pinterest pinning articles like "8 Beautiful Places to Visit in [fill-in-the-blank]" or "4 Bucket List Things to Do in [fill-in-the-blank]." What do you want to see and do? What is your destination known for – the breathtaking scenery, world-famous museums, the cuisine?
You want to do it all, but just like anything else in life, you'll make compromises. In one of the previous steps, I suggested you narrow down your options and identify your priorities. Now that you've got your non-negotiable "bucket list," there are a few other things you should keep in mind…
> Do you need to book anything in advance?
If you're taking a tour, seeing a show, entering a museum or exhibit, you may need to purchase tickets. Go online to research opening hours and any associated costs so you can be ahead of the game. I recommend purchasing tickets or reserving your spot online in advance. Sometimes it's cheaper to do so. Also take note of any promos or discounts – student discounts, for example, or cheaper entry during weekdays as opposed to weekends.
> When it comes to $$, are you aware of the exchange rates for foreign currencies?
Are you able to take out cash at an ATM? If you're splitting costs with a friend or a travel partner, be sure to calculate the exchange rate before you wire each other money through an app like Venmo (which would probably pull from your American account).
> Learn how to navigate public transportation.
Maybe you didn't realize your two activities for the day are not within walking distance. The waterfall you're hoping to see is outside the city, but you need to be back in town for a 6 PM dinner reservation. How are you supposed to get around? If you're relying on the local bus or tube system, research the costs associated with a single ride versus a day pass.
> Consider utilizing tour companies to plan your excursions and activities.
Tour companies will take care of all the details – tickets, transportation, etc. These kind of companies offer all sorts of packages. You can book an entire week-long trip with a tour company, where you're accompanied by a local guide with a daily itinerary and prearranged accommodations, transportation, meal plans, etc. In contrast, you could book an afternoon activity or "express" trip, like the "Cliffs of Moher Express Tour" we booked in Ireland. We paid the 20 pound student fee to join a group heading to the Cliffs of Moher. "Lally Tours" took care of our transportation (we boarded a bus in Galway) and our entry ticket. The bus dropped us off in the parking lot and we had 2 hours to explore the Cliffs of Moher before boarding the bus back to Galway.
> Ask for recommendations.
Don't be afraid to talk to the people you meet on your trip. We'd always visit the front desk at our hostels to ask for local recommendations. Tour guides and locals are the best people to ask for advice about what to see / do or where to eat.